Prabhas on Baahubali 2: The films are a result of Rajamouli's passion for cinema; I trust him blindly
Prabhas talks to us about Baahulbali 2, how success has changed him and his upcoming projects.
There's something about Prabhas that catches you off-guard right from the moment he begins to talk about his upcoming magnum opus Baahubali : The Conclusion, directed by SS Rajamouli. The stardom that has come along with the film's success hasn't changed him. At least, not yet. While he's visibly tired of warding off the question - Why Kattappa killed Baahubali? - which he has faced a million times during the ongoing relentless promotional campaign for the film, the actor brims with joy as he goes down the memory lane to talk about his friendship with filmmaker SS Rajamouli, which sowed the seeds for the two-part epic war drama.
The film has turned him into a big star who's now a household name across the nation; however, he remains as modest as ever about his contribution to the film. "Baahubali is a result of Rajamouli's passion for cinema. All I did was trust him blindly and dedicate all my time and energy to make his dream come true," Prabhas states, as a matter-of-fact. Truth is, in Rajamouli's own words, the film might not have been possible without Prabhas' faith in the project. "Show me a star who's willing to dedicate three-and-a-half years of his life to a project and I'll think of making another Baahubali," Rajamouli said during the audio launch ceremony in Chennai a few days ago.
In 2005, the two had collaborated, for the first time, for Chatrapathi, an action entertainer which went on to become one of Prabhas' biggest hits at the box-office. But more than that, the duo became friends for life. "Over the years, we spent a lot of time talking about our lives, cinema, and various philosophies. We lose track of time when we catch up," Prabhas says, adding, "Throughout our journey, it was quite clear to me that he really wanted to do something big and his passion for cinema is remarkable. If not for him, I probably wouldn't have spent so much time for a film."
Admittedly, the story of Baahubali was one among the six or seven stories that Rajamouli had discussed with Prabhas and it also included a story about the origin and rise of Sri Krishnadevaraya as a King of the Vijayanagara empire. But then, in mid 2012, Rajamouli finally narrated the story of Baahubali. "I couldn't get the characters out of my mind when he narrated the storyline to me. And the film kept bigger and bigger as he developed the story. At one point in time, he even cautioned the producers (Shobu Yarlagadda and Prasad Devineni) that the budget would be really high for this film. But both of them were willing to take a risk. In fact, I remember Shobu saying that we have to do this film because no one would have seen anything like this so far," Prabhas recalls.
Nothing about Baahubali : The Beginning was normal to begin with. Right from the film's mammoth sets to its budget, the entire team knew that they were taking a huge leap of faith. While the risk certainly paid off in the end, Prabhas confesses that everyone was under immense pressure to deliver a blockbuster film. "We went really numb thinking about whether the film will do well or not. If the first part hadn't worked, probably Baahubali : The Conclusion wouldn't have materialised. On the last day of the shoot in 2015, I did wonder whether I would come back to the set if things don't work out. But, everything changed once the film released. The amount of love and respect that the whole team has earned from the audiences is unbelievable. For a film like Baahubali, even if the film was a 'hit' at the box-office, it would be considered as a flop because of its budget. It had to be a blockbuster. The fact that the producers didn't quite make money despite the success of the first part tells you how big the stakes were," he smiles.
The actor isn't as tensed now as he was a couple of years ago and the fact that the first part had become a huge success across India was the validation that the team needed that they were indeed on the right track. The film also broke a lot of myths that films which don't have a closure might not work at the box-office. "Post Baahubali 1's release, when filmmaker VV Vinayak met us, he said he was quite surprised that audience embraced the film despite several unanswered questions. Apart from 'Why Kattappa killed Baahubali?', the first part doesn't really answer why Sivagami had to give up her life to save Mahendra Baahubali, why Devasena is still shackled in Mahishmathi, why Kattappa wants to save Devsena despite his allegiance to Bhallaladeva and so on," Prabhas says. "I didn't even think about all these questions in part one because I knew the whole story. When the film's shoot was underway, Rajamouli took 10-15 days to figure out where to end the first part. Thankfully, those working on the sets didn't pay as much attention to what we were doing, apart from the core team (laughs)."
Shooting the action sequences was a huge challenge, but Rajamouli knew how to keep his team's spirits high. "Initially, we planned to shoot the war sequence for 80 days, but ended up doing it for 120 days. For that matter, I would have shot for more than 250 days for action sequences alone throughout the shoot. It drains you out both physically and mentally, but we kept pushing ourselves everyday. Be it a huge set or a visual, Rajamouli and rest of the team kept surprising us every now and then to keep us pumped up. I shot for the interval sequence of Baahubali : The Conclusion seven months ago. I still get goosebumps when I think about it," the actor adds.
Ask him what's the secret to not getting bored of the environment or people, despite shooting for so long, Prabhas laughs saying, "Thankfully, I'm close to Rajamouli's family and everyone else on the set was excited about what we were doing. When you need a distraction in your real life, you take to sports, or go to a museum or want to visit a spectacular location. We had all of them on Baahubali's set itself (laughs)."
For the film, the actor learnt horse riding, riding a horse without holding the reins, rock climbing, archery and sword fighting to name a few, but shooting with war sequence was a huge challenge, especially in a war sequence. "You have to be really careful about where you are shooting a war sequence. One small mistake and you are back to square one. Every shot would take at least 3-4 hours to set up. So, all of us used to feel really guilty if we did a mistake (laughs). When I look at it, I think all of us took up the responsibility to do our job right because time is always a constraint, even if you are shooting for so long," he says, adding, "I never enjoyed going to school, but thanks to Baahubali, even that desire got fulfilled. We had workshops prior to the shoot which helped us understand our characters better. I had to polish my Tamil speaking skills because it was tough to get the lines right in classical Tamil. The whole process made me feel like I was in school. More than anything, it really helped me to focus on my job."
Making an epic like Baahubali requires everyone to be focused and incredibly patient because it's such a time-consuming process. And the moment we ask Prabhas about how he managed to be so patient, he recounts a story which happened in his life several years ago.
"My first brush with patience happened when I was 17 years old. My uncle (Krishnam Raju) was a member of Parliament back then, and I was asked to represent him in our native place Mogalthur (a village in West Godavari district, Andhra Pradesh). Every morning, I had to wake up at 6 AM to listen to everyone who came to the house to speak out about their problems. All I had to do was stay calm and listen to them. By the end of the month, I just couldn't deal with it (laughs). I knew that I had no flair for politics and thought the best thing I could do was not screw it up for my uncle because they won't vote for him because of me (laughs). From being such a restless guy to playing the lead role in Baahubali, I've come a long way. It was a team effort and all I did was listen to everything that Rajamouli told me," Prabhas recalls.
So, how's his post-Baahubali life going to be? "I don't know. I haven't gotten out of Baahubali's hangover yet. I have couple of films lined up and we would announce all the details soon," he says. Having dedicated four years of his career to Baahubali, we wonder if he would want to do it again. And he has the perfect reply. "We would all go mad (laughs). I think Rajamouli would like to not think about cinema for at least six months after this. But then, who knows. Given the experience we have had with this film, maybe we can wrap up the shoot for another period drama in 6-7 months with proper planning. There's a catch though. Not every filmmaker can pull it off. And I would be say 'yes' once again if Rajamouli wants to do it. But I hope he doesn't for another 2-3 years at least," Prabhas laughs.
Entertainment
Remarking the creation of universe and beginning of the world by Maa Shri Durga, Chaitra Navratri holds immense significance in the Hindu culture! With this belief and Shri Gulshan Kumar's immense faith in Maa Vaishno Devi, the makers seek divine blessings for Adipurush.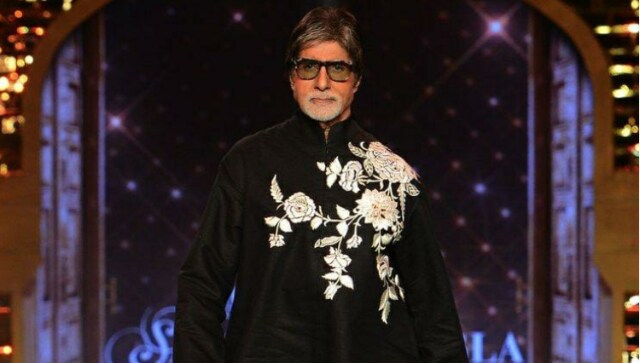 Entertainment
Big B is presently recovering from his rib cage injury that he sustained on the sets of Project K.
Photos
A grand celebration was held at his father, Mega Star Chiranjeevi's home and the who's who of the film industry were seen in attendance. His better half, Upasana Kamineni Konidela glowed in a blue ensemble while Ram Charan looked dapper in a black outfit.