Poster Boys movie review: Bobby, Sunny Deol are funny, but a bad plot can't hide behind humour
In Poster Boys, the issue of vasectomy, though addressed without any inhibitions, is not given the seriousness it deserves.
The Deols return to the big screen this Friday but not in another one of their Yamla Pagla Deewana films. They share the screen space with Shreyas Talpade in Poster Boys, his directorial debut and a remake of his Marathi film Poshter Boyz. The film revolves around three men who inadvertently become the poster boys of a vasectomy campaign.
The film starts straight into the drama, when a reporter establishes that the three actors are in the midst of a battle against injustice. But then we jump straight into Bollywood cliches - flashback and objectification of women. A sexy Eli Avram lures you into the world of the village the three actors inhabit through her song 'Gaon Ki Kudiyan'. Then Sunny, Bobby and Shreyas get three individual introduction scenes.
Sunny is a retired soldier and a family man, obsessed with selfies and gearing up for the engagement of his sister. Bobby is an upright schoolteacher who gets involved in regular quarrels with his wife. Shreyas Talpade is a vasooli guy or a recovery agent who is a typical gali ka gunda, a colourful one at that.
Soon, their respective lives take an unexpected turn when Sunny's sister's wedding gets called off, Bobby's wife threatens to divorce him and Shreyas' girlfriend breaks up with him.
All of them trace the reasons behind the turn of events to a government poster depicting them as the endorsers of a vasectomy operation. The poster claims that they have volunteered to get operated in order to support awareness. However, the villages perceive it as a foolish attempt to do away with their 'masculinity'.
The film, to its credit, does not get icky owing to good writing around the issue. The writers, just like the recently released Shubh Mangal Saavdhan, use humour to address this gents' phenomenon. But the humour otherwise, particularly a few quirks of Sunny and Bobby Deol, are forced and stretch the narrative unnecessarily. This comes as a major let down because Talpade decides to dive straight into the narrative without taking too long to establish the context and plot of the film.
Sunny Deol looks unbelievably good at 60 and complements it with his versatile acting. He, along with an expressive, yest wasted Sonali Kulkarni (his wife), provide the warm, emotional respite from an otherwise endless laugh riot that the film projects itself to be. Sunny Deol is especially good as the retired soldier trying to control his outbursts through deep breathing and soft spoken-ness. But alas, he is Sunny Deol at the end of the day and is bound to give in to the maar-dhaad.
Bobby Deol looks convincing, mostly because of his styling. His act of a simpleton school teacher is not something we have not seen before. But we certainly have not seen Bobby in such a role which is why he deserves credit to pull it off. He does increase the pitch, which is unfortunate as one does not need to be loud to be funny, a fact that Bollywood chooses to distance itself from time and again.
The same case with Shreyas Talpade, who amplifies his pitch in order to appear convincing as the comic element of the film. His act is eclipsed by that of his sidekicks who have the best lines in the film and deliver them with just the right amount of punch.
The background music detracts from the film's humour. The issue of vasectomy, though addressed without any inhibitions, is not given the seriousness it deserves. It is merely reduced to a situation that the three characters find themselves embroiled in.
Poster Boys is the perfect example of a victim of second half curse. While it jumps straight into the story line in the first half, the second half is just a quagmire of every random plot point possible. It bites much more than it could chew. From a legal and media battle against the state, forced comic situations and random references to past Sunny and Bobby Deol films, the narrative goes for a toss.
Poster Boys ends up neutralising the grave subject that its premises aim to bring forth. Though the narrative regains shape in the climax and also entails effective cameos from the Golmaal Again team and Sachin Khedekar, it is too late by that time. The audience gives up on the film by the point it starts making sense again, which is just a sign of weak filmmaking by a debutante director who lacks the technical acumen to shoulder a film with a promising premise.
Watch the trailer here:
Entertainment
Tom Clancy's Without Remorse does the bare minimum to stand out in an already cluttered genre of rogue spies seeking vengeance.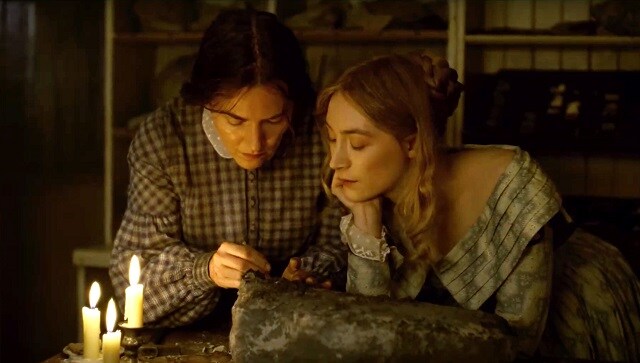 Entertainment
Ammonite suffers from a slowness, that intends to mimic the pace of life, but does not build or culminate into anything profound or satisfying.
Entertainment
Photo-Prem is a funny, quintessential take on what we leave behind for memories but quickly loses potential with half-baked writing and slow pace.