Pity: Zoya Akhtar squanders her chance in Bombay Talkies
Zoya Akhtar's film about a little boy who wants to dance like Katrina Kaif could have been a rare chance to look at thorny issues of children, sexual identity and gender roles. But Bollywood wants to keep its children in a sugary la la land.
by Sayan Bhattacharya
Editor's Note: This article about Bombay Talkies contains spoilers.
Zoya Akhtar's short for Bombay Talkies seems to have gone the Barfi way. Meaning, first come the effusive descriptors like "ebullient and enchanting" (Deccan Herald), "simple" (CNN-IBN) "warmth and sunniness" (Rediff), so on and so forth and then the little bomb that the film might not be such a genuine gem after all. Is it actually inspired by the 1997 Belgian film, Ma Vie En Rose (My Life in Pink)? Quick came the rebuttal from Zoya's spokesperson, "Zoya has seen both the films and she feels both films are completely different. Her film is about how cinema as a popular culture affects imagination of a boy and shapes his aspirations. Ma Vie En Rose is about a boy trapped in the body of a girl. He has a boyfriend and is about the boy's sexuality. Zoya's short film has nothing to do with sexuality as such. It's a sweet story of a school boy who wants to dance like Sheila (Kat)."
Thus one statement meant to dispel aspersions on originality also banishes all queer or gendered readings of the film, turning it into a sugary sweet slice of life, no matter that Zoya's idea of "sweet" also includes sexually charged dance moves.
A bit on the plot. A little boy Vicky (a pitch-perfect Naman Jain) has no interest in sports. His father forces him into football training to make a man out of him. But Vicky wants to shimmy like Katrina Kaif in Sheila ki Jawani. He watches his mother apply lipstick. When his parents are not home, he dresses up in his sister's clothes and dances. His father discovers him and hits him. But angel Katrina advises him to conceal his dreams till the time is ripe enough to disclose them. Vicky guiles his papa into believing that he wants to be a pilot, a 'masculine' enough profession. Then in a dreamy catharsis he dances away to glory to raise money for his sister's school trip.
On paper, a great idea. A film that could question the very foundation of gender roles and gender stereotypes. But, the film remains just an exercise in what could have been. Zoya's statement further banishes it into some kind of la la land, removed from reality.
Zoya Akhtar forgot that her character is not just another boy who wants to become a ballet dancer like Billy Elliot. This is about a boy who wants to cross dress and idolises a female actor. So, what should have been the core of the film — coming to terms with one's idea of self as opposed to the one imposed externally— remains just a hint. That a pre-teen boy who doesn't want to play football and who only watches his female classmates dancing, doesn't exactly have a heavenly time at school is of course too inconvenient for 27 minutes of sunshine. That your family, your neighbours and the society at large will constantly strive, sometimes very cruelly, to make you conform and that they will go to any extent to achieve that is too crude for that fairyland dream. And that children grapple with their sexuality is a no-go zone too, for a film that is only about celebrating. So, after his initial stage fright Vicky gets his groove back, the audience (comprising the neighbourhood kids and their mothers) cheer him on with thunderous applause. Everyone goes home happy. Why bother vitiating feel-good childhood innocence with thorny questions about identity and sexuality?
After all, sexuality is a taboo concept! Childhood is a virginal land here, unblemished by the profane, no matter how much your little one thrusts her pelvis, hands on groin. So Bollywood will have little Anjali in Kuch Kuch Hota Hain freely using the term "sexy" or a terminally ill girl being called just Sexy in Cheeni Kum but our directors will have us believe that sexy has no truck with sex or sexuality. It is just another word like pretty or cool! In this dreamland called Bollywood, children dance and are sexy but they do not attain puberty, they do not talk about hormones or surf porn on the net. That Udaan (where the teenagers behave like teenagers) is an exception only proves how myopic our filmmakers still are!
Here was one chance that Zoya squandered away. A small budget film, unfettered by box office expectations, could have pushed the envelope. Add to that, the fact that a film that was meant to celebrate how cinema is organically linked to our lives. For instance, Harish Iyer spoke on Aamir Khans's Satyameva Jayate, about how Sridevi and her films became his sole refuge during the eleven years of sexual abuse he endured at the hands of a relative. Here is Vicky, isolated from his peers, misunderstood by his father, who is happiest when talking to an angelic Katrina Kaif. What sort of a connect does he have with her? All Zoya does is scratch the surface. Is that how we connect to cinema? Kat on a pedestal? What about a sense of identification, passion, love, protectiveness and release?
One wishes that reality was as seamless as Zoya's technicolor dreams. The fact that child rapes have taken a 336 percent jump from 2001 to 2011 is too gritty a reality for the eternal sunshine of this film's spotless mind. That 53 percent children have faced sexual abuse, only goes on to prove that childhood is not one impenetrable zone. But does the largest film industry in the world care for such 'mundane' reality? Outside of an in-your face Page 3, Monsoon Wedding, I Am or a Pitah here and a Jaago there, where are such stories on screen?
In an interview with Rajeev Masand, Zoya casually mentioned that growing up (in the filmy environment), she had seen many a male friend dress up like girls and dance. That became the germ of her film. Rajeev didn't ask and Zoya didn't share whether the boys seamlessly switched on and off between life and performance. Now is that a journey too disturbing for even the multiplexes? Are the multiplex-era thinking directors listening?
Disclaimer: Bombay Talkies is co-produced by Viacom18, which is a part of the Network18 group that also owns Firstpost.
Find latest and upcoming tech gadgets online on Tech2 Gadgets. Get technology news, gadgets reviews & ratings. Popular gadgets including laptop, tablet and mobile specifications, features, prices, comparison.
Entertainment
Kumar Sanu was supposed to leave for Los Angeles on 14 October to spend Durga Puja festivities with his wife and children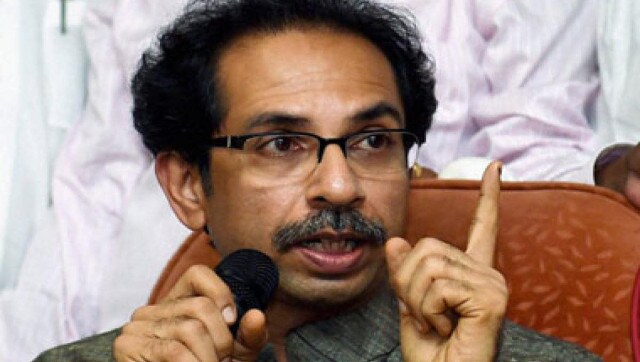 India
The chief minister's comments come in the backdrop of probes by multiple agencies and controversy over actor Sushant Singh Rajput's death
Entertainment
More than two decades after Roja's release, Madhoo will be seen with with co-star Arvind Swamy on screen in Thalaivi.