Pink: The Inside Story — Gautam Chintamani's book explores the film's many layers
In October 2016, Delhi High Court acquitted Peepli Live co-director Mahmood Farooqui in a rape case after a rather contentious judgement that discounted a 'feeble no' from a woman as a 'yes' in response to a man's demand for sex.
The judgement was widely criticised, even by the general public who have been conditioned to stalking by decades of regressive Hindi cinema and have been made to believe "naa me hi haan hain" (a no is disguised as a yes).
The most recent example could be the last line of the song 'Darasal' from Dinesh Vijan's 2017 romantic thriller Raabta. "Inkaar mein jo chhupa hai wo ikraar ho," Atif Aslam's voice announces thrice at the conclusion of the fairly beautiful song. This exclamation point is only a recent drop in the ocean of misleading ideas on consent that Bollywood has poured out over the years.
Thus, a film like Aniruddha Roy Choudhary's 2016 courtroom drama Pink arrived as a breath of fresh air, as it addressed the nuances of 'consent' to sex, a concept that has been alien to a large chunk of Indian population. It was equally refreshing to see Amitabh Bachchan as the face of that discussion as he has conveniently chased many of his heroines onscreen, against their consent, in his Angry Young Man days.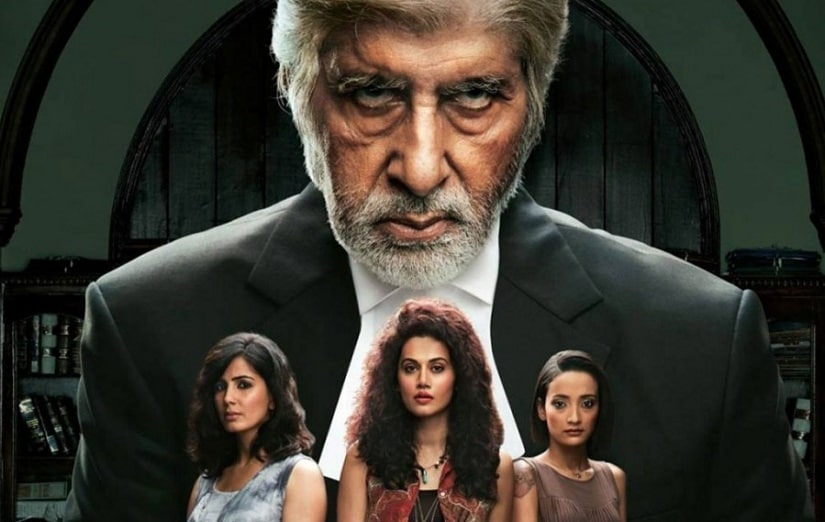 It is because of the impact of this film that the general public could nod in agreement when legal experts and the media pointed out glaring inconsistencies in Farooqui's judgement. Thus, it was only befitting for someone to trace the origin of this milestone of a film and offer an insider's look into the film's making.
Gautam Chintamani took up this responsibility and wrote Pink: The Inside Story, published by Harper Collins, marking the completion of one year since the film released.
Pink starred Taapsee Pannu, Kirti Kulhari and Andrea Tariang in the role of three independent Delhi women who are accused in an attempt to murder case by three young, politically powerful men. In their defense, they were merely trying to protect themselves from an attempt to rape. But the system turns a deaf ear to their repeated screams for help, till Bachchan's character of a bipolar retired lawyer steps in to their rescue.
Besides being a gripping courtroom drama, the film offered multiple rousing monologues from Bachchan who spelled out the "Rule Book" of a woman's character. It was lauded the most for its tight screenplay by Ritesh Shah and went on to win the National Award for the Best Film on Social Issues.
As far as its social impact is concerned, Gautam does a splendid job in getting the readers up to speed about what the film was intended to achieve, the lengths it went to in order to meet its target and the eventual impact it had on the public consciousness.
Through interesting anecdotes, Gautam narrates how the creative producer Shoojit Sircar and director Aniruddha Roy Choudhary felt the need to fructify this film. It was Roy Choudhary's neighbour in Kolkata, an independent woman who was often ridiculed for the most normal of her indulgences, who inadvertently gave him a pressing issue to address through a film.
But the most interesting incident, that in fact captures the essence of what Pink aimed to hammer home, comes from Sircar's end. After not being convinced by Choudhary's skeletal draft of the film, Sircar realised the true potential only when he witnessed his mother-in-law scold his daughter for sitting "improperly". It was this stray incident, that most of us are guilty of overlooking every day, that snowballed into an indomitable will to get Pink to the theatres.
Sixteen drafts later, Pink came the closest to the final product that we are aware of today. It is interesting that the screenplay, which is also a part of Gautam's book, was not as neat and organised when the film went on floors. Improvisations, with inputs from not only legal experts but also cast members, were incorporated in an attempt to achieve a wider reach that resonates with its target group.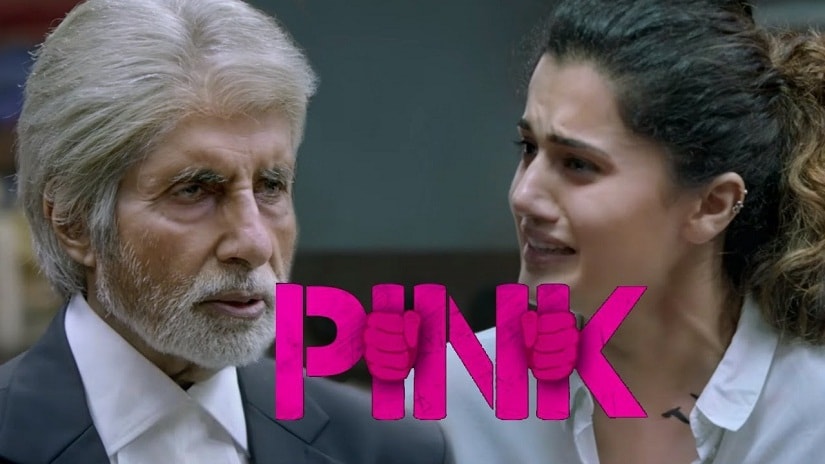 Resonate, it did. Instead of resorting to box office numbers in order to establish the popularity of Pink, Gautam uses anecdotes from Sircar and Choudhary to cite micro examples. He gives a second-hand account of the response that Pink received or the changes in mindset it brought to that of normal people, rather than armchair film critics and detached trade pundits.
Another area where Gautam scores brownie points in getting the nuances of the film right is the way its courtroom scenes were shot. He offers a detailed account of how the makers used multi-camera setup to capture the mood and spontaneity of such scenes, especially the one in which Bachchan's character of Deepak Sehgal confronts Angad Bedi's character of Rajvir Singh.
But where this reviewer feels the book did not throw much light on, was the film's characters. While an air of suspense around all the characters was the need of the hour in the film's narrative in order to involve the audience in joining the dots together, the book could have served as the tool that could dig deep into the psyche and back story of every character.
What the book focuses more is the men (yes, there were more men than women) behind the making of the film. Sircar, Choudhary and Shah occupy a major chunk of the book, rightfully so. But by focusing on them, the book loses out on the chance to know the film's interesting range of characters better.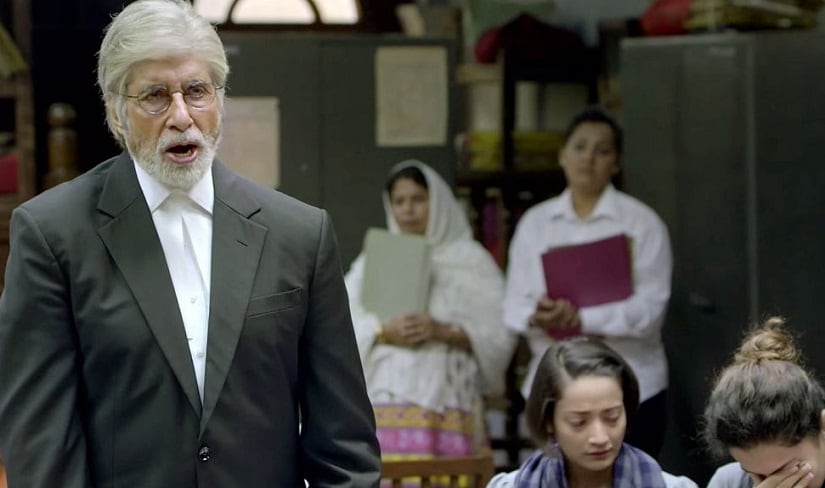 The most intriguing of them all was Deepak Sehgal, the bipolar lawyer, played by Bachchan. The fact that he was bipolar could not be conveyed to a large part of the audience as the rather dominant trait got lost in the midst of all the dialoguebaazi.
In the Actors Roundtable with Rajeev Masand, Bachchan clarified that the "toned down" side of his bipolarity was initially supposed to surface through certain low key scenes that were eventually chopped off, as they were not probably deemed crucial to the central narrative.
Sehgal's bipolarity and ambiguity in the case were hinted at at multiple junctures of the film but were never allowed to take the forefront, as Sircar felt that the move was "not important."
Another aspect of Sehgal's backstory that remains absent from the book is the relationship between the retired lawyer and his ailing wife. His wife was reduced to a fleeting element by the end of the film but this reviewer assumes that she had a meatier role to play in the narrative.
The first scene involving both Sehgal and his wife shows her hinting at the painful absence of a child who could have taken care of them in their old age. "Main toh abhi bhi tayyar hu," (I am still ready) she says, waiting for Sehgal's 'consent'. At this juncture, it is subtly shown how Sehgal never gave the lady his consent for a child and after she dies of a terminal illness, he is left guilt-ridden as he was unable to fulfill his wife's wish for a child.
That is why, this reviewer presumes, he chokes up while delivering the climactic 'No means no' monologue. He is torn between his personal loss and professional requirement while trying to uphold consent as a pre-requisite to sexual intercourse whereas in a personal capacity, he is guilty of depriving his wife of a 'yes'.
Similarly, the three girls' back stories could have added value to the book as well. There is a detailed account of how the three actresses were selected for their roles, with names like Radhika Apte, Soha Ali Khan and even Tabu thrown into the initial mix. But there is little said about the fiercely real characters they played in the film.
Under what circumstances does Taapsee Pannu's character decide to live separately from her parents despite being in the same city? What kind of discrimination does Andrea face because of her ethnicity? What kind of relationship does Kirti's character share with her ex-boyfriend Farhad? Or what kind of financial hardships does she have to go through as part of her daily life?
All these questions, though relevant, were left as loose ends in the film. While the decision of not paying great attention to them avoided a laboured screenplay, these plot points could have added more depth to the film had their back stories been addressed in the book.
Since Gautam does a commendable job in tracing the origin of Pink, measuring its socio-cultural impact and offering a thorough look at the final product thorough a technical prism, this reviewer wishes he encapsulates the the characters and their fascinating origins in yet another insightful and thought-provoking book.
Pink deserves more than just being referred to as a socially relevant film. It is also a creative specimen that boasts of many layers that are waiting to be explored. This book helps in uncovering some of those.
Updated Date: Oct 15, 2017 13:53 PM