Piercing through the radio silence of A-list Bollywood on coronavirus crisis are some murmurs of support
Beyond the dominant silence from Bollywood, many celebrities are responding to the coronavirus crisis in their own ways: by donating money and oxygen cylinders, by amplifying SOS messages on social media, and by employing damage control after receiving flak for a vacation in the Maldives.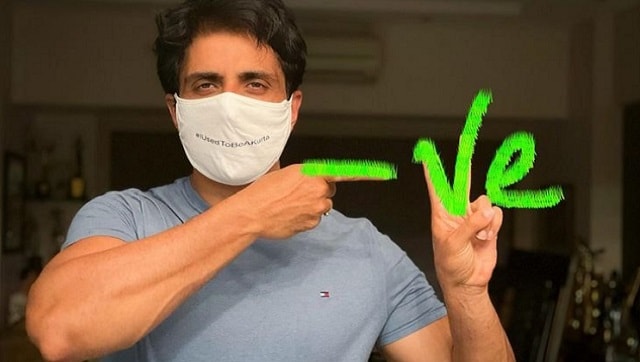 A couple of weeks ago, former journalist and social media influencer Janice Sequeira came across an SOS from Delhi. A single mother with comorbidities and her young son, both positive, required hospitalisation and an ambulance with oxygen to ferry them. Sequeira reached out to actresses Bhumi Pednekar and Tisca Chopra, and together they worked the phones and pulled every contact they had. The case got complicated because the mother did not want to be separated from her son but eventually entrusted some relatives with taking care of him. After one night of treatment at the Common Wealth Games COVID centre, she was moved to the Rajiv Gandhi Super Speciality Hospital, where she is now recuperating. This is just one of the many examples of social media clout being used to help those in dire need at a time when the 'system' is failing us.
When the pandemic hit the world last year, it was described as a once-in-a-century crisis. Indian celebrities from all walks did not waste any time in taking to Twitter to announce their donations to the PM Cares Fund. There were also some social media posts urging people to wear masks and wash their hands. And then they went about their jolly lives in their plush homes.
As soon as the lockdown was lifted, they were back to work and holidaying at picturesque locations. This is the standard celebrity template in any crisis.
Can you really blame us jaded types to expect nothing more from them?
What India is experiencing right now is far worse than last year though, with a death toll that is only second to the bloody Partition that happened over 70 years ago. People are pleading for oxygen and parks are being turned into crematoriums. And, the silence from our A-list celebrities, mostly from Bollywood and cricket, is deafening. Some of them continue to post about their new films (Salman Khan to his 42.4 million followers on Twitter); some have brands to endorse (Virat Kohli to his 112 million followers on Instagram); and some others drop generic prayers while keeping count (Amitabh Bachchan to his 45.7 million followers on Twitter). It is almost like they do not live in a country that is currently accounting for one in every four COVID-related deaths in the world (and those are only the official numbers, far from ground reality). 
There are some who have sprung into action to help in the only way they know — with money. So Akshay Kumar has pledged Rs 1 crore to Gautam Gambhir's foundation while his wife Twinkle Khanna has announced a donation of 100 oxygen concentrators. Ajay Devgn, along with the likes of Boney Kapoor and Sameer Nair, have contributed over Rs 1 crore to set up a 20-bed COVID centre in association with the Brihanmumbai Municipal Corporation in Mumbai. Then there are those who use their social media clout to create a multiplier effect, and raise significantly more. Priyanka Chopra Jonas and husband Nick Jonas have launched a fundraiser on GiveIndia that has raised over Rs 4 crore to support India's crumbling health infrastructure.
In a society that has become increasingly capitalistic over the past three decades, some would say that you can wash away any sin — be it open bigotry, sucking up to a morally corrupt regime or just plain lack of empathy — with a donation here and there, because there are hordes of rabid fans just waiting to make it into a competition of whose 'pappa' gave more. And that is the problem. Those whose politics are different will always look at monetary help with suspicion. Finding an ulterior motive is as easy for a cynic as making that donation when you have money in abundance. But ask those who are working tirelessly at ground level with little or no support and they will tell you that any amount of money is welcome, and so are other kinds of help. 
For example, in Bengaluru, Kannada actor Arjun Gowda has partnered with Project Smile Trust, a Bengaluru-based NGO, and volunteered to be an ambulance driver. John Abraham and Sunil Chhetri, the captain of the Indian football team, have both handed over their social media accounts to NGOs from across the country working towards pandemic relief. These people have gone beyond the standard celebrity template of donating money. Ironically, it is these 'other' kinds of help that wins hearts more often than not. Maybe it is because it takes effort and time; in some cases, it takes an immense amount of commitment too.  
Last year, Sonu Sood showed how much of a difference one driven individual with clout can make, and has continued all the good work he started then. Only this time, he is helping source oxygen cylinders, medicines, and plasma. For the last week or so, Bhumi Pednekar, Tisca Chopra, and Janice Sequeira, along with the likes of social media influencers like Kusha Kapila, Nikhil Taneja, Aanchal Agrawal, and Rohit Raj, former professional footballer Darren Caldeira and director Srijit Mukherji, have been working tirelessly almost around-the-clock to get help to those in need. Most of them are working alone but rely on each other to amplify requests and tap into each other's contacts. But they are also very conscious about that fact that their efforts do not mean that someone else is denied a bed or ventilator.
Depending on the situation and regardless of their stature, each of them is not above playing the celebrity card or asking for favours from politicians, private hospital owners, government officials, and even ambulance drivers. Take Pednekar for example. The actress is working closely with a motley crew of volunteers who verify everything from patients' information to all leads about hospital beds, medicines, and oxygen availability. In the beginning, Pednekar was involved in every single case that came her way but now, she is focusing her attention on the SOS cases that require more effort. 
There is currently also another kind of celebrity who, when criticised for holidaying in Maldives while the country battles an unprecedented disaster, have decided to either go on a face-saving drive by posting COVID-related information or are maintaining complete radio silence. While every minute resource is welcome right now, fans are beginning to see the difference between what is an image-building effort and what is a genuine. 
Celebrities were always meant to be cocooned from the harsh realities of life but it has taken a pandemic of this magnitude to remind us how removed from reality many of them are. And given us a reason to celebrate those who are using the pedestals we put them on for a larger good. May the latter's tribe grow.   
Entertainment
Actress Rhea Chakraborty recently took to Instagram to share a sunkissed picture of herself by the poolside. Have a look!
Entertainment
Actor Vijay Varma, who is currently shooting for Devotion of Suspect X with Kareena Kapoor, will soon start filming for Mirzapur Season 3.
Entertainment
After Love Aaj Kal 2, Aarushi Sharma will be next seen in Netflix's upcoming film 'Jaadugar'.