Phillauri trailer is quirky, intriguing: Anushka Sharma, Diljit Dosanjh leave you curious
Phillauri looks and feels a lot like Love Aaj Kal, but with the addition of a friendly ghost played by Anushka Sharma.
There's lots to love, and giggle about in Anushka Sharma's next film Phillauri.
It begins with Suraj Sharma (of Life of Pi fame) being declared maanglik, and therefore he needs to marry a tree (a common practice to ward of the evil). However, a ghost stuck in the tree (Anushka Sharma) starts to haunt (we use this term loosely) him, claiming he is now married to her.
Anushka looks ethereal as the ghost, even as the VFX (which makes her float and gives her a halo effect) reminds you of Amitabh Bachchan in Bhoothnath. She's a friendly spirit, who then follows around Suraj's character all around his house. This creates quite some tension as he is due to get married in a couple of days.
However, the tone of the film changes completely when someone asks Shashi, the friendly ghost, if she has any remaining desire, because of which she is lurking around. We then go into a flashback, many centuries ago, in Punjab.
It's a fascinating world, quite different from the colourful, contemporary setting that the trailer starts with.
In it, Shashi tells her lover (Diljit Dosanj, looking quite dashing) who is a singer, that he has the power to change the world with his voice. He vows to come back to her only after he has made a name for himself. They both look quite in love, and we are shown how much goes wrong once he leaves.
The film then sets out to show you how the two worlds merge, via one spirit. A quirky and entertaining trailer, Phillauri looks and feels a lot like Love Aaj Kal, what with the sepia tones that are used to depict old-world Punjab. Anushka is the holding ground of the trailer, while there is much intrigue about Diljit Dosanjh.
Phillauri releases on 24 March. Anushka had shown the trailer to members of the film industry over the weekend, and they had all tweeted lovely things about it. In a one of a kind marketing ploy, Anushka released the trailer while on a live Facebook chat.
Watch the trailer here:
Entertainment
In a video shared on Nick Jonas' Instagram handle, he can be seen waiting for someone as he continues to check the time. He also added a hilarious text on the reel for indirectly teasing his wife.
Entertainment
Rani Mukerji starrer Mrs Chatterjee vs Norway released on 17 March 2023.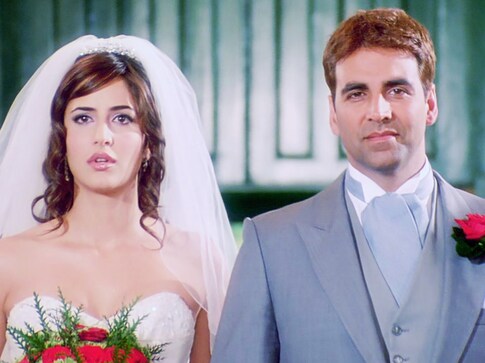 Entertainment
A story of a British girl and a Punjabi boy! Vipul Amrutlal Shah's directorial Namastey London completes 16 years