'Permanent Roommates' season two review: A big fat Bollywood film
This season of Permanent Roommates is bigger, more dramatic but not as intimate as season one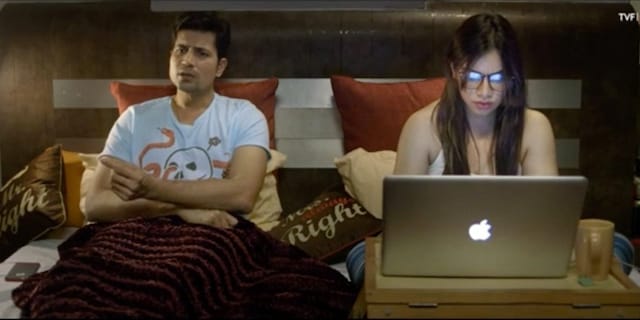 One of the first things that you notice about season two of TVF's Permanent Roommates is that it spoofs the concept of the big fat Indian wedding. This is a thought that stays with you through the five episodes that have been released. And so, this season of Permanent Roommates is bigger, more dramatic but not as intimate as season one, which was largely about its lead couple: Mikesh (Sumeet Vyas) and Tanya (Nidhi Singh).
Launched in October 2014, season one of Permanent Roomates took the internet quite literally by storm. A web-series about a long distance couple who eventually end up in the same city, Permanent Roommates had viewers hooked to Mikesh and Tanya's love story because it had so many references to reality. Mikesh and Tanya could be your friends, your neighbours or your batchmates — and that's what made their story entertaining.
Season two, however, has evolved from a quirky sitcom to a full-fledged Bollywood film (which is not necessary a bad thing). There are sub-plots, comedy fillers, a back story to some of the supporting characters, intimate slo-mo moments between Mikesh and Tanya, and even a negative character who poses a threat.
The first episode begins with the two families meeting, and you are immediately sucked into their world. From just being privy to Mikesh and Tanya's universe, you are now a part of the coming together of two families. While the dynamics reveal themselves, the plot becomes wider. As both Mikesh and Tanya's families prepare for their wedding, they have to deal with a growing relationship and relatives they have never met before, all while ensuring they don't get lost in the process.
However, what is noteworthy is that Mikesh and Tanya's connection does not get diluted. If anything, we now understand what they like about each other even more. Mikesh proves to be a loving partner to Tanya, who goes through her fresh share of family problems, involving her father and her maasi (played by the brilliant Shishir Sharma and Ayesha Raza Mishra).
The real gems of season two, though, are the supporting cast. Whether it is Asrani, who brings some good old school humour to the table with his portrayal of the typical dadaji, or Darshan Jariwala, who plays Mikesh's father, and is probably the quirkest of the lot. You can see where Mikesh gets his strange, bordering on annoying characteristic from. Manu Rishi as Mikesh's relative is stellar in his portrayal of the over-friendly "ghar ka doctor".
Without the supporting cast, and the tam-jham of an impending wedding, there's not much else that is exciting about the season two. While the plot pulls Mikesh and Tanya's relationship forward, it ceases to be a show about two people and their turbulence in love. It was this very trait that made us love season one. But season two is a whole new story, a whole new series. It reminds us of YRF's Bang Baaja Baarat, which carried out the spoof of an Indian wedding with a better pace, and crisper, funnier scenes.
However, Permanent Roommates must be lauded for its crackling dialogues, and the credit goes to the writer of show Biswapati Sarkar.
Eventually, Permanent Roommates reminds us of a larger than life, Bollywood rom-com. Each episode is close to 50 minutes long, has its own graph and the only thing missing are song and dance sequences. If that's your cup of tea, then you will love season two. If it's not, watch the show for its supporting cast: they're sure to make you laugh.
also read
Entertainment
In an interview with Firtspost's Lachmi Deb Roy, actor Sonakshi Sinha says, "I had to learn how to ride a bullet and now I am a proud owner of it."
Entertainment
Martiño Rivas is on a trip, and so are most of the characters of the show. But Nacho trips on its own trippy visuals and tantalizing narrative
Entertainment
What's perplexing today is how the makers split the series. The Jio Cinema app is currently streaming only three episodes and the remaining ones will air as days go by. It breaks the rhythm of the show and also the mood. Is this a new marketing tactic?