Pawan Kalyan, Ajith, Vijay's fans troll critics: Hell hath no fury like a superstar's devotee scorned
Criticise Pawan Kalyan, Ajith Kumar and Vijay fans at your own risk.
In Tollywood, he goes by the moniker of the Power Star who has not tasted box office success for some time now. In the world of politics, Chiranjeevi's brother Pawan Kalyan launched an outfit called Jana Sena in 2014. The one-man party is yet to be tested electorally. But if the treatment meted out to film director, actor, critic and a politically aware citizen Mahesh Kathi is anything to go by, you can criticise Pawan Kalyan at your own risk.
Since Thursday, Mahesh's phone has been ringing every five to ten seconds, forcing him to switch it off and use an alternate number. After a TV interview last week in which he expressed his reservations over Pawan's political stand over different issues, his number was circulated over social media to the actor's fans and they have put Kathi on speed dial since then.
He says he has received some 9000 calls so far and he has blocked some 1500 of them. The callers are either argumentative, seeking an unconditional apology, the tone betraying a 'how dare you?' attitude or are downright abusive and threatening to kill Kathi and his family.
Their umbrage is directed at Mahesh because he said Pawan's political positions are confused. Commenting on his films, Mahesh said he considered him a star, not an actor, whose wavering look is passed off as style.
For PK fans, that is sacrilege and hence this mobile phone fatwa.
"They have called me all kinds of names, from dog to pig. They have issued death threats. They have made memes with very nasty comments and circulated it,'' says Kathi.
This is Mahesh's second joust with Pawan fans. In March, when he criticised the star's Katamarayudu in a review, calling it a "baseless story, predictable screenplay'', fans took offence, pointing to his status as a flop filmmaker who had not achieved much.
Kathi said in his review: "Pawan Kalyan tried his best to save a badly written film with his style. Strictly for PK fans and rest can stay away.''
Pawan fans hit back by circulating his phone number among fan groups who started calling up Mahesh to threaten and abuse him.
This time, his number has been circulated on all forms of social media. Most of the callers, going by the number of PK fans he has spoken to, seem to be in the 16-22 age group. "Impressionable, foolish youth who idolise a reckless guy,'' says Kathi dismissively.
Pawan Kalyan fans suspect Mahesh deliberately criticised their idol because he has political ambitions and that he is trying to make a name for himself. "We cannot put a full stop to emotions of teenage fans. As a mature person, he has to put a full stop,'' one of the fans said.
"If they are thinking their reaction is making me popular, I have a problem with this kind of popularity. I do not want undue attention,'' argues Mahesh. What is disturbing is the undemocratic nature of the Pawan Kalyan fan who will go to the extent of harassing anyone who does not have a positive word to say about his hero.
Kathi feels there is also a caste angle to this attack. The filmmaker was one of the inmates in the Telugu Bigg Boss reality show and was eliminated a couple of weeks ago. He believes that since he was seen rubbing shoulders with NTR Junior, who hosts the show, many of Pawan Kalyan fans have assumed that he supports NTR, who is from the Kamma community. The Kammas have dominated Tollywood, with most of the top-notch actors and directors hailing from the community. Chiranjeevi's family is from the Kapu caste and Kathi believes the fans see this as assertion of Kapu identity.
Not that fans of other Telugu stars are any less fanatic.
Earlier this month, actor and Telugu Desam MLA Nandamuri Balakrishna, who incidentally is also Andhra chief minister Chandrababu Naidu's brother-in-law, slapped a fan who was trying to garland him. The video went viral but Balakrishna's director Puri Jagannadh justified the uncouth act saying fans like to get hit by the temperamental star and this is akin to a love story between the actor and the fans.
There was also the case of fans of Tamil actor Vijay abusing journalist Dhanya Rajendran because she made a passing remark on Twitter saying she had walked out of his 2010 film Sura because she found it boring.
Which is perhaps why Kollywood actor Ajith distanced himself from anyone who claimed to be his fan and abused anyone, ahead of the release of his film Vivegam last week. But that has not prevented Ajith's admirers including fellow actors and directors from going after Tamil Talkies critic Maran, saying he did not respect the hard work that had gone into the making of the film. Other fans have been abusive.
Mahesh is disappointed that Pawan has chosen to stay mum. "But I do understand that he can neither own what these fans are doing nor disown them because they are seen to be standing up for him,'' says Kathi. "But he can at least tweet asking his fans not to bother me because my life has been completely upset by this. The fans see this as some kind of heroism.''
Since Pawan has not done anything of the sort, Mahesh is now planning to file a police complaint against this organised abuse, naming Pawan as co-accused along with some of the fans who have threatened him. That can mean only one thing. This silly controversy isn't going to end any time soon.
Entertainment
"Instead of having boxing as just an element in the story, we have tried to narrate a life in the film," says Arya on Sarpatta Parambarai.
Entertainment
Director-duo Pushkar and Gayathri, who helmed the Tamil original, will also return as directors on the Hindi remake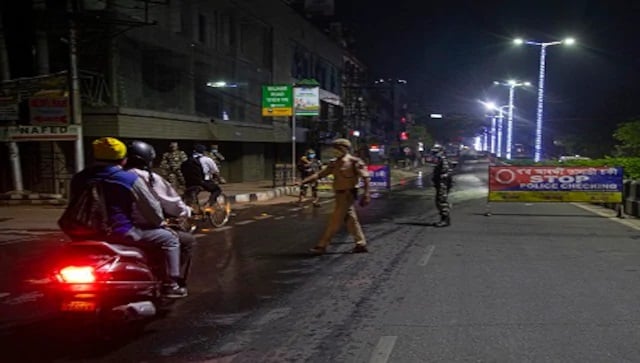 India
Water parks and swimming pools can operate at 60 percent capacity from 20 July, but their staff must get at least the first dose of the COVID-19 vaccine by 31 July