Paul McCartney performs in front of 48000 fans in earthquake-hit Mexico
Paul McCartney performed in quake-hit Mexico in front of 48,000 fans in the Azteca Stadium. He performed in the country after a gap of five years.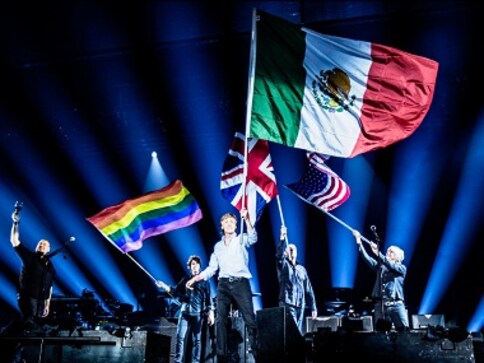 Paul McCartney lifted spirits in quake-hit Mexico at a concert here punctuated with the cry "Fuerza Mexico!" More than 48,000 fans gathered in the city's Azteca Stadium on 28 October to hear the former Beatle in his first Mexico City concert in five years.
Before launching into 'Maybe I'm amazed', McCartney raised his fist, evoking the hand signs used to call for silence during the search for survivors in the ruins left by the 19 September earthquake.
"Fuerza Mexico!" he shouted to the roar of the crowd, delighted by his use of the Spanish phrase meaning "Be strong, Mexico!"
The 7.1 magnitude quake toppled buildings in the city, killing more than 400 people and leaving thousands homeless.
Shortly after the quake, McCartney sent a message on Twitter to Mexicans expressing his affection and support "in these difficult times."
During his previous Mexico City concert, McCartney filled the giant plaza in the heart of the city known as the Zocalo with 200,000 fans.
On his current One on One tour, which began in the United States in 2016, the British legend has performed 41 shows before 1.2 million people.
World
It was the strongest of more than 1,200 aftershocks from a magnitude 7.7 quake that struck the same area of Mexico on Monday, the national seismological agency said
India
Strong tremors were felt in nearby Colima which is situated around 100 kilometers (62 miles) from the epicentre whereas light to moderate shaking was felt in Mexico City
India
The 1968 photographs of Paul McCartney in the backdrop of dry Jakhan River also show two similar trees on the right side, but they got uprooted long back