Paul McCartney performs in front of 48000 fans in earthquake-hit Mexico
Paul McCartney performed in quake-hit Mexico in front of 48,000 fans in the Azteca Stadium. He performed in the country after a gap of five years.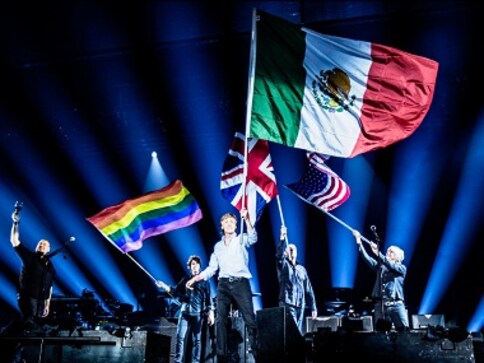 Paul McCartney lifted spirits in quake-hit Mexico at a concert here punctuated with the cry "Fuerza Mexico!" More than 48,000 fans gathered in the city's Azteca Stadium on 28 October to hear the former Beatle in his first Mexico City concert in five years.
Before launching into 'Maybe I'm amazed', McCartney raised his fist, evoking the hand signs used to call for silence during the search for survivors in the ruins left by the 19 September earthquake.
"Fuerza Mexico!" he shouted to the roar of the crowd, delighted by his use of the Spanish phrase meaning "Be strong, Mexico!"
The 7.1 magnitude quake toppled buildings in the city, killing more than 400 people and leaving thousands homeless.
Shortly after the quake, McCartney sent a message on Twitter to Mexicans expressing his affection and support "in these difficult times."
During his previous Mexico City concert, McCartney filled the giant plaza in the heart of the city known as the Zocalo with 200,000 fans.
On his current One on One tour, which began in the United States in 2016, the British legend has performed 41 shows before 1.2 million people.
Entertainment
"It's not a Garrix song with Bono doing the vocals and The Edge playing guitar. Everybody has contributed as much to the final song," Martin talks about collaborating with his childhood idols for 'We Are The People,' the anthem of UEFO EURO 2020.
Entertainment
Billie Eilish is speaking out after videos of her using a racist slur as a young teen resurfaced last week.
Entertainment
Despite the weak start, Doja Cat fulfils her promise on Planet Her, with an exciting, unpredictable style and a vocal ability that can switch from buttery sweetness to cutting raps.