Patio Unplugged: The Bassic sing of teenage suffering and are reminiscent of your favorite pop-rock groups
The Bassic, a four-piece all-girl group from Mumbai, will remind you of a number of pop-rock sensations.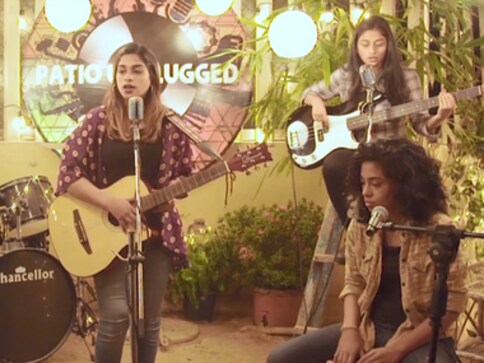 The Bassic, a four-piece all-girl group from Mumbai, will remind you of a number of pop-rock sensations, like 5 Seconds of Summer. Comprising of Alezzandra (vocals, rhythm guitar), Aarifah (drums), Brunelle (bass) and Sianna (lead guitarist, keyboards) — this band has incorporated the sound of standard pop-rock anthems into their own music. In a new episode of Patio Unplugged, the group gets together to play two of their singles, 'Bad Influence', and 'Never'.
'Bad Influence'
The first track is guitar and bass-driven and is reminiscent of something Avril Lavigne would make in the early 2000s if her music was stripped of all pop-punk elements. 'Bad Influence' is a simple track which moves forward with formulaic guitar chords and a catchy bass line. The chorus of the song is catchy and almost sticks in your head after a few casual listens. Alezzandra, the vocalist of the band, forms the backbone of the track with her consistent and pleasant voice. The lyrics deal with the topics that any teenager would relate to: Indulging in something that is bad for you, but you do it anyway.
You can hear the track here:
'Never'
The second track, titled 'Never', is mellower, softer, and even more measured in its execution. The song is propelled forward by a simple keyboard melody and is adorned by the harmonising vocals of Alezzandra and the bassist Brunelle. The structure of the song is similar to any mid-2000's pop anthem and sounds eerily like a Boyzone track with its familiar flow and transitions. While the guitars are kept to the minimum in the acoustic version of the track, the bass and the keyboards complement each other well, giving the song a pop ballad kind of a feel. The falsetto of the singer's voice, coupled with the lingering drone of the bass guitar differentiates this track from the previous one. These are the type of songs that will pull-off being a straight-up pop-rock track when performed with full-fledged instruments.
You can hear the track here:
Entertainment
Interspersing English and Korean lyrics, this love song sees the Asian K-Pop singing phenomena hold their own as Chris Martin-led Coldplay bring their distinct brand of grand pop-rock to the experience.
Entertainment
Global Citizen Live on Saturday will be a round-the-world event (including Mumbai) to raise awareness on climate change, vaccine equality, and famine.
Entertainment
"Music is just a small part of my larger picture, of how I would like to be. It is as much a stepping stone as acting or even education was for me," says Lucky Ali, who recently turned 63.