Patio Unplugged: Sooraj Bishnoi is comfortable with instruments, but his vocals let him down
On Week 4 on Patio Unplugged, singer, songwriter and multi-instrumentalist Sooraj Bishnoi
Editor's note: Patio Unplugged — a platform for indie artistes and a Lazy Patio Films production — is bringing over 30 musicians from Mumbai in its first season, to audiophiles. Born out of a love for acoustic music and a passion for film-making, Patio Unplugged not only provides a stage to artists but also a chance to record their music, and shoot two music videos. What sets this programme apart, is that artistes from across genres recreate their music in an unplugged format. Each artist/band featured on the show will perform two original songs. The Habitat Comedy and Music Café is the audio partner for the show. The Habitat also records, mixes and masters the tracks for Patio Unplugged and hosts the artistes every Saturday as an event called 'The Listening Room Sessions'. We're featuring each of the artistes from season 1, on Firstpost.
***
Patio Unplugged's fourth independent artist is Sooraj Bishnoi, who is a singer, songwriter and multi-instrumentalist based in Mumbai. According to the artist, he has been playing keyboards since the age of one-and-a-half and the guitar and piano since he was nine. Sooraj has performed as part of a several bands and solo as well.
It's clear that Sooraj has a long way to go and is yet to develop as a solo artist. He clearly is comfortable with many instruments, but it doesn't take long to notice his weaknesses. His vocal range is limited and those limitations are accentuated when performing solo. His first song 'Afterlife' is an acoustic strum that you've heard your friends in college play a million times. The song lacks polish and has a very amateurish sound to it. From the song-writing to the choice of chords, accompanied by lacklustre vocals, the song really doesn't have much to offer.
The second song is called 'Nemesis', and though it is different and tries to stray away from the formulaic acoustic song, it just doesn't work. The song is supported by a plucked guitar riff which is catchy but is again let down by weak vocals. In both the songs Sooraj has tried too hard match his vocals with the strum pattern, which robs the song of its identity. There's hardly any distinguishable characteristics about them. 'Nemesis' is also betrayed by a chorus that just doesn't fit in with the song.
The artist has performed in choirs, a cappella groups, and theatre productions, besides performing as a solo artist. But he is yet to find his sound as a solo performer and at this moment his voice is not suited for solo performances. It would do him good to perform with bands and in groups to hone his vocals before going solo. Playing and instrument and singing seems like a simple enough task, but pulling it off and sounding distinct is tricky. Sooraj could try re-arranging the songs with a full band as a fuller sound would definitely help him.
Entertainment
At times, Schmigadoon! can feel like a Simpsons parody that outgrew its segment, or a classic movie butchered in order to insert commercial breaks. Luckily, it's also too fun for most of that to matter.
Arts & Culture
What would be an ethnographer's delight, the socio-cultural history that On that Note explores is not projected deliberately. It lurks in every incident Sanjay Subrahmanyan narrates and every note he sings, but is never spelt out.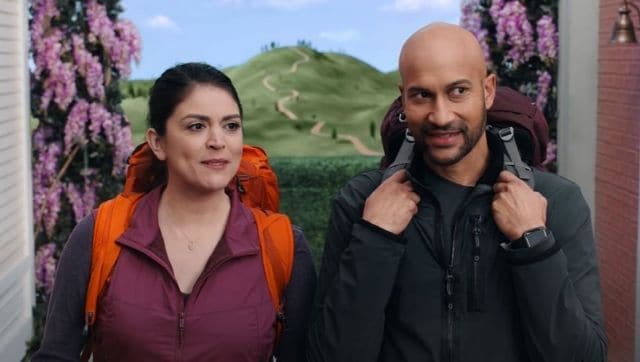 Entertainment
Though bumpy at times, Schmigadoon! is a feel-good comedy and a hat-tip to musicals, worth a slow-Sunday watch.