Patio Unplugged: Mumbai-based Rajesh Ravi charms the audience with his wit
For his Patio Unplugged session, Rajesh Ravi presented a song titled Jaageer, about Mumbai's auto rickshaw drivers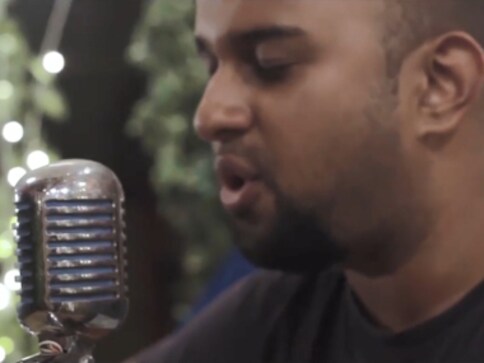 Rajesh Ravi is a smart indie artiste who knows his limitations and scores within the territory of expertise. It is perhaps his experience of working in a studio that lets him perfectly place words into groovy loops. At times, the body of the guitar also doubles up as his percussion instrument.
At his Patio Unplugged session, Rajesh presented a Hindi original titled 'Jaageer'. There is a lot of heart in the song. The simple and undisturbed arrangement is a good change from electric guitars. It is a sing-along. Though it sounds light, playing a constant pattern and singing along without glitches is a mark of a sound console techie.
The song talks about the authoritarian attitude of certain people, but there is a twist. Like Samuel Taylor Coleridge, our Mumbai boy decides to stop the song halfway, concluding with the thought that we all witness wrongdoings but do nothing to change it. The blame should be shared. The doodling is a sharp reflection of the indifferent attitude.
Though the auto rickshaw drivers in the city are usually good to commuters, Rajesh's one-off experience brought out the rebel in him. He mocks their pseudo-royal demeanour with imperfectly perfect adjectives. 'Kaali peeli mehelon ka raaja' (kings of the black-and-yellow temple, denoting the colour of the vehicle) is observant and real.
The second protagonist of the song is a cop who lives on bribes. This is where Rajesh concludes before digging further.
All is well, but there is one problem area so far. Had it not been for the lyrics, the song would have been a tough one to understand from the dynamics point of view. It starts well, but the pitching gets shaky in the next verse. At times, the emotions and the voice are at different ends.
Rajesh's wit and ability to interact with the crowd while performing balances out the shortcomings. It is a great song to start the day, while you wait for your ride to work. At least, now that the app-less auto drivers are highlighted in an indie song, we can hope for lesser strikes by Uber and Ola.
Watch Rajesh Ravi speak about his music and the song 'Jaageer'
Entertainment
83 Trailer Released: The trailer of Kabir Khan's much-awaited movie 83 is finally out. Ranveer Singh is a spitting image of Kapil Dev, while Deepika Padukone makes a short appearance in the trailer as Romi Dev.
Entertainment
Raftaar's latest song Ghana Kasoota, which loosely translates to 'awesome' in Haryanvi, has desi swag with contemporary hip-hop beats.
Entertainment
While Ram Charan portrays the role of Alluri Sitarama Raju, Jr NTR will be enacting the character of Komaram Bheem. Among those who appear in RRR are Ajay Devan, Alia Bhatt, Shriya Saran, Olivia Morris, Ray Stevenson, and Alison Doody.