Parmanu, Solo: A Star Wars Story, Bioscopewala, Bucket List, Book Club — Know Your Releases
From John Abraham's Parmanu to Madhuri Dixit's Bucket List, here are all the releases this Friday.
This week, cinegoers will have a rather eclectic mix of films — both Hindi and English — hitting the screens across the country. Each of these films belong to diverse cinematic genres — drama/thriller (Parmanu: The Story of Pokhran), drama (Bioscopewala), comedy/drama (Bucket List), fantasy/science-fiction (Solo: A Star Wars Story) and comedy (Book Club).
Parmanu: The Story of Pokhran
What's it about: The story takes a look at India's first confidential nuclear test series at Pokhran lead by Dr. APJ Abdul Kalam, during the time of PM Atal Bihari Vajpayee's tenure.
Who is in it: John Abraham, Diana Penty, Boman Irani
Why it may work: The story is based on a topic that will interest people as it is about India's race to becoming a nuclear country
Parmanu: The Story of Pokhran has been directed by Abhishek Sharma.
Bioscopewala
What's it about: Bioscopewala is an extrapolation of Rabindranath Tagore's classic short-story Kabuliwala. It extends the story from where Tagore's Kabuliwala ends. In this extrapolation, Kabuliwala shows films to children in Kolkata and misses his daughter who is in a Kabul ravaged by civil war. Will he meet his daughter again? Will their story find a completion this time?
Who is in it: Danny Denzongpa, Geetanjali Thapa, Tisca Chopra and Adil Hussain
Why it may work: The charm of the movie lies in the fact that it is based on a short-story that is highly loved by people across generations and might attract audiences based on this fact,
Bioscopewala has been directed by Deb Medhekar. 
Bucket List
What's it about: The story revolves around a woman trapped in the confines of her own choices and her journey to self-discovery. Madhura Sane is a housewife belonging to a quintessential middle class family. One fine day, through a chance encounter, she comes face-to-face with a choice that could potentially change her whole life.
Who is in it: Madhuri Dixit, Renuka Shahane, Sumedh Mudgalkar
Why it may work: A movie where Madhuri Dixit will be seen on the big screen after a long time might surely work based on the fact that her fans want to see her act.
Bucket List has been directed by Tejas Vijay Deoskar.
Solo: A Star Wars Story
What's it about: The story of this Star Wars movie is about an adventure into a dark criminal underworld where Han Solo meets his future copilot Chewbacca and encounters Lando Calrissian years before joining the Rebellion.
Who is in it: Alden Ehrenreich, Woody Harrelson, Emilia Clarke and Donald Glover.
Why it may work: It is a Star Wars movie where a young Han Solo and Lando Calrissian are present. That is reason enough.
Solo: A Star Wars Story has been directed by Ron Howard.
Book Club
What's it about: The movie is about four lifelong friends whose lives are forever changed after reading 50 Shades of Grey in their monthly book club.
Who is in it: Diane Keaton, Jane Fonda, Candice Bergen
Why it may work: The movie seems to be an endearing comedy and has at its heart a book that has been hugely successful.
Book Club has been directed by Bill Holderman.
Entertainment
In a video shared on Nick Jonas' Instagram handle, he can be seen waiting for someone as he continues to check the time. He also added a hilarious text on the reel for indirectly teasing his wife.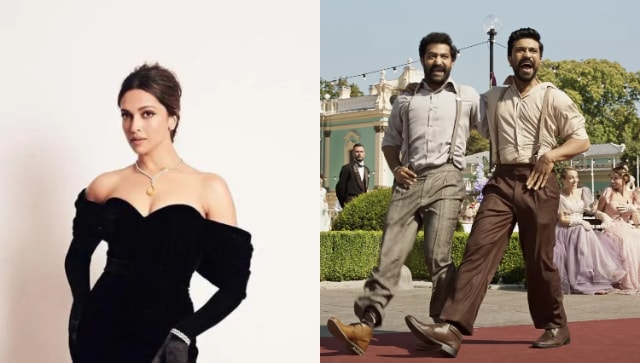 Entertainment
Deepika Padukone made her debut at this year's Oscars where she presented the Naatu Naatu song. 
Entertainment
Recalling her younger days, the actress mentioned a "handsome young" teacher whom she labelled as 'Mr Abercrombie' in her book and said that he admitted to having a 'crush' on her