Pahlaj Nihalani removed as CBFC chief: A look at some of his most controversial decisions
As Pahlaj Nihalani steps down, here's a look at all the major controversies that defined his stint: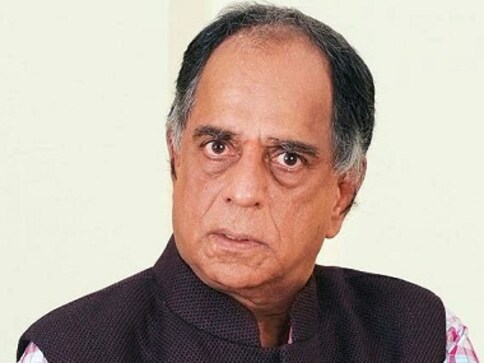 The year 2015 was one that saw two very controversial appointments to two prominent bodies in India: one was producer Pahlaj Nihalani being named as the chief of the Central Board of Film Certification (CBFC) and the other was Gajendra Chauhan's selection as the chairperson of the Film and Television Institute of India (FTII).
Chauhan's appointment led to the infamous 139-day strike by FTII students.
The news about Nihalani wasn't met with very sanguine emotions either — although there were no loud, outright protests.
In the two-and-a-half years that Pahlaj Nihalani has been in office, headlines — and not of the positive kind — have dogged his footsteps. First, he released a list of words that would no longer be 'allowed' in movies, including 'f*ck' and 'Bombay'. Then, he locked horns with more than one filmmaker, over what they were allowed to show on screen. Films were given a whopping number of cuts: 94 for Udta Punjab, 48 for the recent Babumoshai Bandookbaaz. Then there were the 'censor chief's' pronouncements on morality that came up time and again.
In January 2016, the Union Information and Broadcasting Ministry set up a committee headed by veteran filmmaker Shyam Benegal, to revamp the rules governing film certification and censorship.
Nihalani's three-year tenure was set to end in January 2018. However, there had been speculation for some months now that he would be asked to step down — with names like Prakash Jha, Madhur Bhandarkar and Chandraprakash Dwivedi being suggested as replacements.
On Friday, 11 August 2017, adman, writer and poet Prasoon Joshi was appointed as the new chairman of the CBFC.
As Nihalani steps down, here's a look at all the major controversies that defined his stint:
Nihalani's (infamous) list of banned words
Soon after he was appointed chairman, Nihalani sent out a list of banned words to the Producers' Association and Regional Officers, informing them that they cannot be used in films at all. These words ranged from the more predictable cuss words like f*cker, son of a b*tch, and p*ssy, but also featured "violence against womans", the old name of Mumbai — Bombay, and ambiguous things like "double meaning words" and "sexual terms". This from the man whose film producing career had led to such musical gems as 'Main Maal Gadi' and 'Khada Hai'. People responded by asking why these cuts were necessary in films which would be rated 'A', adding that many films in the past would have not been passed at all if these regulations existed then. In more recent times, Nihalani has red-flagged words like 'virgin' (Finding Fanny) and 'intercourse' (Jab Harry Met Sejal), among others.
The battle with Udta Punjab
While several filmmakers have protested against what they felt were Nihalani's unfair decisions, none of the battles were as pitched as the one between the Udta Punjab team and the CBFC chief. When the film was presented to the CBFC, it asked the Udta Punjab team for no fewer than 94 cuts, as presented in a 13-point list. Several of these cuts were verbal, involving the deletion of a few swear words, the names of cities, and the name of a dog in the film (Jacky Chain). Producers Phantom — Anurag Kashyap, Vikramaditya Motwane, Vikas Bahl, Madhu Mantena; director Abhishek Choubey, actors Shahid Kapoor, Alia Bhatt and Dilit Dosanjh called out what they felt was a curtailment of their creative freedoms, and approached the Bombay High Court. The Bombay HC finally passed the film with just one cut.
Lipstick Under My Burkha in trouble for being 'too lady-oriented'
Among the more controversial happenings during his tenure, Lipstick Under My Burkha was banned by members of the CBFC after the film refused certification on the grounds of being 'lady-oriented' and exploring "fantasy above their [women's] life". An issue was also raised about the "sexual scenes, abusive words, audio pornography and a bit sensitive touch about one particular section of society". Unsurprisingly, this decision received flak because of the sheer number of sex comedies revolving around male desire that have been passed by the CBFC; people demanded to know why female desire was so taboo.
Cutting short the kiss in Spectre
During the release of 2015 Daniel Craig-starrer Spectre, the CBFC chief and his team ordered cuts in a kissing scene in the film. A PTI report had then quoted Nihalani as saying that he didn't watch the film, leave alone the kissing scene. He passed the decision based on his team's judgement. "We have given the certificate but I have not watched the movie. I don't have any role in the examining committee. I am the chairman but it is not my job to watch the movie. I have not watched a single shot of the film," said the then CBFC chief. This decision was met with a lot of displeasure — a premonition of how Nihalani's other unpopular calls would be received.
Ban on 50 Shades Darker
If Spectre's kissing scene was cut, how on earth could one imagine that Fifty Shades Darker would even be screened? And so it happened under the tumultuous tenure of Nihalani. James Foley's 2017 erotic thriller and sequel to 50 Shades of Grey, based on the erotic trilogy written by EL James, was banned in India. According to a report by The Quint, the prequel to the film also met with a similar fate in India when it got released back in 2015. Although the then CBFC CEO Shravan Kumar refuted the allegations saying that CBFC had no power to ban a film.
Random cuts for xXx: Return of Xander Cage
This film starring Deepika Padukone and Vin Diesel received a bizarre set of cuts from the CBFC. The makers were ordered to cut out shots where smoking and drinking were portrayed and the word b*lls, but also included in the list were the word 'baller', and visuals of women sleeping on a bed and pouring drinks. Social media was filled with people poking fun at the CBFC for not understanding the meaning of 'baller'. People were also enraged because of the cuts involving women, and asked why instances of men pouring alcohol were acceptable.
*That* Modi song
Nihalani's tribute to Prime Minister Narendra Modi drew flak for a variety of reasons. While the quality of the song itself was contestable, shots of the Tour De France, the International Space Shuttle, Moscow's International Business Centre and the Dubai Expressway were played in a montage — under the guise of being Modi's India. The video was beamed in theatres during the interval of Salman Khan-starrer Prem Ratan Dhan Payo. Nihalani, however, did not find anything amiss with the video, declaring: "If this is chamchagiri (sycophancy) then I am proud of it."
World
China's tight grip over the internet, with a massive system of censorship that scrubs posts casting the Communist Party's policies in a negative light, has limited public debate over just how far Beijing should go in its showdown over Taiwan
Entertainment
Be it, receiving a standing ovation at the Indian Film Festival of Melbourne to receiving a standing ovation at Fantasia International Film Festival and London film festival, Anurag Kashyap's upcoming mystery drama 'Dobaaraa' has always marked its presence wherever it goes.