Padman: Akshay Kumar delivers career best performance in audacious film cursed by underwhelming first half
Akshay Kumar acts as the perfect bridge between the 'classes' and the 'masses', using subtle humour and a straight face to debunk one menstrual myth at a time.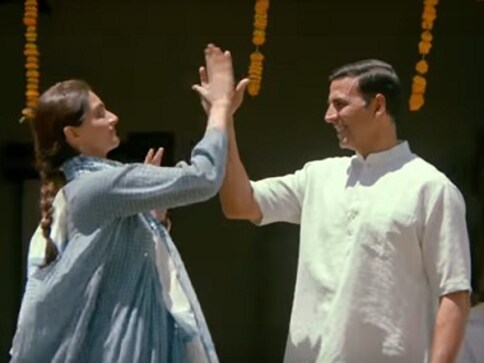 Had Padman released on its original date, 25 January, along with Padmaavat, it would have surely dominated the 'vagina monologues' (remember Swara Bhasker wrote an open letter to Sanjay Leela Bhansali stating that his film made her feel reduced to a vagina at the cost of Rajput honour?). Akshay Kumar-starrer Padman battles an abstract notion of shame (which masqueraded as a shield of honour in Padmaavat) around the conversation on menstruation.
Inspired from the life of Arunachalam Muruganatham, the inventor of a low-cost sanitary pad manufacturing machine, Padman is based on a short story in Twinkle Khanna's book The Legend of Lakshmi Prasad. Akshay Kumar plays the role of Lakshmikant Chouhan, the character modelled on Muruganatham, a mechanic who lives in a village in Madhya Pradesh.
Soon after his wedding to Gayatri (played by Radhika Apte), he notices how she is ostracised from the house during menstruation. She uses a dirty rug to clean the menstrual blood which makes Lakshmi apprehensive of the health hazards it could cause to his wife. Gayatri is averse to the idea of using a sanitary pad because of its high cost, which prompts her husband to come up with a low cost sanitary napkin of his own. His efforts backfire as his single minded agenda to invent a pad only makes the entire village dub him as a madman. Thus starts his journey to evolve from a madman to a Padman.
Pardon the done-to-death rags to riches/underdog trope, but that is what the entire promotional narrative around the film has been like — to project Kumar's character as a superhero (even Amitabh Bachchan pops up in a cameo to commemorate the mighty Padman).
Kumar remains refreshingly aloof of his 'the next big thing' persona and pumps humility into his character. I'm deliberately using the word 'pump', because it seems like he invests a lot of effort into his act (watch out for the scene where he demonstrates how his invention is operated). He acts as the perfect bridge between the 'classes' and the 'masses', using subtle humour and a straight face to debunk one menstrual myth at a time.
The divide between the 'classes' and the 'masses' plays a character in the film as well. R Balki and Swanand Kirkire creatively deconstruct Khanna's short story and then build a narrative of their own. The film is aptly divided into two symbolic halves. While the pre-interval portion focuses on the countryside (Lakshmi's native village), the post interval bit transports the viewers to New Delhi and Indore for the most part.
In a strange twist of events, this film suffers from the curse of the first half. The norm these days has been to falter in the second half but Padman makes for an exception.
Its second half plays out far better than the first one. The plot, though, quickly dives into the central issue (after Arijit Singh's incredibly hummable 'Aaj Se Teri'), and I reckon Balki could have taken the cinematic liberty to chop off some stretched parts: he plays his best cards in the second half.
The cinematic liberty gains immense significance in this film because Muruganatham has given his consent (as per a discliamer preceding the film) to the makers to alter certain facts of his success story. The free hand has been fruitfully utilised in the second half. Now, it can be argued that Balki was more comfortable bringing his own inputs to the table, which is why the second half is constructed deftly. It can also be argued that Balki feels more at home projecting a mileu he is familiar with. In one of the best yet the most understated scenes of the film, he puts forward his writing genius through a freewheeling conversation between Sonam Kapoor's character and her father. This scene boasts of the trademark organic smoothness that his films — like Cheeni Kum and Paa — are known for.
Sonam's character is completely a figment of Balki's imagination. She plays a tabla player cum MBA student who acts as the catalyst in realising Lakshmi's vision. Balki draws her character sketch rather well. While the original text had a female character who played Muruganathan's English tutor, his language has been treated as a non-issue in the film. The focus is entirely on menstrual health, which is where the inclusion of Sonam's character benefits from.
Instead of a man picking a fight for his wife, like in Kumar's Toilet: Ek Prem Katha last year, the viewers see a woman take equal charge by providing the marketing and finance expertise to Lakshmi's idealistic vision, in Padman.
In one of the scenes, Sonam Kapoor also mentions how being a woman helps in initiating a conversation around periods. It is a smart move to allow space for a major female stakeholder in the process. Sonam, known for her oft feminist stance, fits into her character like a glove, but her limited acting skills do stand shy in front of a more experienced Akshay Kumar.
But what her character is scarred with is a romantic angle with Kumar's character. Given that they look the best together when they are platonic, the inclusion of a love angle can be argued to be adhering to formulaic redundancies. In Muruganatham's story he confessed a romantic attraction towards his English tutor, but Balki could have easily chopped this bit out.
If Balki had to give a steeper character graph to one character, he should have given it to Radhika Apte. Her role is overtly melodramatic just like most of the other villagers. Balki stays true to the Bible here and even Apte conveniently plays to the gallery. It's not like Apte is wasted in the film, but she could have used her proficiency to bring more depth or quirks to her cliched character.
Amit Trivedi's fast-paced music lends an air of purpose to the film. The cinematography, besides promoting MP tourism, gives a sense of sorcery to Kumar's pad making process.
The costume designer chooses lighter tones for Kumar (because Padman), vermilion red for Radhika Apte (because blood) and loose printed outfits for Sonam (because South Delhi). The production design is one of the few elements in the first half that fare better than those in the second.
Overall, Padman packs in a lot of meat within 2.5 hours but most of it is the concentrated second half whereas the first one stands diluted. Balki's direction elevates the film almost as much as Kumar's charged portrayal. It is certainly one of the best in his career so far. An extra hoot to Padman for being the first mainstream film to dare address what has long been stuck between the legs. A small film (Phullu) did try to make its presence felt last year, but Padman has proved to be not only a bigger but a better film.
Find latest and upcoming tech gadgets online on Tech2 Gadgets. Get technology news, gadgets reviews & ratings. Popular gadgets including laptop, tablet and mobile specifications, features, prices, comparison.
Entertainment
Nimic's central theme of identity may lead to severe existential crisis, but perhaps that's the crowning jewel of the twisted pleasures of a Yorgos Lanthimos production.
Entertainment
Middle Class Melodies is a heartwarming drama, and it treats its world and characters with a great amount of verve and emotional heft, while never losing its touch with humour.
Entertainment
If anything, Hillbilly Elegy proves even the best actors don't always make the best choices.