Pa Paandi movie review: Dhanush's directorial debut, starring Rajkiran, is the perfect summer release
Pa Paandi is lit up by the strong, resilient and heartwarming performance by Rajkiran
Power Paandi aka Paandian Pazhanisami (played by Rajkiran) is an ageing stuntman who is at the heart of Dhanush's directorial debut, Pa Paandi. His relationship with his son Raghavan (Prasanna) and later, his first love Poonthendral (Revathy), forms the bedrock of this tale, that is the perfect summer release.
'Writer-director Dhanush' is amply encouraged by 'producer Dhanush'. Perhaps only Dhanush's Wunderbar Films could have made this film, with an ageing, unconventional protagonist. He may be a first-time director, but Dhanush's deftness in handling actors comes to the fore in some of Pa Paandi's best scenes, mainly those involving Revathy.
Pa Paandi is lit up by the strong, resilient and heartwarming performance by Rajkiran. Witness the scene where, made eloquent after a few beers, he tells his son how he wanted to name him 'Rambo', but ended up acceding to his wife's wish of naming him 'Raghavan' as it sounded 'urban and sophisticated'. This emotional outburst also signifies the other important thread of the narrative — a son's quest to have an identity independent of that of his father's.
Prasanna is perfect in his part as Raghavan, with his arresting screen presence and natural acting lending a certain realism to how grown-up sons and parents interact. He keeps his love and any warmth hidden beneath a shield of grumpiness or coldness — although it would be fair to say that his father's antics do give Raghavan some cause.
As for Revathy, she brings in a charm that complements Rajkiran's boisterousness. Their new age romance brings a smile here, and a tear there!
Not just the main actors, from the children in the film to the smallest of characters — everyone has a graph and is aptly cast.
The film revels in intricate details that are peppered throughout a simple narrative: The grandson who caresses Paandi's throat as he swallows his medicine, the way Paandi uses his leg to stop a goon he has punched from getting hurt further, or the minute ways in which the everyday equation between the father and son unfolds. The pace is set at a certain slowness, which is neat.
The screenplay writing draws from real life. For instance, there is a scene where Paandi (Rajkiran) is shown recounting a previous incident (from the story) to his grand-kids — instead of a visual interplay/flashback between scenes. Don't we also recount, replay and re-narrate stories to friends and family all the time? The dialogues have a humour that flows in from the smart (but thankfully not over-smart!) child actors, Rajkiran, and from the scenarios themselves.
An emotional peak in the film is when Paandi is called upon for a stunt sequence: He first establishes the entire single-shot sequence by repeating the instructions of the stunt master; then performs it to perfection. The camera (by Velraj) captures Paandi's myriad emotions which skate across his face: self-doubt, replaced by triumph as he registers the applause and over-whelming respect from the other stuntmen, and above all, the satisfaction of a job well done.
The cinematography and the background score keep pace to the very end. Among the best tracks of the film is 'Paarthein', set in one of the film's flashback sequences. Sean Roldan and Dhanush have struck a winning note in recreating the Ilaiyaraaja-like music, which highlights the younger Paandi's memories of first love.
Save for a few minutes of clichéd preaching reminding you to pick up your phone the next time your parents call you, Pa Paandi is a laudable film from Dhanush. He successfully manages to combine the sensibilities of modern life with an emotional story, and ends his film with a poetic finale instead of a loud crescendo.
The applause in the theatres indicates his story — and his methods — have indeed resonated with the audience.
Entertainment
Thuramukham chronicles a workers' movement in Kochi with stunning cinematography, a charismatic cast but middling emotional heft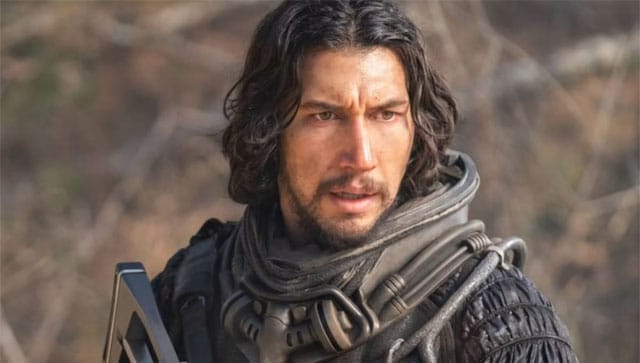 Entertainment
Writers and directors Scott Beck and Bryan Woods present a story about survival, and design it with style with their new film 65.
Entertainment
The latest of Scream makes the slasher franchise bloodier, gorier and brighter.