Oscars Best Picture flubs: From Forrest Gump vs Pulp Fiction to Argo over Amour, times the Academy messed up
As we look forward to the 90th Academy Awards, we whittled down moments when we were all collectively outraged over the Best Picture winner.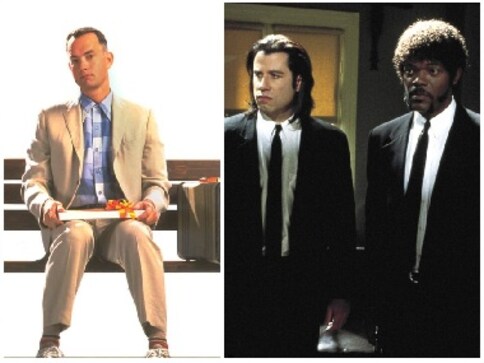 "And the Oscar for Best Picture goes to..."
There's a collective gasp. Raised eyebrows. Mouths wide open. The more dramatic drop their drinks.
Yes, the year's most prestigious Academy Award honour did not go to the film you earnestly thought deserved to. But you know it wasn't the first time that all the armchair critics and prophets — and even industry experts — got it wrong.
The Academy have, throughout their history, cruelly overlooked cinematic masterpieces for safer, derivative Oscar-bait movies (mostly starring Tom Hanks or Meryl Streep).
Sure, there's the occasional surprise. After La La Land had swept the Golden Globes, Critics' Choice Awards, and BAFTAs last year, we all thought it was going to win big at the Oscars too. But Moonlight caused an upset — of the agreeable kind. Never mind the faux-pas that preceded its win, Barry Jenkins' film still won in a tough category, which had two other extremely worthy nominees — Arrival and Manchester by the Sea.
So, as we look forward to the Oscars, we whittled down moments in the Academy's history when we were all collectively outraged over the Best Picture winner.
The victor and the vanquished
When Quentin Tarantino's Pulp Fiction came out, it was like an adrenaline shot to the heart of moviegoers around the world. It was a retro-cool, innovative exercise in technique and style that was wonderfully cast, faultlessly sound-tracked, and filled with pop culture-infused dialogue and over-the-top violence. The neo-noir told three interconnected tales: one followed two hit-men working a job for their imposing mob boss and his beautiful junkie wife; the second about an aging boxer paid to throw a fight; and the third had a nervous pair of armed robbers. It really was a masterpiece.
Then there was Shawshank Redemption (the film that you like to claim is your favourite partly because it has been sitting pretty atop the IMDB Top 250 for ages), a gritty prison tale of an unexpectedly deep friendship forged between two convicts. It was an underdog film about the underdog competing with a decades-spanning story of an idiot savant who plays an unwitting role in various important moments in American history and popular culture (and even went on to spawn a national seafood restaurant chain).
We still find it hard to believe that Forrest Gump — a sappy, melodramatic and overlong Oscar bait — beat Tarantino's magnum opus.
Another infamous snub in the 90s that had many scratching their heads was The English Patient's victory over Fargo. Anthony Minghella's adaptation of Michael Ondaatje's dense, multilayered novel is, expectedly, an exceedingly long and awfully boring romantic adventure. While many critics and moviegoers at the time went gaga over it, many were quick to express their displeasure over all the hype (like Elaine in Seinfeld). On the other hand, the Coen brothers' 98-minute long black comedy is an immersive tale — with an expressionist film-noir quality to it — of a kidnapping gone wrong. Fargo will go down as one of the finest films in Coen brothers' canon but only without an Oscar statuette to show for it.
Two years later, in 1999, the now-infamous Harvey Weinstein's relentless campaigning helped Shakespeare in Love score the Best Picture when everyone was certain Saving Private Ryan was a shoo-in. John Madden's corny romantic farce — beefed up with sentimental backstage drama and starring the queen of Goop, Gwyneth Paltrow — beat Steven Spielberg's shocking and unsentimental look at war and all its unpredictability. As the camera pans, zooms, tilts and shakes across its first thirty minutes, you knew you had never seen a more brutal, authentic depiction of the realities of war. Interestingly, Saving Private Ryan was in competition with another majestic World War II film, The Thin Red Line, which marked the return of Terrence Malick after 20 years in the wilderness. His film was more contemplative, depicting both the internal and external battles of a group of disenchanted soldiers. It is possible that The Thin Red Line drew votes away from Saving Private Ryan leaving Shakespeare in Love with the highest total.
Crashing the Oscars
Often considered the least-deserving Oscar winner, Paul Haggis' Crash was a "Hey, we're all a little racist" parable that upset Ang Lee's Brokeback Mountain, a sweeping story of doomed love between two cowboys in Wyoming, in 2006. Kenneth Turan of the Los Angeles Times perhaps best explained why: "For people who were discomfited by Brokeback Mountain but wanted to be able to look at themselves in the mirror and feel as if they were good, productive liberals, Crash provided the perfect safe harbour."
Considering older white men compose the majority of the Academy's voting membership, their reasons for snubbing more deserving films is not always ideological. It can even be personal. How else do you explain Argo's victory over Amour in 2013? While Ben Affleck's film is a self-congratulatory chronicle of how Hollywood rescued six Americans during the Iran hostage crisis, Michael Haneke's austere, harrowing tale perhaps made them confront their own old-age and mortality. The iniquities and indignities of being old maybe was a bit too close to home after all. Or maybe, it was just too dark and foreign for their pseudo-progressive sensibilities.
Oscarbation
Haneke is, of course, not the first maverick whose genius the Academy failed to acknowledge. Francis Ford Coppola showed off all his directorial flair in the hallucinatory Vietnam War epic, Apocalypse Now. By transposing Joseph Conrad's Heart of Darkness to a more disheveled setting, Coppola captured the Vietnam War in all its sound and fury with the help of breathtaking visuals and an eerie soundtrack. Apocalypse Now has since become a masterpiece that is mythologised, much like the renegade Colonel Kurtz. Yet, it lost to a domestic "Lifetime" drama, Kramer Vs Kramer, starring Dustin Hoffman and Meryl Streep at the Oscars in 1980.
However, the two filmmakers who were frequently criminally denied a chance to fill up spots on their mantelpieces were Stanley Kubrick and Martin Scorsese, two of the most influential American filmmakers. Kubrick was a director who consistently made groundbreaking films that relentlessly provoked and inspired audiences. Yet, he lost each of the three times his films were nominated for Best Picture: Dr Strangelove (lost to My Fair Lady); A Clockwork Orange (lost to The French Connection); and Barry Lyndon (lost to One Flew Over the Cuckoo's Nest).
The fact that Paths of Glory, Spartacus, 2001: A Space Odyssey (for which he won his sole Oscar for Best Visual Effects!), The Shining and Full Metal Jacket were not even nominated proves how clueless the Academy have been when it comes to rewarding quality cinema throughout history. Scorsese, meanwhile, had a similar run of bad luck until The Departed won Best Picture in 2007. Before that, he had to witness Taxi Driver lose to Rocky, Raging Bull to Ordinary People and Goodfellas to Dances with Wolves.
In hindsight, while some of the choices for Best Picture seem downright absurd, some were a lot closer. Of course, this is hardly an exhaustive list and there are plenty of other gruelling omissions, plenty of which are purely subjective: No Country for Old Men over There Will Be Blood; The King's Speech over The Social Network; 12 Years a Slave over Her; The Artist over Midnight in Paris and many, many more. While plenty of Best Picture winners have since been forgotten and disappeared into obscurity, the films they beat are now deemed as "classics".
So, will the Academy finally stop indulging themselves in Oscarbatory films and reward quality, substantive cinema without paying too much attention to the underlying subtext?
Will the Oscars this year have more upsets?
Expect the unexpected.
Entertainment
The actor, speaking to The Associated Press, exclained, "It feels surreal. I cannot believe this is happening. When I heard the nomination, I jumped up and I screamed so loud."
Entertainment
While we've perfected films celebrating male bonding why can't we do the same for male-female bonding to bring a more equitable society?
Entertainment
The accomplished courtroom drama delivers an anti-fascism message that has universal appeal.