Oscars are more populist than festivals like Cannes, Venice — hence the Best Popular Film category
A film festival only cares about what its jury thinks, whereas a TV show like the Oscars has to worry about how many viewers tune in.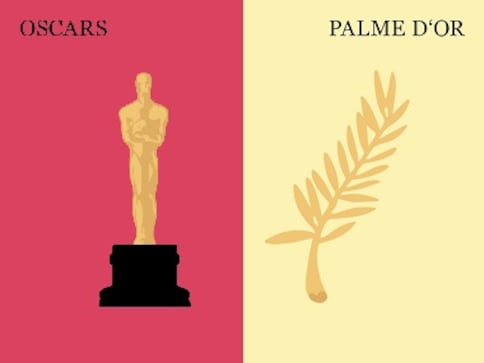 The latest in the "Oscar institutes a Best Popular Film category" row is that film technicians have weighed in, dismayed that the presentation of some of their categories will not be aired live. The Academy, in its wisdom, has apparently decided that the audience knows (and cares about), say, what Best Cinematography is, but maybe they aren't really invested in who wins Best Sound Editing. (Besides, how would these proles know the difference between this category and Best Sound Mixing?) A recent IndieWire report quoted a number of anonymous sources, one of whom said, "The inevitable effect will be to make some awards less important than other awards, and these awards will be presented while half the audience is heading for the bar or going to the bathroom. It would be a real shame if the sound categories were included (they probably will be)..."
The complaint is, in one sense, legitimate. As another unnamed person said in that report, "Not one [category] can be removed from the actual process and make the same movie we all cherish. The actor depends on it from the words they say, the clothes they wear, the props and art direction of their environment, the score, sound, and cinematography, all of which are made to flesh out the character they are portraying on the screen." This team-effort aspect of filmmaking is why the Academy calls itself the Academy of Motion Picture Arts and Sciences. Cinema is as much art (Best Actor, Best Actress, Best Director) as science (Best Sound Editing, Best Visual Effects). The anguish is all the greater when you consider that the Oscars are the only awards on the planet – the ones that matter, I mean – that are so inclusive.
Consider the Cannes film festival. The Competition prizes include three overall-film awards (Palme d'Or, Grand Prix and Jury Prize), Best Short Film, Best Actress, Best Actor, Best Director and Best Screenplay. At the Berlinale, the prizes are the Golden Bear (for best film and best short film), Silver Bear (for individual achievements in direction and acting, and for best short film), a Jury Prize, and the awards for Outstanding Artistic Achievement, Best Film Music, and Best Script. Among the big European events, the Venice film festival gets closest to the Oscars. Apart from the big prizes – Golden Lion (i.e. Best Film), Silver Lion (best director), Grand Jury Prize, Best Actor, Best Actress, Special Jury Prize – there's the Golden Osella, an umbrella category that covers screenwriting, cinematography, and so forth.
But even this doesn't encompass all technical categories. Screenplays have been recognised fairly regularly (Martin McDonagh won the Golden Osella in 2017, for Three Billboards Outside Ebbing, Missouri), but when it comes to Best Cinematography, it's been erratic: Rodrigo Prieto for Lust, Caution in 2007, then nothing in 2008 and 2009, then from 2010-12, the Osella went to Mikhail Krichman for Silent Souls, Robbie Ryan for Wuthering Heights, Daniele Cipri for È stato il figlio, and then, nothing till date. If you consider North American film festivals, the top prize at Toronto is the People's Choice Award, though there are juried prizes for Best Canadian Film, Best Canadian First Feature Film, and Best Canadian Short Film, as well as international awards for Best Short Film. Again, nothing for technical categories.
(Also read — With Best 'Popular Film' award, did Disney just buy themselves a whole new Oscars category?)
But then, the identity of film festivals isn't as confused (or commingled with business) as that of the Oscars. They are there to recognise the best of cinema, as an art form. And if it seems unfair that they ignore the team-effort aspect of movie-making in favour of awards for just the most visible people who made the movie (actors, writer, director), let's also remember that filmmaking is such a complex team effort that there's no end to the "technical" awards you could give. Ever since Andy Serkis brought Gollum to life in the Lord of the Rings films, there's been some clamouring for Best Actor in a Motion-Capture Performance. Another category worthy of serious consideration is Best Stunt Coordination – without this aspect, most of the films we enjoy (the Bond series or Mission:Impossible installments) wouldn't exist. Then, what about Best Casting Director? Where does it end?
So it makes sense that Cannes and Venice and Berlin honour just the top-billed people. But the Oscars, on the other hand, have always had a spirit of populism. In 2009, Sidney Ganis, the Academy's president, announced that the number of best picture nominees would be doubled (from five to ten). In a question-and-answer session that followed the announcement, Ganis said, "I would not be telling you the truth if I said the words 'Dark Knight' did not come up." The Best Picture nominees, that year, included Frost/Nixon, Milk, The Curious Case of Benjamin Button, The Reader and the winner, Slumdog Millionaire. Though Benjamin Button made some $127 mn. in North America and Slumdog Millionaire made $141 mn., neither was a match for The Dark Knight, which grossed over $500 mn. and became the year's biggest blockbuster. In other words, it was the film that the most number of people saw. And without that film in the Oscar-telecast ceremony, most of those viewers didn't care, and this affected ratings (13% up from the previous year's historic low of 32 mn, but still way off the all-time record set in 1998, when viewers tuned in to see the mega-popular Titanic sail away with 11 Oscars).
You see where this is going. A film festival only cares about what its jury thinks, whereas a TV show like the Oscars (at the end of the day, it's just that; a TV show that gets high volumes of advertisements) has to worry about how many viewers tune in. But then, with the Oscars, this has been the case even before TV was a thing. At the very first ceremony (1927-28), two Best Picture awards were given out. Wings won Outstanding Picture and Sunrise won Unique and Artistic Picture. In other words, there always was this distinction, in Oscar's mind, between Best Film and Best Popular film. As someone said in that IndieWire report, "[Oscars have] always continued in their own bumpy way to celebrate both an art form and an industry... They are not the Nobel Prizes or even frankly the Pulitzers, they are industry awards – and to me Oscar still happily has tinsel in its heart."
Baradwaj Rangan is Editor, Film Companion (South)
also read
Entertainment
Transformers: Rise of the Beasts sticks to the basics to deliver a big screen spectacle
Entertainment
After a lot of speculation Priyanka Chopra's Citadel will be coming up with its Season 2 on Prime Video.
Entertainment
For Amazon Prime Video, the 'Citadel' star took a lie-detector test that saw her spill the beans on her professional and personal life, both