Oscars 2018 red carpet: From Jennifer Lawrence and Nicole Kidman to Chadwick Boseman, the best in style
If there's one thing that gets even more attention than the big award categories at the Oscars, it's the red carpet. As celebrities sashay (or stride) their way into the Dolby Theatre in Los Angeles, where the Academy Awards are held, there are hundreds of cameras trained on their outfits, as also the eyes of several many more fashion watchers.
While previous events this awards season have seen attire won to make a specific statement — such as the all-black outfits at the Golden Globes — the Oscars saw celebrities pull out all the stops. There was a profusion of colour on the red carpet — vivid scarlets and electric blues, but also pastel shades. Many of the men too chose to step away from the classic black tuxedo to embrace other colours.
So who managed to make it to our best dressed list? And whose sartorial statement for the night could have done with a little more sass? Let's take a look.
Let's hear it for the women!
From the delicate to the bold, the understated to the dramatic, the ladies sported a range of looks on the red carpet. There was no single trend that emerged from our red carpet viewings, which we suppose, is a good thing. So how did the women fare?
Many called Emily Blunt's gown "so good, it should get an Oscar". We, on the other hand, had mixed feelings about it. Sure, it had that whole fairy-tale vibe going — what with the clouds of tulle, the delicate blue colour, the Victorian neckline and the puff sleeves, oh and that gorgeous applique work along the bust, but we're not entirely sure if the fit was the most flattering for the actress. The actress does get bonus points for accessorising the look with stone chandelier earrings, and statement rings. Blunt was wearing Schiaparelli Haute Couture with Chopard jewellery.
In contrast to Emily Blunt's delicate ensemble was Whoopi Goldberg's red carpet showing. The Christian Siriano number, with its dramatic print and voluminous skirt, was everything Whoopi is — sensational, bold and truly one-of-a-kind.
Ladybird filmmaker Greta Gerwig was the first woman to be nominated in the Best Director category in eight years, and her outfit for the night was as much of a win as her Oscar nod. Her dreamy yellow Rodarte gown was perfectly set off by Tiffany & Co. jewellery, and a hairdo reminiscent of old Hollywood glamour.
Octavia Spencer wore an understated bottle-green Brandon Maxwell gown, pairing it with a Tyler Ellis clutch and an attitude that spelled elegance.
Subtle could have been Meryl Streep's mantra at the Oscars 2018 night. In a simple siren-red Dior gown, Meryl looked every inch the goddess, finishing off her look with a Christian Louboutin bag and Fred Leighton jewellery.
Hmm. Why were we so underwhelmed by Emma Stone's look for Oscars night? The La La Land actress had set the bar high with her shimmery gold number last year, when she took home the Oscar for Best Actress. This year she chose a Louis Vuitton pantsuit that simply didn't do her justice. The frowsy bow at the waist, and the somewhat ill-fitting trousers — this look just didn't work for us (although we're open to second opinions).
At first glance, we were ready to dismiss Jennifer Lawrence's shiny Dior gown as being too bland. But then we took a closer look, and thought it was pretty wow. It's simple — just like the actress' styling — but has a glamorous vibe nonetheless. We like the non-fussy but flattering silhouette, and we like how much Jennifer seems to like wearing it.
Allison Janney was statuesque in a fire engine red Reem Acra gown. The structured gown was stately and just right for going up on stage and collecting her Best Supporting Actress statuette in!
The Black Panther cast single-handedly won the Oscars 2018 red carpet. No kidding. Even as Chadwick Boseman's Givenchy topcoat triggered countless thinkpieces and much fashion fawning (scroll down for more on that), Lupita Nyong'o's custom Atelier Versace gown and Danai Gurira's Gabriela Hearst number were enough for us to say: game, set and match. Both ladies also had the perfect accessory (if any were needed) in the form of their co-star Winston Duke, himself dapper in an Etro tux.
That gown. That colour. That silhouette. The perfect hair and make-up. There is a reason why we look forward to seeing what Nicole Kidman will wear on the red carpet every year — it's because she aces glamour dressing. Every. Single. Time. We just love, love, love Kidman's look this year — the electric blue of her Armani Privé gown perfectly set off with Harry Winston jewelry and Christian Louboutin shoes. Kidman looks gorgeous, and she deserves that dress.
Viola Davis usually slays on the red carpet. But this sequinned pink Michael Kors number just didn't cut it for us. It was a tad too...bubblegum? With that and the high school hairstyle, Oscars 2018 wasn't Davis' best. Sandra Bullock returned to the Oscars after nearly four years, and she chose a gold Louis Vuitton gown that would help her make a splash. And boy, did we notice it! Taraji P Henson's custom Vera Wang though? Whole. Other. Level.
Saoirse Ronan — with a Best Actress nomination for her turn in Ladybird — had a big night. So we're a tad disappointed that she chose that washed out Calvin Klein by Appointment dress. The blush pink tone of the dress was just far too bleached and the silhouette nothing spectacular. We do like the bow detailing at the back. Not a bad look overall, but not a memorable one either.
Mira Sorvino, Ashley Judd and Salma Hayek made for one gorgeous picture as the three women — strong voices in the #MeToo movement — posed together on the Oscars red carpet. While Salma's custom Gucci gown was set off by hundreds of glittering gems at her shoulders, Ashley Judd's jewel-toned Badgley Mischka outfit didn't need much adornment. As for Mira Sorvino, she was pretty as a peach in her ethereal Romona Keveža number.
Andra Day's Zac Posen gown was overwhelming — like the lady herself. But the way she posed and preened for the cameras, we know Andra loved her gown, and that makes us love it too.
Gal Gadot looked like a million bucks in her Givenchy gown and Tiffany & Co. jewellery — as befitting Wonder Woman. The most dazzling thing about her on Oscars night though? That smile.
The adjective most commonly associated with Jennifer Garner, after her Oscars 2018 appearance in an Atelier Versace gown? Fierce. A pity we can't say the same for Margot Robbie, who we're sad to note, looked drab in her Chanel Haute Couture. There was something just a bit too awkward and Christmas wreath-like about the embellishment on her arms and bodice. As for Helen Mirren, she played it cool in a blue Reem Acra.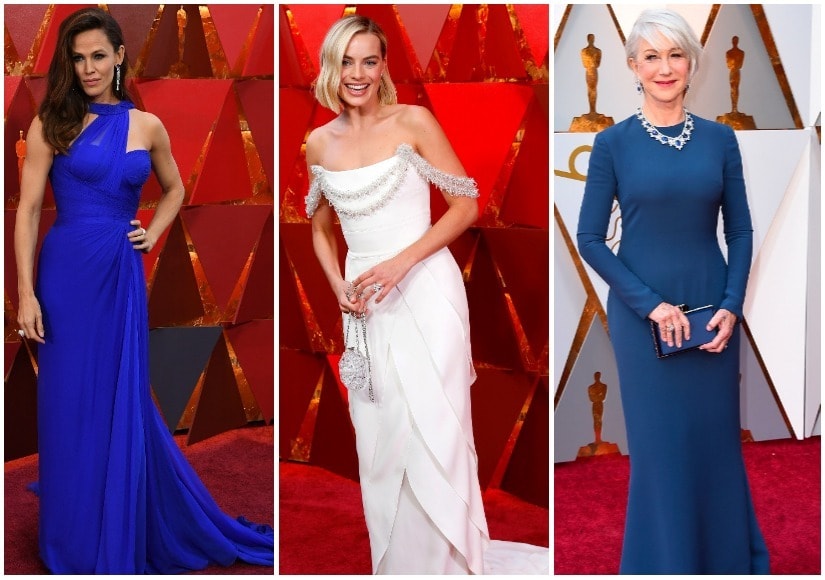 Menswear is no longer boring!
The Oscars red carpet is not really the place where men usually shine — the women simply steal all the attention! All men can hope for, is show up in a sharp-fitted suit, maybe with some nice detailing, and try to look presentable. At the 2018 Oscars red carpet, however, we saw the male celebrities experimenting a lot more with their look. Ditching staid black for colour, and opting for plush fabrics like velvet, this was a good night for the men.
Leading the pack were Call Me By Your Name stars Timothee Chalamet and Armie Hammer. While Chalamet, 22, opted for a fitted white tuxedo and bow tie from Berluti, Hammer chose a deep burgundy Giorgio Armani velvet suit. The effect, on both men, was uber cool.
Get Out star Daniel Kaluuya also opted for a velvet jacket — but his was in a shimmery bronze tone that matched the Oscar statuette perfectly. The Brunello Cucinelli suit was perfectly accessorised by Kaluuya with slim-fitting black trousers, a bowtie, and patent leather shoes from Tod's. He may not have won the Best Actor trophy but he certainly wins the Best Dressed honours.
Rapper Common's Armani suit was just as impressive as his performance of "Stand Up for Something" on the Oscars stage later that evening.
Chadwick Boseman yelled out a loud 'Wakanda Forever!' when he walked the Oscars red carpet on Sunday night. But if there was any doubt the Black Panther star was still channeling t'challa, his choice of clothing for the night would have given it away. In a long black topcoat with gold embellishments at the lapels, Boseman looked severely regal — prompting headlines like Chadwick Boseman's Jacket Is King of the 2018 Oscars Red Carpet. Oh, and in case you still needed more details, the label was Givenchy Haute Couture, with jewellery by David Yurman.
Mark Hamill joked that he should receive some kind of pension for retired Jedis. We'll just say that the suit he chose was fit for a Jedi master.
Gary Oldman played it safe on the red carpet in a classic tuxedo. Taking risks with playing Winston Churchill in Darkest Hour, however, paid off for Oldman, who won the Best Actor trophy later in the evening.
The Wire actor Darrell Britt-Gibson's entry was every bit as exuberant as his pink tux.
And may we just spare a moment to truly appreciate Olympian Adam Rippon's S&M inspired look? The leather harness and tuxedo were specially designed by Jeremy Scott of Moschino for Rippon. Meanwhile, last year's Best Supporting Actor winner Mahershala Ali redefined dapper with his plush velvet jacket-trouser combination.
Another co-opter of the velvet jacket trend — Ansel Elgort, rocking it in a bottle-green Tom Ford tux with satin lapels.
Tom Holland in custom Hermès was among the few male celebrities to opt for a double-breasted suit — which made him stand out. That it wasn't velvet made him stand out a bit more. Was it a bit old-fashioned for the young star though? We'll reserve judgement.
Updated Date: Mar 05, 2018 14:56 PM