Oscars 2018: Contrasting Best Actor nominees Daniel Day-Lewis, Gary Oldman's careers — who deserves the award more?
On the face of it, Daniel Day-Lewis and Gary Oldman — both English, born a year apart — are remarkably similar. And yet, they've travelled very different arcs to get to their current Oscar-nominated roles in Phantom Thread and Darkest Hour, respectively
If the 90th Academy Awards were a boxing bout, Phantom Thread would knock out Darkest Hour in the first round — with time and thread to spare for stitching the wounds, before the bell. The former's lead actor Daniel Day-Lewis would be the bookie's favourite against Darkest Hour star Gary Oldman for the Best Actor Oscar.
In spite of what media outlets would have us believe, award ceremonies — particularly in the film business — are closer in principle to the WWE than a boxing match. So when D-Day finally comes around and the predicted actor takes home the Oscar, justice would finally appear to have been done. Unlike 2016 though, when humans and bears around the world lost their collective calm when DiCaprio's name was announced, there won't be an international meme-gasm.
On the face of it, Day-Lewis and Oldman — born a year apart — are remarkably similar. Both are English, and come from a solid theatrical background. Their dedication and painstaking research into the characters they play is now legendary. Both possess the chamelonesque ability to completely inhabit their onscreen avatars. With Oldman getting into the skin of Winston Churchill for Darkest Hour, he has even emulated Day-Lewis — who has portrayed Lincoln on screen — in playing perhaps the most significant political figure of a country. While Day Lewis has collected numerous accolades (including a record three Best Actor Oscars), Oldman only picked up his first major acting prize when he won the Golden Globe earlier this year.
Granted, Oldman's career has often been marred by controversy. He's even dismissed the Golden Globes as 'meaningless' in the past. But the sheer versatility of his roles, an arena where he leaves most actors — including Day-Lewis — behind, should have ensured a more frequent celebration and recognition of his work. More than anything else, the sheer joy of witnessing him segue from the manic volatility of Sid Vicious and Norman Stansfield (Leon: The Professional) to the iceberg-ish calm of George Smiley (Tinker Tailor Soldier Spy) should render us rapturous. It's nigh scandalous that his courageous turn as Smiley failed to register a nomination at the Oscars. A role elevated to the pantheon of peerlessness by Alec Guinness over multiple hours of British television would send shivers down any actor's spine. That an actor who'd been typecast for years as a criminal or hoodlum would take the challenge and deliver with such eloquent empathy deserves wider recognition.
Oldman's finally netting the big trophies playing a beloved Briton in a film drowning in patriotic nostalgia, in the wake of a much lamented Brexit and a leadership crisis at the top. Award Central 101 for you. It threatens to take away from the acclaim coming his way. Too little, too late, some would say. However, the man's not done yet. His turn as Commissioner Gordon in Nolan's celebrated Batman trilogy catapulted him into widespread popularity. It is worth mentioning here that Oldman has imbued Gordon with enough character and spine to hold up the shibboleth of Gotham. He looks every bit the beacon of integrity and justice that the city and the viewer needs during the darkest of times. As Churchill in Darkest Hour, he throws himself into the same role with unflagging belief and vim in an otherwise vapid film given to blind idolatry. Putting two and two together, one can reasonably assume better, more challenging roles coming his way.
Day-Lewis, on the other hand, has claimed that the enervating exhaustion following the shooting of Phantom Thread has convinced him to retire from acting altogether. One hopes that the news of this unwelcome retirement is exaggerated and fleeting. For there is no one quite like him. If Marlon Brando shattered the manner in which Hollywood actors approached the craft, Day-Lewis has elevated method acting to its peak. This is the man who stays months in character preparing for a role. The man who insisted upon being carried to and from the set on a wheelchair while filming My Left Foot. Who reportedly built a house from scratch for The Crucible. And who is a shoemaker when he is not preparing for a role. Even if we choose to remove ourselves from the mythos surrounding him, Day-Lewis' performances suffice to blow our minds. There is a workmanlike ardour and attention palpable beneath what he does on the screen. The legend and the craft have combined ably to procure an endless stream of accolades and awards recognising his work. Put simply, Day-Lewis' won everything an actor can ever dream of. For Phantom Thread's Reynolds Woodcock, he conjures a whisper of narcissistic virility and fragility gradually crept upon by a dissonant, near tangible vulnerability. His craft reveals itself as he almost imperceptibly makes way for Vicky Krieps' character to gain the upper hand, masterfully balancing a duel and a duet.
Churchill and Woodcock, despite their Englishness and stubborness, demand totally different approaches from the actors playing them. The result in both cases is astonishing. While both actors' careers have traced wildly different arcs to get to these roles, they represent milestones of equally different varieties for them. Churchill should win the day, as he did so ably in the line of fire. It is hoped that when Oldman walks up to grab the statuette, he regards the room and acknowledges those present and the years of being ignored — almost as imperceptibly as he does the spies gathered around the table at the end of Tinker Tailor Soldier Spy.
Entertainment
This year's Academy Awards were Hollywood's biggest night in the post-Harvey Weinstein era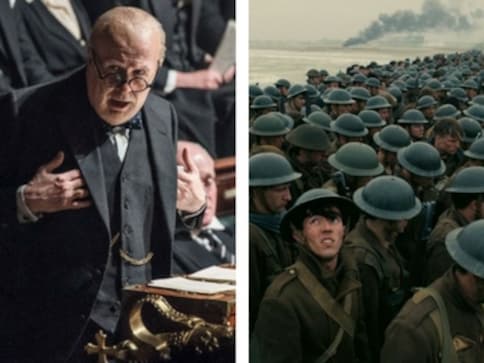 Entertainment
While Darkest Hour looks at Operation Dynamo through the eyes of then-UK Prime Minister Winston Churchill, Dunkirk throws light on plight of the soldiers.
Entertainment
Ryan Seacrest's appearance on the Oscars 2018 red carpet was marred by the sexual harassment allegations the host is currently facing