Oscar special: Alan Turing who? Benedict Cumberbatch acts like SRK in The Imitation Game
The Imitation Game is blessed to have a supporting cast with actors like Mark Strong who are able to rally around the hybrid of Sherlock and Turing that Cumberbatch plays
With apologies to John Lennon, imagine there's no countries. It isn't hard to do. Nothing to kill or die for, and only Bollywood type films on view. Imagine all the people, watching lazy writing and stereotypes in peace... .You may say I'm a dreamer, but then you haven't been watching Hollywood of late. Morten Tyldum's The Imitation Game, is the latest, glaring example of how things that critics sneer at in Bollywood films, are encroaching into Hollywood fare.
The Imitation Game is The Weinstein Company's Oscar bait for 2015. It's got British actors being über British (someone even says, "Stiff upper lip and all that" in a posh accent), a whiff of historicity and a hero crippled by insecurity. The film is based on the life of the mathematician, scientist and general genius, Alan Turing. One of Turing's most famous achievements was to break the Nazi code, named Enigma. With Enigma decoded, Britain was able to bring down Hitler and his bomb-dropping forces during World War II.
When we first meet Turing (Benedict Cumberbatch), it's 1951. Turing's Manchester home is burgled and the detective in charge of the case suspects there's something awry because Turing shoos the police away. A little digging on the detective's part leads to the discovery that Turing's military records are classified. A little more digging, and the police unearth that Turing pays for male prostitutes. Since homosexuality was a criminal offence in Britain at the time, Turing is brought in for questioning. To arrest a certified genius for being gay would probably be shocking to audiences abroad, but since homosexuality is still considered criminal in India and has serious legal consequences, it's unlikely the opening of The Imitation Game will raise too many Indian eyebrows.
Fortunately for Turing, the detective is not a homophobe, but he is curious about Turing's classified past. And so through the interrogation, we and the detective are taken back to 1939 when Turing was recruited by the British Army. There are also flashbacks to Turing's schooldays, which are presumably not being recounted to the detective and supposed to allow us to get inside Turing's head.
In 1939, Turing was employed by the British army to crack the apparently unbreakable code Enigma, used by Germans in their communications. Being super intelligent, Turing is also a proper grouch, which is why the others in his team, like Hugh Alexander (Matthew Goode), have no time for him. Turing works on his own, a solitary genius – because what other sort is there in Hollywood? – tinkering away at a machine that he believes will crack Enigma. Everyone else thinks his is a fool's errand.
Since everyone knows Germany did not win World War II, there isn't much to give away by way of spoilers. Suspense is introduced through the ominous figure of MI6's man, Stewart Menzies (Mark Strong) who lurks in shadows and (possibly because he is in the British intelligence services), at tea shops. The pretty Joan Clark (Keira Knightley) pops up occasionally as the vintage manic pixie dream girl, offering relief to those bored of seeing pallid Anglo Saxon male hotties.
How will Turing transform from the most unpopular person to a beloved hero? Watch The Imitation Game to find out even though it's painfully easy to guess. To Tyldum and his cast's credit, The Imitation Game isn't boring. Particularly the buildup to the actual cracking of Enigma is gripping. When Turing and his team are staring at the machine, waiting to see if it will finally work, your pulse beats as fast as theirs seems to on screen.
Although Tyldum's film begins with a slide that reads "Based on a true story", there's about as much accuracy in this biopic as in any of the Bollywood movies on the Indian freedom fighter Bhagat Singh. The Imitation Game uses archival footage and has suitably vintage sets and costumes, but the authenticity is superficial. Whether it's in a detail like the fact that Turing's colleague Peter Hilton didn't have a brother serving in the armed forces or critical issues like Turing's personality, the truth is the least of this film's concerns.
The real problem with The Imitation Game isn't that it's more fiction than fact, but that the flights of fancy rarely make the story more interesting. For instance, Turing was actually a friendly, witty gentleman who wasn't tortured by his homosexuality (all his colleagues knew of his preferences). Showing him as the opposite doesn't help The Imitation Game's storytelling in any way.
Also, the script is lazily written. All we see is Turing do is fiddle with wires while the rest of his team scribbles and works on nothing in particular. There's no sense of how the codebreaking developed. Suddenly, there's a eureka moment and Britain is all set to win the war. There's also the problem of how the script rushes through Turing's ordeal when he was found guilty of being a homosexual and sentenced to chemical castration. Instead it lingers upon a largely fictitious retelling of Turing's school years. Just for the record, while Turing did indeed have a school friend named Christopher, he did not name the codebreaking machine (or any of his machines) after that friend.
Most disappointingly, it was clearly a prescient moment when Cumberbatch uttered the words, "My name is Khan", because he appears to be all set to become Hollywood's Shah Rukh Khan. He may be the more talented actor, but like Khan, he's stuck on one routine which he enacts with slight variations – that of the antisocial genius who is the limelight-hogging hero. Look at Cumberbatch's recent appearances and it's basically Fifty Shades of the Sexy Sociopath.
The Imitation Game is blessed to have a supporting cast with actors like Mark Strong who are able to rally around the hybrid of Sherlock and Turing that Cumberbatch plays. The acting and editing lift this film out of mediocrity, but just barely.
The real question is whether The Imitation Game can beat the stiff competition the film has in the awards' circuit. It didn't manage at the Golden Globes, but the Oscars are the real prize. All eyes are on Harvey Weinstein now.
Find latest and upcoming tech gadgets online on Tech2 Gadgets. Get technology news, gadgets reviews & ratings. Popular gadgets including laptop, tablet and mobile specifications, features, prices, comparison.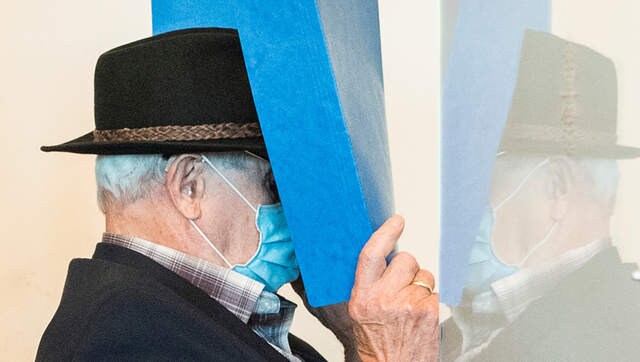 World
Bruno Dey was convicted of 5,232 counts of accessory to murder by the Hamburg state court, news agency dpa reported
Entertainment
Having seen Tigmanshu Dhulia's earlier works like Haasil, Saheb Biwi aur Gangster, and Paan Singh Tomar, it is hard to believe that he also made this film.
Entertainment
Dil Bechara subtracts from the positives of the original with its slipshod rewriting, sloppy editing, and ordinary production quality.