Oru Muthassi Gadha review: Fun, frolic and common sense with two feisty grandmas
Oru Muthassi Gadha raises questions we Indians are not socially permitted to ask. I doff my hat to Joseph for asking them and having a lark while he is at it.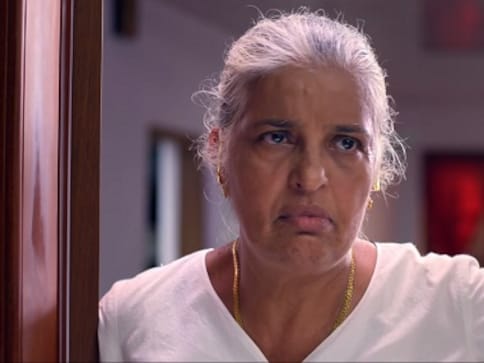 An ill-tempered old woman makes life hell for her son, daughter-in-law and grandkids, until she meets a person who looks past the raspish surface and finds the human being it camouflages.
Jude Anthany Joseph's Oru Muthassi Gadha (OMG, meaning, A Granny's Mace) is the story of a muthassi (grandma) and an unlikely friendship that transforms her. Joseph made his directorial debut with the 2014 romcom Ohm Shanthi Oshaana (OSO). Comedy is his preferred genre, as is evident from the light-hearted veneer he uses in his second film to raise many crucial questions about attitudes to age and ageing — not questions of the superficial, populist kind.
In 2003, Bollywood scored a hit with Baghban starring Amitabh Bachchan and Hema Malini as a couple neglected by their grown-up children. The film's black-and-white worldview virtually canonised the parents, tarred all their kids as uniformly, irredeemably evil, deified the patriarchal family set-up through rose-tinted glasses and romanticised the idolisation of the husband.
Baghban played to the gallery with two notions widely propagated in the public sphere in India: that all mothers and fathers are great, and that all children ought to care for their mums and dads. Umm… What about paedophile dads, or moms who remain silent about such abuse? What about parents who discriminate between girls and boys, who bully and manipulate children over their professional and marital choices? What about the millions who have kids not out of affection for kids, but as a social obligation or as insurance for their old age? What about the extreme conservatism of Baghban's parents? Or the boorishness of OMG's Muthassi?
Mollywood's latest offering is braver, more sensible and subtle than Bollywood's Baghban or the public discourse on parent-child equations. Joseph does not resort to one-sided blame games. He does not, for instance, waver in portraying Muthassi's nastiness, yet reminds us too of those who think that taking care of parents means just sharing a home, feeding and clothing them, without quality time and conversations anywhere in the picture.
Despite the seriousness of the preceding paragraphs, make no mistake about this: OMG is a breezy film. Joseph's penchant for the funny bone is complemented by his cast. The very pretty, ultra elegant debutant Rajini Chandy plays Muthassi (whose name, by the way, is Leelamma). Chandy, 65, was reportedly found through auditions of seniors who responded to Joseph's ad. Good choice considering her confident performance that belies her lack of experience.
Veteran dubbing artiste Bhagyalakshmi plays her bête-noir-cum-buddy Susamma. This charming actress metamorphoses from a huggable granny to an authority figure in a jiffy, even dancing unselfconsciously to a song in which she is joined by the feisty Chandy.
Of the supporting cast, a special word must go to the lovely Suraj Venjaramood as Muthassi's son Siby, Lena as his wife Jean, sweet Aparna Balamurali as their daughter and the hunky Rajeev Pillai as her boyfriend. Balamurali also plays young Muthassi, a casting move that works because of clever styling. Not so effective is the decision to have Vineeth Srinivasan playing the young Muthassi's college mate – the poor chap is incongruous in a pre-degree classroom.
Still, OMG is a well-packaged product. Shaan Rahman's up-tempo background score and songs provide a fitting (even if not memorably melodic) backdrop to the story. And DoP Vinod Illampally delivers many picturesque views of Kerala, though I must confess I would have loved to see more close-ups — and atypical ones at that — of the two leading ladies' fetching faces.
This is also where the narrative falls short. It looks at a bigger picture throughout, and is entertaining while it does so, but does not get sufficiently intimate with Leelamma or Susamma.
That said, Joseph has shown himself to be an interesting risk taker with OMG. He has gone from casting young stars like Nivin Pauly and Nazriya Nazim in OSO to centering a film around two elderly unknown faces playing women who are decades past the age when Indian cinema loses interest in the female half of our population. (Aside: OMG's story idea is credited to Pauly.)
Despite the seriousness of the preceding paragraphs, make no mistake about this: OMG is a breezy film
This film veers away from stereotypes in other areas too: such as the ma-in-law-daughter-in-law relationship that is troubled yet not the stuff social lore and cinema are made of, or Siby and Jean's partnership. This is that rare mainstream Indian film which does not see humour, spousal subjugation or a talking point in a man who shares the domestic workload with his wife.
It is also a relief when a filmmaker relies on his sharp wit rather than prejudice, mindlessness and slapstick tomfoolery to create comedy — not counting a father in OMG implying that his teeny tiny chit of a son is too turned on to see straight in the presence of his teeny tiny chit of a classmate (the Dad's language is not as crude as mine, the thought is); a woman attributing her fondness for alcohol to the fact that she is Syrian Christian, thus blithely perpetuating one of Mollywood's favourite stereotypes; and a young man's stammer being used as a joke.
Thankfully, these are fleeting moments of indolence from a writer-director who otherwise displays an uncommon ability to poke fun at social groups without furthering hate, clichés or harmful biases. A fine example is that uproarious scene in OMG in which a bunch of people mimic a Charismatic Christian prayer meeting. Elsewhere, the manner in which a character is routinely referred to in terms of his community and not by his name is a stark reminder of how even seemingly good folk in India openly reveal their suspicions of "the other" – like the "saala Bihari hai kya? (are you a damned Bihari?)" taunt so casually thrown around in Delhi.
This is a film that compels us to think while we laugh. It does so largely without preaching. By the time it does deliver a sermon — in a terribly contrived scene featuring a pointless cameo by director Lal Jose — I was in a forgiving mood since I had enjoyed so much that had gone before.
OMG's heroines are older than most of us, but we could all learn from their journey. During a discussion on Muthassi's pre-degree, you realise she is barely in her 60s. Age, health and finances are on her side, yet she has so far depended on others to steer her life and generate happiness for her. What stopped her from making her own road, except the conviction that she is someone else's responsibility and not her own? OMG raises questions we Indians are not socially permitted to ask. I doff my hat to Joseph for asking them and having a lark while he is at it.
also read
Entertainment
Transformers: Rise of the Beasts sticks to the basics to deliver a big screen spectacle
Entertainment
Director Hansal Mehta's web show Scoop is an intense real –life drama. It makes you feel nostalgic and takes you back to your early journalism days when all you wanted was a byline on the front page.