Orphan Black: Farewell Sarah, Cosima, Helena, Alison and others; long live the Clone Club
In terms of women-centric shows, Orphan Black has no equal by miles
It started with boredom.
After having finished a season of Homeland, I was searching for something to fill the void that was left. (The perils of binge-watching!)
One of the first trailers I came across showed a woman getting off a train on a platform, another laying aside her purse and high heeled shoes. There was a moment when they looked at each other, before the second woman proceeded to jump in front of an on-coming train. The first lady caught a glimpse of the suicidal woman, and it was almost as if she was looking into a mirror. The two women looked like identical twins. The trailer proceeded to introduce us to two other women, who look exactly like the first woman.
The trailer ended with: How many of us are there?
That was enough to get me intrigued. That was enough to overcome the withdrawal symptoms of another show. That was enough to push me into a fascinating new TV universe.
That show was Orphan Black.
Last week as I finished watching the show finale, I could easily say that many years down the line when I am discussing the 'Top TV shows of my generation', Orphan Black will easily be in the top deck. Not because of the intelligent plot, which sometimes got a bit too convoluted for its own good before pulling things back to order. But because this was the first time ever that a single actor was playing so many different characters on the same show.
Tatiana Maslany is easily one of the most underrated actors in TV history. It took the Emmys four seasons to finally honour her with a Best Actress award — when her show was in its penultimate season. This quote from a New Yorker profile sums up Maslany in the best possible way — 'There are very few good roles for women on television, and Maslany plays nine of them'. It crystallises what a lot of Orphan Black fans have been screaming hoarse from the first season.
The show is a three-way turned two-way battle between the clones on one side and the evil genetics researchers from a movement called Neolution on the other. Maslany and the many clones she plays are the product of a cloning experiment, Project LEDA, which took place in the early '80s. (Somewhere in middle seasons, the show introduced the male protagonists of a similarly themed project, but with a different name — Project CASTOR. This was also the part where the show started becoming 'a bit too convoluted for its own good') The show's concluding season focuses on the geneticists trying to play god, by removing the 'defects' of their first project, to produce more 'resistant' human clones. Their only problem, are the Project LEDA clones themselves — who unite, eventually, to put a spanner in the works. This science fiction thriller explored themes touching various topics such as genetics, ethics, religion, feminism, existentialism, nature vs nurture and more.
In terms of women-centric shows, Orphan Black has no equal by miles.
But anyone who has ever seen the show will remember it mostly for the convincing performance delivered by Tatiana Maslany. Of course, she has a stellar supporting cast as well — Mrs S, Felix, Donnie, Art, Paul and of course the lovely Kira — which its legion of fans called Clone Club, have come to love. But take Maslany out and you don't really have a show.
Since it's a clone drama, it sees Maslany play different characters. Each character has a solid back story, which dictates their motivations, accents and their sense of fashion. Be it Sarah Manning's grunge get up and street-Brit accent; Alison's prim and proper suburban soccer mom character; Cosima's dreads, tattoos and accessories, defying the scientist stereotype; Helena's scattered blond hair with a vicious look in the eyes; Rachel's corporate evil vibes; Beth's depressed eyes and the cop gait; Krystal's perfectly manicured outing — each character is as distinct as it can get.
In the street-smart Sarah who opens the proverbial Pandora's Box, Maslany plays a vulnerable single mother who comes of age early in the first season. In Alison, Maslany has to play the bubbly, controlling soccer mom who has to be at the top of her game in her close community and a model wife to her loving husband. In Helena, Maslany essays a complex character who starts off as an assassin meant to kill other clones, thanks to a religious brain-washing, but eventually becomes the protector of her 'Sestras'. In Rachel, the alpha-clone, Maslany probably plays the most controlled, nuanced character amongst all the clones. She has said on record that it was the most difficult character to essay.
You see where I am getting with this, don't you? After a while, as a viewer you will start seeing every clone as a completely different person. That's till the credits start rolling and you realise that there is only one name — Tatiana Maslany — who is essaying all the clones.
The absolute kicker comes in when one clone is playing another clone — Sarah has been the best impersonator on many occasions. In fact, when Maslany had auditioned for the role, not only did she have to audition for the characters of Sarah, Cosima and Alison, but she also had to audition for 'Sarah playing Alison'! As a seasoned Orphan Black viewer, you just know that there is something off when the permutation and combinations begin. But then, those have been some of the best moments while watching the show, when the penny drops that 'Oh, that's not Rachel, but Sarah impersonating Rachel'.
And no, you don't have to wait till the reveal actually happens. You just notice the mannerisms of the characters which you know so well and you do the math yourself. Well, at least a Clone Club member surely does. Cosima playing Alison, Sarah playing Cosima, Sarah playing Krystal, Sarah playing Rachel — the impersonations have been wonderfully executed.
They say getting into a character is a lot of work. Imagine doing that, 9-10 times over, for the same show. For five seasons! As the seasons progress, there are many scenes when a single frame has more than two clones interacting with each other. So instead of doing just one cut of that scene, the process would need repetition with each clone. Getting out of one character's getup and switching to another and doing the same scene again — it fascinates one just to think about the logistics of all that it must have involved. Watch the original Clone Club Dance Party video and see the making below to get an idea. (Don't worry, the clones dance to a really cool track.)
Some of you may say, what's the big deal? Movies have seen same actors playing multiple roles. I agree, but that's the movies. Here we are talking about TV. Five seasons comprising 50 episodes. That's over 20 movies' worth of time duration we are talking about. To stay in all these multiple characters over a span of five seasons, is no mean feat.
Orphan Black in a sense has been one of the most ambitious shows if you look at it purely from the content perspective. It never got the massive millions in terms of viewership — but the dedicated fan following has stuck around for all the five seasons. The Clone Club, the dedicated fan club of Orphan Black, could very well be a case-study in itself. And the show makers have used this organic engagement to push forth the show's agenda. With the 'Orphan Black art work' for instance, the show makers have got some brilliant marketing material. The engagement of Orphan Black fans on social media channels, at Comic Con events, and other venues prompted the showrunners to make a special 'Thank you Clone Club' members video after the show got over.
With Orphan Black behind her, I keep wondering — how does Tatiana Maslany improve on what she has done with this show? Anything she does after this, isn't it inevitable that it will be compared to her Orphan Black performance? Five seasons is a long time, but thanks to the varied characters she has portrayed in the show, she can hardly be pigeonholed in any particular mould. I don't know about others, but I will surely, at a subconscious level at least, be trying to compare any character she plays going forward to some Orphan Black character. I'm sure she will surprise on that front as well.
In a recent interview Maslany said, "I'm an actor, so I'm interested in the pursuit of storytelling and character and challenging myself and expanding my craft. That's not something that ever ends, because as you grow as a person, so does your capacity to play different characters."
I can't wait to see her next outing on the big screen opposite Jake Gyllenhaal in the movie Stronger, based on a true story around the Boston Marathon bombings. The movie will be releasing on 22 September this year.
That also happens to be Maslany's 32nd birthday.
Entertainment
"Ted Lasso is a response to the toxic and cynical culture out there, especially social media, the political discourse, how people speak to each other," says Bill Lawrence, co-creator of the Apple TV+ show.
News & Analysis
Striking design, modern features, great picture quality make this LG OLED TV an object of desire.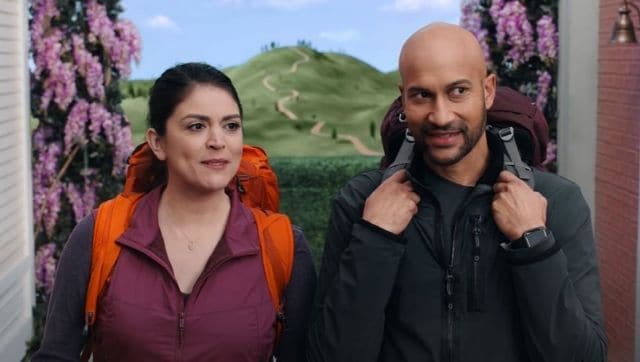 Entertainment
Though bumpy at times, Schmigadoon! is a feel-good comedy and a hat-tip to musicals, worth a slow-Sunday watch.