Onir on his upcoming film Kuchh Bheege Alfaaz: 'I don't like to make films that premiere online'
Set in modern times when Tinder, direct messaging and social media drive relationships and interaction, Onir's Kuchh Bheege Alfaaz is a romantic drama
Valentine's Day weekend is the peg for the release of director Onir's latest love story. Set in modern times when Tinder, direct messaging and social media drive relationships and interaction, Kuchh Bheege Alfaaz is a romantic drama revolving around a radio jockey and poet Alfaaz (Zain Khan Durrani) and graphic artist Archana (Geetanjali Thapa). In this age of high-technology usage and instant messaging, Archana, a regular user of dating apps, dials a wrong number which connects her to Alfaaz.
For Onir, who has films such as My Brother Nikhil and I Am to his credit, Kuchh Bheege Alfaaz came as a breath of fresh air. Written by Abhishek Chatterjee, it reminded Onir of his college days and an ageless idea of romance. Interestingly, he only downloaded WhatsApp and Tinder after reading the script. "I needed to know how they work," said the filmmaker.
You have written and directed your previous films, including Shab and Bas Ek Pal. What attracted you to Abhishek's script?
The film is about coincidences and coincidences have changed the course of my life, too. The film works because it is about a person waiting for a Tinder date who connects to someone else by dialling one wrong digit. The beauty of the script is that it celebrates the ageless idea of romance and love seen in the milieu of the social network. I am from a different generation so my 16-year-old niece was my go-to person for understanding this world of millennials. I did work on the script a bit and made some changes. For example, I relocated the setting from Delhi and moved it to the monsoons in Kolkata. I went to college in Kolkata and that's where I discovered love for the first time.
But the idea of poetry seems discordant with the notion of thoughts composited in 140 characters and insta-posting...
Archana uses Alfaaz's poetry and spreads it through social media. For the last few years I have been writing poetry and sharing it via Facebook and Instagram. It's my way of interacting with other poets around the world. I am also doing some video poetry now. There is a great deal of interest in poetry on social media, from younger people too. Poetry has evolved over the decades and it adapts to pop culture and literature.
What do the two characters of Alfaaz and Archana represent?
Alfaaz is broken from the inside, whereas Archana, who has leucoderma, is broken from the outside. She has a fear of being rejected because of her skin condition. The film explores how they help each other heal.
One of the USPs of producer Yoodlee Films is the modest budget for their films. How challenging was it working with such a controlled budget?
Actually I have always done so. In fact our schedule was for 23 days, but I finished shooting in 19 days. It helped that the script was kept tight and that we did workshops and proper planning. I also didn't shoot anything extra. If you really want to tell a story, you can always figure out the budget.
This is Zain's first film whereas Geetanjali has been in films such as Liar's Dice and Monsoon Shootout
Zain had auditioned for Shab, and though I saw a spark in him, I didn't think he would fit into that film. In the ensuing two years, he trained and worked as an assistant director. When it came to Kuchh Bheege Alfaaz, he was my first choice. He has the intensity and a good voice. Yet he went through an audition process after which all the stakeholders were in agreement that he was the best choice. Geetanjali did a look test and I loved her. She is one of the best actresses I have worked with. I also liked that these two actors are from marginal regions of the country – Kashmir and North East India, except I didn't want Zain to play to the cliché, so in the film his character's artist name is something else and his real name is something different.
Isn't there enormous pressure on a small budget film to take on the economics of a theatrical release? Isn't VOD a smarter play?
We all feel a very positive energy for Kuchh Bheege Alfaaz. It seems to have connected with young adults and women. It's a happy film, because I am happy these days. These days it's hard to predict box office – A Tubelight might not work and a Newton might be able to reach its niche. I don't want to make films that premiere online. I am old fashioned and like to experience my film on the first day in a theatre. If I had a choice between directing a big budget web series and a small budget film, I would pick the latter. No disrespect to the other medium, but I just love the big screen more.
Kuchh Bheege Alfaaz releases on 16 February.
Entertainment
In an exclusive interview with Firstpost, Oscar nominee Guneet Monga on her film Elephant Whisperers, struggles of being an independent women filmmaker, the reason why Indian documentaries are not given the kind of status like feature films in India and more.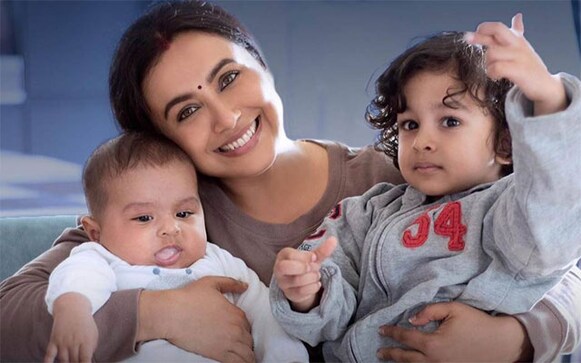 Entertainment
From reel to real, Rani Mukerji's Mrs Chatterjee Vs Norway touches the heart of all.
Entertainment
The story of a fearless mother from Birati who fought against Norway to get back her children will soon be on the silverscreen. Sagarika Chakraborty's custody war for her two kids had then hit the headlines, both in India and Norway, in 2012.