One butterbeer coming up! Hogwarts Cafe in Islamabad is a Potterhead's dream-come-true
For a taste of all things Potter, head not to Diagon Alley, but to Hogwarts Cafe in Islamabad, Pakistan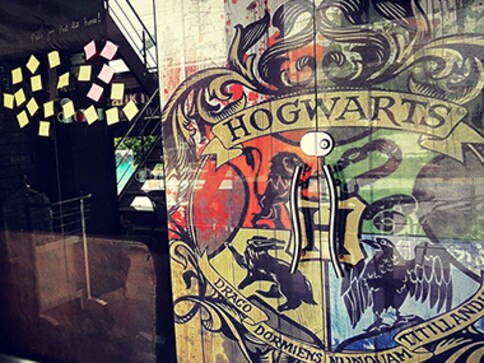 How would you like a Goblet of Fire Lemonade? Or a Godric's Hollowed Burger?
Well, you could sample both of those (and more such delicious Potther-themed goodies) not in Diagon Aley, but in Islamabad, Pakistan.
Hassan, Ouj and Emad came up with the idea of encashing their best memory from childhood and set up the Hogwarts Cafe — a Harry-Potter themed restaurant — in Central Islamabad.
The founders of the cafe wanted to visit a place where they could enjoy good food while the kids indulged in the world of Harry Potter like they did. "We wanted to make the next Potterhead's dreams come true," said one of the owners, on being asked about his idea behind setting up this cafe.
The cafe is beautifully decorated with Harry Potter merchandise.
The owners said that they created most of their own Harry Potter merchandise, due to lack of interest in Pakistan. From the Nimbus 2000s, to the robes and wizard hats, they have created everything from scratch. And they've done a spell-bindingly good job of it too!
Don't we absolutely love these magical books?
This takes us back to our very own Hermoine's potion making skills!
Keeping in mind the needs of Potterheads, this cafe also has a the right kind of menu for all muggles, witches and wizards.
Within a week of their launch, the owners have received an overwhelming response. Initially, the founders mentioned that they went for a soft launch, however, soon after they were in the middle of a kind of response that "they were not ready for at all"
Hassan and Haider have gone beyond memorabilia to create recipes that will find favour with Potterheads. Their specialties include Butterbeer, which is their original recipe and has turned to be one of their best-sellers. We'd love a swig of that!
Lifestyle
The antioxidants present in corn also help to flush out toxins and refuel the body with lost energy. Due to these factors, corn is an ideal ingredient to add to your diet. Below are a few healthy ways to enjoy corn this monsoon.
Arts & Culture
Though best known for its non-vegetarian Mughal cuisine, Lucknow has plenty to offer the discerning vegetarian foodie as well.
Health
Common symptoms of these foodborne illnesses include vomiting, diarrhoea (with or without blood), abdominal cramping, fever, headache, dehydration, and muscle and joint pains