Once upon a time: Our much loved fairytales began as dark, twisted stories
The biggest assumption we have about fairytales and what they entail: there isn't always a happily ever after.
When we were growing up, my sisters and I were narrated a story every night. After we were tucked into bed, our father would tell us of Sinbad the Sailor and the Little Mermaid. Prince Ahmed and the Fairy Banou, Alladin with his magic lamp, Ali Baba and the Forty Thieves. The Little Tin Soldier and Thumbelina (or Tommelise).
The stories were from books he had received as a child, back in the '50s -- The Arabian Nights and Hans Andersen's Fairy Tales -- and these were passed on to us, the pages crumbly and brown with age, but able to inspire as much wonder as they had decades ago.
Fairytales are curious things. They're so universal in the fascination they exert over all of us -- regardless of age or geography -- and yet, they remain, slightly inexplicable. Too many of us are taught to marvel at them as children, but fewer, to appreciate them as adults.
This week, for instance, the sequel to the film Snow White and The Huntsman released in India. While it does not feature Snow White herself, it brings back the evil queen, her stepmother, whose primary passion involves looking into a mirror and being told that she is the fairest woman in the land. Charlize Theron's dark portrayal of  power-obsessed queen was lauded in the original, and in the sequel, it is her onscreen sister The Ice Queen (played by Emily Blunt) who is being talked about. The Ice Queen -- driven to madness by the loss of her baby -- raises an army of children who will wreak devastation on the land.
If child soldiers seem odd to find in a film that's inspired by a fairytale, then it's only because over the years, they have undergone a lot of scrubbing down and sanitising to become the endearing versions we are used to. It is a process that began when the Brothers Grimm decided to transcribe a lot of the folklore that had been passed down in the oral tradition, and compile these tales so that they wouldn't be lost. While they initially made few changes, these stories, published initially as 'Tales for Children and Householders', were anything but. As people protested, the brothers began editing their stories, leaving out references that may have been construed as "immoral" and found the tales were now far more popular.
The earliest written fairytales were not meant for children. For instance, in the 17th century, Charles Perrault, Madame d'Aulnoy, Mademoiselle de la Force wrote their 'fairy tales' (based on folklore or previously known tales, but with several original additions) for an audience at the royal court, or in the Parisienne salons. This was a jaded crowd, that needed their sensibilities to be roused with just the right kind of storytelling. Perrault especially, made it a point to have a moral written at the end of each of his fairy stories.
Red Riding Hood, as Perrault wrote it, did not have a happy ending. It ended with the wolf eating both the grandmother and the girl, with Perrault stating a grave moral at the conclusion:
"Children, especially attractive, well bred young ladies, should never talk to strangers, for if they should do so, they may well provide dinner for a wolf. I say 'wolf', but there are various kinds of wolves. There are also those who are charming, quiet, polite, unassuming, complacent, and sweet, who pursue young women at home and in the streets. And unfortunately, it is these gentle wolves who are the most dangerous ones of all."
If Perrault's story had a note of caution for young women regarding sexual predators or temptations, Mademoiselle de la Force took a more straightforward approach to sex in her 'Persinette'. Known popularly as Rapunzel, 'Persinette' had all the elements in the tale we are so familiar with -- the lovely young woman being imprisoned in a tower by a wicked witch, her long flaxen hair being used as a rope ladder, the prince being entranced by her singing as he passed through the forest where the tower was.
But the plot also had Persinette become pregnant by the prince as he kept up his visits to the tower. In fact, the witch is shown to find out about the Prince only because Persinette naively comments on how her gowns have become tighter (because of her growing bump). And unlike the story we're used to, Persinette not only raises her twin babies by herself after the witch banishes her into a far-off wilderness, but the prince also becomes blind when he falls off the tower into the thorns that surround it. However, in the true fairytale tradition, things do end happily for the duo.
For truly twisted details, however, the fairytales compiled by Giambattista Basile in the Pentameron in the 17th century deserve a mention (these were in the Neapolitan language).
It was in the Pentameron than one of the earliest versions of the Sleeping Beauty tale was recorded, only it was called "Sun, Moon and Talia". Again, many of the plot details are those we're familiar with -- little princess is cursed by an angry fairy and falls into an enchanted sleep after pricking her finger on a spindle. Only true love's kiss can awaken her.
In Basile's version, a king chances upon the sleeping Talia in her castle and "overcome by hot lust" makes love to her, then leaves the castle and promptly forgets all about her for a while. When he returns, he finds that Talia has given birth to twins, named Sun and Moon. The story doesn't just talk about what is in effect non-consensual sex, there's also attempted cannibalism. When the king's wife (yes he's also married) finds out about Talia and her children, she plots to have Sun and Moon killed, cooked in a variety of dishes and served to her husband as revenge (you can breathe easy -- her plans are foiled).
The unstated themes in Sleeping Beauty have so inspired artists that there are several dark iterations of it. Anne Rice wrote her erotic Sleeping Beauty Quartet, taking off from the point where Beauty is ravished by the prince as she lies asleep. A film starring Emily Browning in 2011, Sleeping Beauty, also built on the disturbing themes in the fairytale.
And surprisingly, Disney -- which has perhaps played the biggest role of all in popularising fairytales of the squeaky clean sort -- came up with Maleficent, which looked at the Sleeping Beauty story from the perspective of the angry fairy who is believed to have started it all with her curse. If the shift in perspective wasn't surprising enough, the fact that they included a scene that has been widely construed as a metaphor for date rape, certainly was.
Maleficent aside, Disney has been at the receiving end of much criticism for its depiction of the princesses in its tales. It has become fashionable for Disney princesses' images to be used in "subversive" campaigns that aim to raise awareness about everything from child sexual abuse to racial stereotyping.
Not that Disney shouldn't be held accountable for its previously unidimensional portrayal of the princess characters (a criticism it had tried to work on conscientiously with films like Frozen -- which incidentally was an attempt to rework Hans Christian Andersen's The Snow Queen into a positive character; Tangled and Brave). But fairytale heroines have never had it easy.
There is the little mermaid, who had to give up her tongue so she could get legs in place of her fin (at the cost of experiences intense pain every time she takes a step) and also make a choice between killing the prince she loves or dying herself. Then there is the princess in the King Grislybeard tale, who is tricked and humiliated by her husband to punish her for being so proud and spurning him as a suitor initially. Even side characters in fairytales aren't safe from violence. Cinderella's wicked step-sisters actually cut off their toes and heels to fit into the slipper. There's a scene in which one of the sisters' white stockings is described as having turned red with blood because of her attempts to squeeze her heel into the shoe.
Even the tales that aren't gruesome have poignant nuances that may not be understood fully by very little children. Years after I first heard the stories from my father, I read through the Hans Christian Andersen collection again. And this time round, I discovered a new favourite -- The Little Match Girl.
It is a simple story of an extremely poor little girl who sells matches on the street for a living. It is Christmas night and bitterly cold and no one will buy her matches. She lights one to keep her warm, and sees by the flame her beloved grandmother. She lights another, and she sees a grand Christmas dinner. A third, shows her a family sitting in a cosy room.
Soon all her matches are burnt. And in the morning, her body is found, frozen stiff, defying perhaps the biggest assumption we have about fairytales and what they entail: there isn't always a happily ever after.
Photos
Malaika Arora's house is everything that reflects her as a person - Glamorous, Comfortable, Warm and Sleek. Viewers now get an opportunity to experience the star's widely popular sense of style starting from her wardrobe picks to her most-trusted home decor items.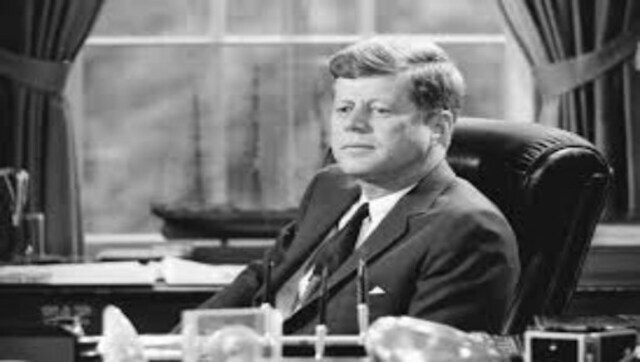 World
New York's Kew Gardens station witnessed the city's most terrifying train accident on 22 November 1950
Entertainment
While sharing the intriguing promo of her show, Malaika wrote in the caption, "If you thought I was done making news with my moves, you have another thing coming! Age, clothes, and love life are all old news, I am bringing something new for all of you to talk about."