Of lipsticks, labels and desires: Why Satyajit Ray's reel women continue to resonate with real women
The reel women of Satyajit Ray have already passed the test of time. And they will continue to love, suffer, beguile and seduce as long as his films exist.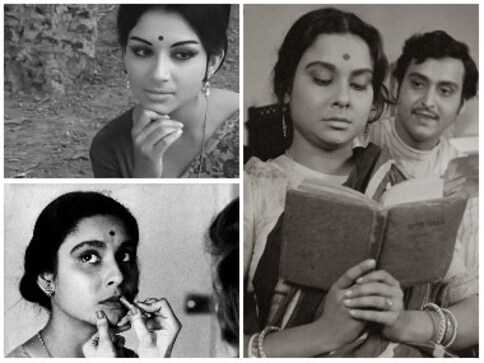 I laughed out loud while watching Satyajit Ray's Mahanagar (1963) again after many years. The protagonist Arati, a housewife who goes against her family's wishes to get herself a job, uses lipstick at work. She wipes it off before returning home every day, but still can't escape the eyes of her jealous, jobless husband. She throws the lipstick away to appease him.
Cut to 2017, and our filmmakers are still portraying or fighting to portray the same visual metaphors on screen. It's only one of the innumerable instances of how ahead of its time Ray's cinema was. Religious fanaticism, toxic nationalism, rabid, thoughtless ambition, loss of a moral compass — his films depict them all.
But it's Ray's women who have perhaps withstood the test of time the best. His reel ladies may be sari-clad, but they reflect a gamut of passions, dilemmas, weaknesses and realities that others of their gender still grapple with in day-to-day life. Here indeed is a man whose work proves — despite the popular and convenient adage of one never knowing a woman's mind — that he understood women. Satyajit Ray created real women on screen, who we relate to even after 60 years and more.
Label me not
Most Indian films, earlier or now, have at their core fairly unidimensional characters, and it's especially true when it comes to the women. Despite superficial embellishments and variations, the ladies are either dedicated to their love/family or are evil creatures. Fifty shades of grey have little scope of survival here.
Satyajit Ray, for starters, completely defied labels. His creations on screen acknowledge the fact that women can't be conveniently boxed and that they, like the other half of the population, come in many avatars. Take his depiction of wives for instance. The teenage Aparna in Apur Sansar (1959) is a traditional dedicated wife, who is deeply in love with her husband Apu.
On the other hand, there is Seemabaddha's (1971) Dolon, who loves her husband and son, but quite guilelessly, loves the high life a little more. She shares her husband's ambitions, but doesn't even realise that she doesn't have a deeper emotional or intellectual connect with him. Dolon is a lesson in Ray's mastery — in the hands of most filmmakers, she would turn into a supporting stock vamp to be moralised upon.
Ray with his innate astuteness knew that people don't come in monochromes, and his heroines showcase a dazzling palette in film after film. The intelligent and intellectual Aparna in Aranyer Din Ratri (1970) baffles people around her with her varied and often contradictory interests. She knows she's smarter than most and yet, takes a step back (her and the director's nod to the fragile male ego) to let her man win when the occasion calls — remember the 'memory game' scene?
And then you have Tutul in Seemabaddha, who enjoys the heady joys that a rich, comfortable life brings — like we all do — but doesn't allow it to tear into her moral fibre.
You'd think these are flesh-and-blood women, and therein lies Ray's greatness and relevance. You connect with the characters in an instant.
Discovering the self and beyond
Even as we fill (digital) reams today talking about women's rights and the need to push the patriarchal envelope, a look at Satyajit Ray's cinema makes you pause and wonder at the dexterity with which he explored the theme in several of his movies.
Take Ghare Baire (1984) for instance. Set against Lord Curzon's 1905 partition of Bengal, the Rabindranath Tagore novel explores the momentous event of the beautiful and gifted Bimala coming out of purdah and falling in love with her husband's best friend. It could have been a fairly titillating or moralising extramarital saga on screen. But Ray turns it into the story of a woman who dares to think differently from her husband and pursues her own passions to face the subsequent heartbreak that often comes with it.
Identity is also sought through one's work, and like millions of women today, Ray's ladies learn to take pleasure and pride in it as they step into the man's world.
Charu (Charulata, 1964), who begins to write when her brother-in-law Amal dismisses her creative talents, doesn't ape his theme or style. She instinctively knows it's not who she is; she cannot write a poetic treatise on the cuckoo's call. And when her piece does get printed, she flings the magazine at Amal. She had made her point.
Or when the hitherto dedicated homemaker Arati clutches her first salary in Mahanagar, she looks at herself anew in the mirror — she had after all become the breadwinner. Later, when her husband tries to force her to quit the job, she asks him if her ability to do the job well didn't matter to him at all — familiar sentiments which many women across the world often still battle with.
The curves of desire
Satyajit Ray actually recognised and depicted women as sexual beings with the same desires and needs as that of men — something patriarchy still can't quite come to terms with — without ever filming overtly sexual scenes.
The widow Jaya is an astonishing character in Aranyer Din Ratri. Outgoing and fun-loving, she seems a regular mother till she slips out of a widow's simple garb and dresses to entice a young man one solitary moment. Ray communicates her desire and her need for love and the pathos in its denial in a little over three minutes. You wonder at that scene even more when you think how even today, the acknowledgement and exercise of physical desire are largely limited to men in our country.
The maestro was anything but blinkered, and Pikoo, a 1980 short film depicts the many shades of a woman's desire as well. Seema, a rich man's wife is nonchalantly unfaithful to her husband. She's unperturbed by his discovery of the affair and is uninhibited about the sexual nature of her relationship with her husband's friend. But Ray's women are never without their depths and surprises, and Seema finds herself oddly shaken in the face of her little son's innocence.
One could go on and on, of course. But as a member of the female audience, it is at once humbling and empowering to see such enduring portrayals of real womanhood on screen.
Art is, after all, a reflection of its times. And it becomes great art when it overpowers the shackles of shelf life to resonate with posterity. For me personally, the very fact that I remember and relate to many of the scenes and characters in Satyajit Ray's films in detail even after years, is reason enough to revisit them. And neither am I the only one.
The reel women of Ray have already passed the test of time. And they will continue to love, suffer, beguile and seduce as long as his films exist.
Sports
Nikhat out-punched England's Charley-Sian Davison 5-0 and maintained her stellar run. She had last won gold at the prestigious Strandja Memorial tournament earlier this year.
First Cricket News
BCCI president Sourav Ganguly has said that the board is hoping to start Women's IPL in 2023.
First Cricket News
Despite its imperfection, when the Women's T20 Challenge 2022 gets underway on Monday, there will be pure excitement and hope that Women's IPL is not far anymore.