October is a great example of Shoojit Sircar's versatility — the trappings of Bollywood are yet to corrupt him
It is a victory for cine-goers that Shoojit Sircar gets opportunities to make films his way sans interference.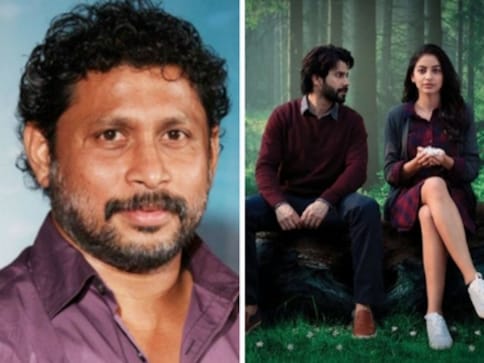 It's unfortunate that Shoojit Sircar's debut (Yahaan) was completely washed away by the now infamous Mumbai floods of 2005. In fact, the flood had put a break on the career of two more directors who were debuting the same day. More than a decade later while the two have gone into oblivion, Shoojit has only emerged stronger and better.
Thirteen years, five films and tons of ad films later, it can safely be assumed that Shoojit Sircar has now carved a place for himself in the industry. So versatile has been his trajectory that in a short span of time, he has delivered a motley of genres that others could only think of. While his debut film Yahaan was a romantic saga, he changed gears in his next film when he made a full-fledged comedy with Vicky Donor.
His third film defied all expectations when he delivered a taut thriller with Madras Café. With his slice-of-life Piku, people started seeing glimpses of Hrishikesh Mukherjee in his approach. His current film October delves into the terrain of an offbeat love story.
Also read: Shoojit Sircar on choosing the lead of October: 'I did not cast him as Varun Dhawan. For me, it's his debut film'
Sircar's sports and theatre grinding allows him to view the world through a different prism. The never-say-die attitude coupled with his rock-solid integrity has helped him reach a position which could only be inspirational to others. The years spent at NSD and in the company of Pradeep Sircar in Delhi proved to be a vista which exposed him to myriads of things and instilled in him a unique mantra — any story when told in an interesting fashion is bound to strike a chord with viewers. For a person who considers himself a football player first and a director only after, the trick lies in the fact that he thinks of himself as the viewer of his own films.
It's a pity that even after the success of Vicky Donor, he failed to develop muscle and clout in the industry. Vicky Donor itself was marred by several problems which included rejection by known actors who were more concerned about their image than giving consent to play a sperm donor. The film managed to reach floors thanks to Shoojit's own money after he raced to complete the scores of ad films so he could gather money to start the project. Later John Abraham was able to decipher and comprehend his vision.
Despite the mega success of Piku, his next production Pink still made him do the rounds of several studios. One studio even showed the temerity of inscribing 'commercially not viable' on the script of Pink, which was given to the mandarins for their consideration.
The trappings of Bollywood are yet to corrupt him. The limelight and lure of Bollywood that Shoojit detests to no limits has forced him to shift his two daughters to Kolkata for education. He is candid enough to admit that Bollywood is a different world.
Inform him that his film sensibility reminds filmgoers of Hrishida and he is quick to deny this. He is equally quick to accept that if at all he gathers any inspiration from a filmmaker, it has always been Satyajit Ray. The man who had twice failed to comprehend Pather Panchali during his school days is so obsessed with Ray's films that he often gifts DVDs to his actors who have not seen his work. It's essential for his crew to watch films of Satyajit Ray.
Shoojit could also be described as the man who was at the right place at the right time. His induction into the world of art and cinema began when he took a stroll from Le Méridien, during his lunch hour to see a Naseeruddin Shah production at the NSD. The urge to be a part of this world became so irresistible that later he became one of the founders of the theatre group Act One. Though he remained confined behind the stage, he learnt a lot from his contemporaries which included Manoj Vajpayee, Piyush Mishra and Seema Biswas. While working for Pradeep Sircar in Delhi, he was one of his three assistants. The other two being Dibakar Banerjee and Jaideep Sahni.
Shoojit is someone who believes in keeping his sets free from any sort of stress and gives ample opportunity to his actors to get into the character even if it means swallowing his own ego. For him, it's the film which always comes first. The sportsman spirit is visible in all facets of his films. He remains the only filmmaker who often mentions and talks about writers of his films before actors and technicians.
For someone who feels that making masala films might just make him sick, the middle-class sensibility is still rooted in an intact manner in most of Sircar's films. It's a victory for cinegoers that Shoojit is actually getting opportunities to make films his way sans interference. Let's pray it remains this way, for the sake of good cinema.
Entertainment
Malhotra said the merit that Shershaah, based on the life of Kargil hero Captain Vikram Batra, brought his way has given him the confidence to be involved with other creative aspects of filmmaking
Entertainment
The superstar has his charm of welcoming foreign contestants that never lose to leave everyone impressed