NTR Kathanayakudu movie review: Balakrishna's performance stands out in this tribute to an icon
NTR Kathanayakudu is the ultimate showreel of an icon whose influence on Telugu cinema and people is unparalleled.
Balakrishna, Vidya Balan starrer NTR Kathanayakudu, directed by Krish, often finds itself in the same zone that's common for biopics, where you are left wondering - Can you be objective while talking about an icon, especially when he is considered to be a God?
After all, NT Rama Rao personified Lord Krishna, Rama and scores of other mythological characters, for the Telugu audience. And to complicate the equation even further, in Krish's version of NTR, the Telugu cinema icon-turned-politician is presented as a perfect man right from the word go. This leaves very little room for Krish to separate the legend from the real person. But then, it's also evident that Krish wants us to know all about the legend and tales associated with NTR's larger-than-life persona.
More than anything else, NTR Kathanayakudu is the ultimate showreel of an icon whose influence on Telugu cinema and people is unparalleled.
The film is narrated from the perspective of Basavatarakam (Vidya Balan), NTR's wife, and it begins with NT Rama Rao quitting his job as a registrar in 1947. Soon, he moves to Madras to try his luck in movies and after a brief period of struggle, he gains stardom with Pathala Bhairavi. And there's no looking back from him after that. As long as the film focuses on NTR's acting career, there's hardly anything that people don't know already, and the film becomes a time-machine of sorts, to relive some of the most memorable moments in his career, be it his avatar as Lord Krishna in Mayabazar or as Duryodhana in Dana Veera Soora Karna.
For all the painstaking work that has gone into re-enactment of all great moments from NTR's career, it gets tiresome after a point. Except for one brief moment where NTR refuses to breakdown on the sets of a film, despite hearing the news about his son's death, the rest of the segment is dedicated to showcasing what an outstanding actor NTR is.
In the never-ending list of great qualities that he had, perhaps it's his idealism that stands out. His moral compass always tilted towards what was right for the greater good of the film industry and his fans. And nothing changes that. In a way, NTR Kathanayakudu is the story of a perfect man, who always did the right thing, and he stays the same throughout his career. As a result, there's no major drama or emotional upheavals for a larger part of the story. Thankfully, all this changes when both Krish and Balakrishna focus on the storm that begins to brew in NTR's mind in the mid-70s.
In the film's best written and shot segment, NTR is nearly moved to tears when he sees the widespread destruction caused by a cyclone. And it changes something inside him. It's at this point in the narrative that Balakrishna really shines as an actor and he internalises the emotion of the character so well that you could argue that its his best performance in a long time. And the film too turns ripe at the time. Perhaps, it really needed a God to become a common man for the film to find its emotional core.
There's a beautiful sequence where NTR is shocked to see an old woman worshipping him as Lord Rama, but struggles to afford rice. And slowly, the film's visual language changes too, with quite a few segments focusing on how he can't stop thinking about serving the people and joining politics. This is also where the film sets the stage for a dramatic turn of events.
Apart from Balakrishna, it's Vidya Balan who makes a great impression as Basavatarakam. She might have very few dialogues and scenes, but there's something quite soothing about her mere presence that makes you want to respect her instantly. Then, there's Sumanth who delivers a noteworthy performance as ANR, apart from Kalyanram as Harikrishna. The film is also filled with plenty of cameos including that of Rana Daggubati, Nithya Menen, Shriya Saran, Hansika, Payal Rajput, Murali Sharma, Chandra Siddhartha, and Vennela Kishore. It's a huge set up and a huge cast, and full credit to Balakrishna and Krish for pulling this off.
It's hardly surprising that there's little conflict in the story because nothing was impossible for NTR. He didn't have an adversary in his life when he was an actor. His marital life was filled with happiness and peace. And he was a star right till the day he decided to foray into politics. It's also the reason why it feels like there's very little drama in the NTR Kathanayakudu, and we are served with plenty of anecdotes from his life. But in the larger context of the biopic, the first part of the film is more like a backstory of a man, considered as a demigod, who is ready to take on the system.
The ending of part one is the interval bang of the whole story, and one can only hope that the drama in the second part takes over right from the beginning.
MM Keeravaani's score and VS Gnana Shekar's cinematography help the film to a great extent to engage the audience, and Krish has done a fine job, in terms of delivering a good tribute to an icon. At a run-time of close to 170 minutes, NTR Kathanayakudu might feel exhausting at times, but it stays true to what it wants to say, and more importantly, the story which Balakrishna wants to say about his parents and family.
This is a film made by a team that is in awe of its story, and expects the same from the audience. But the real drama is yet to unfold or so it seems.
Subscribe to Moneycontrol Pro at ₹499 for the first year. Use code PRO499. Limited period offer. *T&C apply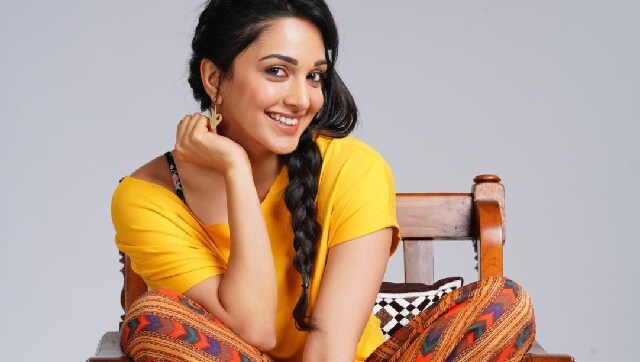 Entertainment
Indoo Ki Jawani takes too long to get to its big reveal and once there the film is so completely lacking in nuance and imagination that it soon squanders away the potential in the concept.
Entertainment
Khalid Rahman's brisk, 91-minute, genre-bending film, now on Netflix is a cerebral Malayalam thriller that will keep you curious about what's going to happen next.
Entertainment
Directed by Ani Sasi, Ninnila Ninnila hits the right chord as it weaves a simple story about relationships, grief, and love through cooking and a lot of food.