NTR biopic: Balakrishna, Rana Daggubati, Vidya Balan on working under Krish's direction
While the first part of the NTR biopic, NTR Kathanayakudu is gearing up for a 9 January release, NTR Mahanayakudu will hit the screens on 1 February, 2019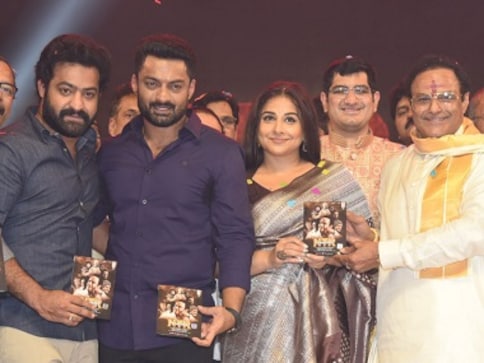 The NTR biopic, which features actor Nandamuri Balakrishna in the titular role of his late father and former chief minister of Andhra Pradesh, Nandamuri Taraka Rama Rao, was launched with much fanfare on 29 March. Vice president M Venkaiah Naidu presided over the highly anticipated event  that took place at Ramakrishna Studios in Hyderabad. The who's who of the Telugu filmdom came together for the grand audio and trailer launch of the project, which will be released in two parts as NTR Kathanayakudu and NTR Mahanayakudu.
Originally, the film was to be directed by Teja who at the film launch had said he was thrilled to have been chosen to helm the prestigious project. However, for reasons yet unknown, Teja opted out of the project even before it could go on the floors. On the occasion of NTR's birth anniversary, 28 May, the makers formally announced Krish as the new director for the project. On being chosen for the project, Krish told said: "I grew up watching NTR's films. Today, to get an opportunity to make a film on his life means a lot to me. I consider it my life's biggest honour and I'll work really hard to live up to all the expectations from this project." Talking more about the project, he said: "NTR was a phenomenon. There was nobody else like him and that's what truly makes him special."
Speaking on the occasion, Balakrishna said he can't believe if he's at the film's launch or audio/trailer launch. "I'm not quite sure if I'm at the film launch or audio launch because it's tough to believe we've wrapped up this project so quickly. What's even more surprising is that we shot two parts in just 89 days. I need to thank all my actors and technicians for giving their best to this project. I believe we as a team will create history with NTR."
Balakrishna went on to say that they had not originally planned to make the film in two parts. "It was very recently that we decided we will release it in two parts. Honestly, two parts are not enough to do justice to NTR's life. You can't fit the larger than life of Nandamuri Taraka Rama Rao in two parts. There's so much about his life that people deserve to know and we can go on shooting, but there has to be an end," he said, adding that the film will serve as an inspiration to the future generations.
He also clarified that the biopic has not been made for the sake of minting money. "It's been my long-time desire to produce a film on my own. I believe I was destined to produce NTR biopic through which we aim to make the current and future generations embrace Telugu culture.
The entire Nandamuri family was in attendance at the event. Actor Jr NTR said he could see his grandfather (NTR) through his uncle (Balakrishna).
"Today, as I stand next to my uncle on this stage, I feel like I'm standing next to my grandfather. NTR didn't belong to just one family. He was a member of every Telugu household and that's why audiences will celebrate this film. I've heard stories about my grandfather from my family members but the truth is, there's so much to know about his life. To even attempt to make a biopic on NTR's life is nothing short of a success. Even before they commenced work on the NTR biopic, they had already succeeded. This attempt will go down in history."
The film features a galaxy of stars. While Rana Daggubati will be seen playing the role of Andhra Pradesh chief minister N Chandrababu Naidu, Sumanth Akkineni will be seen as his late grandfather Akkineni Nageswara Rao. Rakul Preet, Shriya Saran, Shalini Pandey and Prakash Raj also play key roles.
Rana said he didn't ever imagine he'd get to play Chandrababu Naidu after essaying the role of Bhallaladeva in the Baahubali series. "It feels so surreal to be part of this project. It's a huge honour to be part of this film. Special thanks to Chandrababu Naidu for spending time with us and helping me understand and observe him from close quarters. I hope he will like his portrayal on screen and it'd mean a lot to me."
NTR biopic marks the Telugu debut of Vidya Balan, who essays the role of NTR's wife Basavatarakam.
Talking about the experience of being part of the project, Vidya said: "I couldn't have asked for a better start to a career in Telugu filmdom. I'm really blessed to be a part of this project. I was really inspired by Balakrishna's energy. This is a really special film and I hope all of you love it. This project has given me a new family in Hyderabad."
Krish chose to keep his speech very short. He said he will talk more about the films post release. While NTR Kathanayakudu is gearing up for a 9 January release, NTR Mahanayakudu will hit the screens on 1 February, 2019.
Entertainment
Priyanka Chopra. S.S Rajamouli, Vicky Kaushal and who's who of the industry call Suzhal- The Vortex an "incredible work".
Entertainment
Creators Pushkar and Gayathri talk about how excited they are that Amazon Prime Video Original 'Suzhal-The Vortex' is going global in 30+ global languages.
Entertainment
High octane action is on the way! Let's have a look at the films we will see Prabhas coming up with in power-packed action.