Not lost in translation: Priyanka Chopra, Irrfan Khan wow in Hindi version of 'The Jungle Book'
Priyanka Chopra as Kaa in The Jungle Book has done the most amazing voiceover, a rarity when it comes to Hollywood films being dubbed in Hindi
"Akele ho yahaan?"
A very soft, silky, gentle voice is heard in the dead of a dark evening in the midst of an eerily silent, thick jungle.
A little boy in a red loincloth standing atop a giant tree looks around. He is Mowgli, the man cub raised by wolves.
"Itne ghane jungle mein tum kaise aaye?" The unknown voice continues. There is a hint of background music, building a mood of mystique and fear.
You get a glimpse of a massive, leathery creature coiled around a branch. Ssssssssssssss. The famous, slithery python — Kaa-aaaaaaa, unseen by Mowgli who is spellbound by the hypnotic voice.
Slowly, Kaa's hooded, fascinating face with huge, mesmerising eyes comes forward, close to Mowgli. Mowgli's past is reflected in Kaa's eyes. And a legendary, childhood story is told. In a voice that seems to care.
"Tum nahin jaante tum kya ho."
Kaa's voice enchants and hypnotises both Mowgli and the viewer to a drop dead, breathless moment.
It's the most amazing voiceover dub done by Priyanka Chopra. And yessssss, more dramatic than the underplayed Scarlett Johansson who smoothly murmurs, "I know what you are."
If Johansson's "Trust in me" excites you and sends shivers down your spine, a barely five minute sequence with Kaa in the Hindi dubbed version of Disney's The Jungle Book, is enough to add to the 3D wonder of a visual spectacle. Priyanka Chopra's "Vishwas karo mera" is as chilling and hypnotic.
Mostly, Hollywood movies with the likes of Scarlett Johansson sound funny when they are seen on screen with Indian voices in Hindi, trying to match the expressions — if not downright ridiculous. As was with The Avengers, when Johansson was heard saying as the Black Widow: "Raita tum phailao aur saaf karoon main?"
It helps that in The Jungle Book, the familiar Indian actors' voices are paired with computer-generated animals with fantastic body language, instead of Hollywood faces. And as Pahlaj Nihalani wants to remind you with the U/A certificate, the film is anything but funny or simple fun. The Jungle Book's latest version, unlike Disney's animated 1967 version, is eerie fun, thrilling fun, and shivery fun. And as this writer has seen both the Hindi and English versions, the Hindi one is far livelier and dramatic, made alive by the desi actors.
If you have grown up on Kipling's short stories and know Baloo the bear and Shere Khan the tiger from Doordarshan days, and of course, the very, adorable chaddi pehen ke phool khila hai Mowgli, you might add some more delightful names to the list. So it's Irrfan's Baloo, the bear, Nana Patekar's Shere Khan the tiger, and Priyanka Chopra's Kaa, the slippery python.
As the dubbing director Mona Shetty puts it, "The Jungle Book has tremendous recall value from the Doordarshan series. We wanted to do justice to that memory, yet bring a fresh experience that goes with the visual appeal of the movie. It is challenging for any actor to stay within parameters already created on screen. But all the Indian actors, made it their own simply with their attitude and the intention."
And it certainly shows and is heard. Nana Patekar, who has earlier dubbed for Shere Khan in The Adventures of Mowgli (1989), is back playing the same role, with his sharp teeth firmly in the older and the more conniving skin of the ruling tiger. Patekar's voice matches the slow and deceptive movement of Shere Khan (Idris Elba in English) on the screen and even makes you laugh at the wicked humour in his tone as he sniffs out the "insaani pilla" and does not have to growl when he says, "Ab hue kaan savdhaan" to the scared wolves.
If Patekar brings the evil with him, there is the lovable, fat Baloo who talks like a khata pita Punjabi. So Baloo is "yaaro ka yaar" who calls Mowgli "puttar". What could have been dismissed as classic stereotyping, instead sits at ease with the character as conceived as a simply fun but slothful bear. The film's Hindi dialogue writer, Mayur Puri, explains, "There is a lot of logic to the character adaptation. We want to make the film palatable and engaging and the simplest for the audience to understand. Baloo loves honey. So like any Punjabi who is a foodie and loves a good life, Baloo talks and behaves like one. The idea is to augment the emotions in translation. Hence the Hindi version is a trans-creation, not a direct translation."
This is apparent in a scene in which Baloo makes Mowgli climp up a steep rock to bust open a beehive and get him the honey. At first he blatantly lies to Mowgli that the bees won't bite. When Mowgli gets bitten, Baloo just dismisses it, saying that there must be more of female species than male ones — "kudiyaan dank maarti hai".
According to Puri, Irrfan was a little apprehensive about playing a Punjabi, as he had never done it before. Puri told him that he had an intrinsic laid back personality and all he had to do was to bring his attitude to the role. The results are there for you to see. This is both Baloo and Irrfan at their best.
Ditto with King Louie, voiced by Bugs Bhargava (Christopher Walken in Hollywood). The character, in keeping with his name, is given a Goan touch and made to speak in Hinglish. So what appears on screen as a gigantic King Kong, uses words like "beautiful" and "try try" in between Hindi sentences.
Puri says that the attempt was to recreate a kind of Goga Kapoor who plays a gangster but talks like, "arey aas paas sad hai" in Kundan Shah's Kabhi Haan Kabhi Naa.
Om Puri voices Bagheera (Ben Kingsley in the English version) and does not add much layer to the wise panther, Mowgli's best friend.
Shefali Shah sounds like any concerned mom as the wolf foster mother, Raksha (Lupita Nyong'o in Hollywood). The more challenging work is done by Jasleen Singh Chadda who dubs Mowgli's voice in Hindi. The effort shows as much as in the Hollywood movie with Neel Sethi.
However, what matters is that we finally have a Hollywood film dubbed well in Hindi. Plus there are the takeaway songs like "Bare Necessities" redone as "Yeh Zarooratein". "Bees are buzzin' in the tree" sound as much fun as "gun gun karte yeh chatte" written by Puri and sung by Vishal Dadlani.
And of course there is the renewed all time favorite song by the amazing duo Vishal Bhardwaj and Gulzar; not in the film but used as a promotional video to invoke '90s nostalgia: "Jungle Jungle baat chali hai, pata chala hai, chaddi pehen ke phool khila hai…"
Irresistible! Vishwasss karo mera...
Subscribe to Moneycontrol Pro at ₹499 for the first year. Use code PRO499. Limited period offer. *T&C apply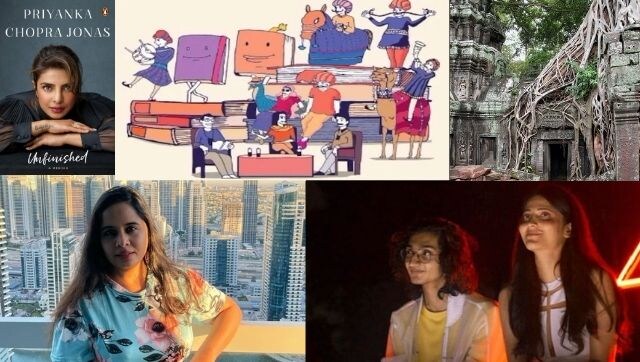 Arts & Culture
Every Friday, we'll bring you a curated list of online experiences — performances, talks, tours, screenings — to mark on your weekly calendar.
Entertainment
Madhur Mittal has been booked for allegedly injuring and sexually assaulting his former girlfriend
Entertainment
Irrfan Khan's son Babil said he was left 'speechless' when actor Kal Penn reached out to him and shared his experience of working with the late actor in the 2006 drama The Namesake.