No sex jokes please! Ashoke Pandit Inc's outrage over AIB Roast is just hypocrisy
It's okay to scoff at the silly and the un-funny. But to employ a government machinery to hunt them down is ridiculous.
Can you believe what these folks at All India Bakchod did? They told the entire world that we Indians have sex.
(Now take your two minutes to gasp, shudder, imagine the ceiling crashing on your bed and Arvind Kejriwal singing 'Tu mera hero' to Narendra Modi, before we proceed.)
Us... sex....wha... really? Such a big, fat lie, right?
Okay, now calm down. The world isn't going to end yet and for that, you have to thank just one gentleman. His name is Ashoke Pandit and he is a member of the Central Board of Film Certification (CBFC), colloquially referred to as the Censor Board.
While a lot of people are pretending to bristle at the stand-up comic group's generous use of expletives in their 'roast', Pandit swiftly got to the heart of the matter yesterday. He pointed out why every Indian who wept when Kyunki Saas Bhi Kabhi Bahu Thi ended, is now blinded with anger. In a series of tweets yesterday, he illustrated out how AIB, along with Karan Johar, have suggested that people - mostly participants in the show - have sex and then cracked jokes about it.
I support #MaharashtraGovts inquiry into #AIB a porn show on stage.

— Ashoke Pandit (@ashokepandit) February 3, 2015
Karan Johar could have easily shown his position while performing sex to his mom at home instead of making it public.#AIB Porn Show.

— Ashoke Pandit (@ashokepandit) February 3, 2015
Since the expletives that were the used on the show could be picked up by unsuspecting people sitting in a traffic snarl in Delhi or while trying to get into a Mumbai local in the peak hours, Pandit pointed out what was really objectionable about the show - that it talked, joked and made fun of people having sex on a public platform. And while doing it, they made it clear that in India, people have sex. Those are not things that India likes to be told really.
Because, like Pandit explained, in India, sex is equal to pornography. Whoever has watched the comic group's show, before it was pulled down yesterday, knows that most of their jokes were aimed at the sex lives of their participants - the comedians and the actors who participated in the show.
So, Karan Johar said, "The last good thing Ranveer Singh was in was Deepika Padukone."
And Tanmay Bhatt said, "Ranveer Singh is such a slut that if he fucked a chick with Ebola, she would die of AIDS."
Also, the show introduced Karan Johar as follows: "A pilot, a sailor, an actor, a model, an architect are all men he would happily fuck . Please welcome to the stage Karan Johar."
Aditi Mittal told fellow comedian Abish Matthew: "If you fucked a woman, she would become a virgin once again."
Seriously, if that doesn't scare the daylights out of a good Ashtha channel loving Indian, what could? After all, sex was to the show, what 'baba' is to Ramdev.
How does one fix this 'bigda hua' bunch then. The answer lay in Pandit's primary accused Karan Johar's films. Given that he is a great fan of Johar's films by his own admission, he must have thought that striking a blow on the 'mere paas Maa hai'  sentiment will show wayward Johar the right path. So he suggested that he goes and shows his 'sex position' to his mother, angrily tagging the post with a hashtag #porn, thereby implying that his mother should be treated to a horror such as this, as punishment for not bringing up her child the adarsh bharatiya way.
When Twitter woke up to the horror that awaits the Indian film industry in the form of Pandit in the censor board, they tried to school him. But that was not to happen. Pandit promptly re-tweeted following such tweets in his defence:
India is such a liberal country that Karan Johar using expletives in public is cool & @ashokepandit suggesting him to use it at home in not.

— Pawan Durani (@PawanDurani) February 3, 2015
Now, if you have not already stood up applauding this gentleman yet, you must be one of those who are googling the meaning of pornography to make sure you knew what is was all this while.
Jokes apart, one cannot contest the fact that Pandit is entitled to his opinion on the AIB Roast. You can also understand that he found it offensive and lacking in taste. However, what is disturbing is his step to single out Johar and attack him personally, in the crudest way possible. Now, like Pandit's defenders have pointed out, we shouldn't be bristling at Pandit if we are okay with AIB's own tasteless jokes. But here in comes the matter of consent.
The content of the show, which was scripted by the comic group, had passed though all its participants who in turn had agreed to the mock abuse coming their way. They participated in the show voluntarily and lobbed the crudest, sexual jokes at each other. They laughed over it together and basically asked the live audience and the ones watching them on YouTube to laugh at them.
If you, like me, got tired of their jokes after a point of time, you had an option to stop watching it.
Pandit, on the other hand, was vicious and humourless. And his grouse seems to the sexual nature of the content of the show. His outrage, therefore, stems from the same kind of anxiety that has made sex education a strict no-no in schools. His anger contributes to the pool of voices that makes sex a taboo in the country in the 21st century.
It's okay to scoff at the silly and the un-funny. But to employ a government machinery to hunt them down is ridiculous. As if there aren't enough dengue mosquitoes and potholes that need shutting down by the government.
Entertainment
Producers Guild of India and Times Now shared a joint statement today on the settlement of the case against the news channel for "defamatory remarks" against film industry.
Entertainment
Vijay Deverakonda, who makes his debut appearance on Dabboo Ratnani's calendar, says he was 'initially hesitant' to do the photoshoot.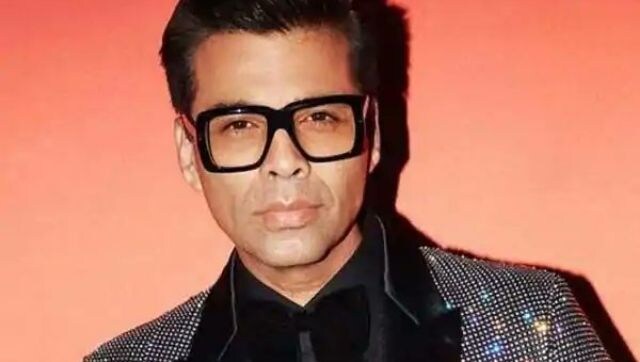 Entertainment
The Yash Johar Foundation will help initiate the implementation of long-term sustainable plans that will enhance the lives of people and their families in the industry.