Nimrat Kaur on her upcoming web-series The Test Case: 'The story had me from the word go'
Nimrat Kaur's maiden web-series, The Test Case, will see her in the role of a commando with the special forces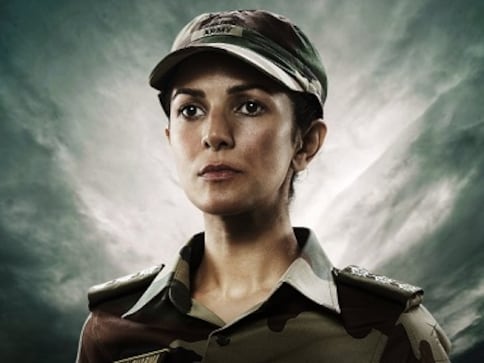 The ambience at the Hard Rock Cafe where I am scheduled to interview Nimrat Kaur is all chaotic. There seems to be no respite for The Lunchbox actress who is under the weather. The evening is earmarked to finish promotional interviews for her upcoming web-series The Test Case as the team is scheduled to move to Delhi the next day for the next promotional leg.
Despite being unwell, the ease with which she switches between the cameras and our interaction is wondrous to say the least. Her debut web-series will see her in the role of a commando with the special forces. But why is it called The Test Case? "Shikha Sharma, the character I play, has been handpicked from the Indian military force and has been put in the special forces academy as a case study to let other girls be given an opportunity to be part of the academy. The fate of other girls is dependent upon her making it and that's why it's called The Test Case," reveals Nimrat.
Nimrat also reveals that the core idea for the series came from filmmaker Samar Khan whose debut film Shaurya revolved around a hitherto unknown facet of the Indian army. "It was his one-line idea and he was the first person who came to me with the concept and the story had me from the word go." About her role, Nimrat reveals that although she was not given any special instruction before the shoot, she made sure that she was physically fit and capable to do justice to the role. The grueling schedule, which also saw the shooting being stopped at one stage because of a fund crisis, brought about a transformation in Nimrat's eating habits. "I had to change my eating habits and had to give up everything that I absolutely love eating. I have never been an unfit person but I have also not been an athletic person and so the first three months of the shoot were difficult for me. I had turned cranky and used to get upset at things in a jiffy. The hard work took every last breath of my body of every single day of the shoot. The shoot was nothing short of blood, sweat and tears."
When the offer to act in the series came Nimrat's way, it was a no-brainer for her that 'yes' was to be her only reply. Nimrat gives a logical explanation for it. "I feel as a female actor, to do so much of work at this stage in my career, is something that will not come much later. Let's be honest and admit that it's only after a point that female actors become bankable actors. It's only after you gain a certain momentum in your career that you are given the responsibility to shoulder a film which can assure eyeballs. At this stage, to be able to work so extensively in a female-driven project, to me, is a great opportunity."
Nimrat also happens to be one of the select few from the industry who are managing films, television and the web medium with equal ease and great results. While Airlift and The Lunchbox ensured that viewers came flocking to the cinema halls, her role of a Pakistani ISI agent in AMC's big ticket show Homeland, was also much appreciated. Wayward Pines was another series which brought appreciation her way when she donned the mantle of an architect. So was she able to find any difference in the working pattern of the East and the West? Jokingly, she reveals that she was never served tea between shots which is a common here. "Apart from the cultural differences, the environment on the sets, too, is very different. One thing we can learn from the West is their respect towards dignity of labour. Everyone out there is treated equally on the sets and just because you are there on the sets as a light boy or a spot boy does not mean you are given different food or are treated differently. I would love to see the same here too."
A major part of Nimrat's growing up years was spent in the environs of the forces as her father was a decorated officer of the Indian army. Military life is something which she has experienced from close quarters. However, the trailer of her upcoming series, reveals a dark facet — discrimination towards the fairer sex. Is such a thing prevalent in Indian army too? "Yes. I am sure there is discrimination on many levels in any profession, anywhere in the world and I feel that we should not isolate just the army for that. Let's be real about this - discrimination exists in every environment. We live in a world where all sorts of people exist and there are both good and bad apples."
Taking the issue of gender discrimination further, Hollywood is currently in throes of the #MeToo campaign, with bigwigs of the industry falling like ninepins for their involvement in cases of sexual harassment. Can Bollywood witness something similar in days to come? Nimrat takes a long pause before answering the question. "I don't know about that and I feel that we really need to strengthen the system that we live in for something to be initiated in this country." It's bizarre that the moment Nimrat finishes answering the question, her restlessness to jump to the next subject by saying 'next question', begs for interpretation.
The next question or rather the final question can only relate to her Airlift co-actor Akshay Kumar, who is advocating the usage of sanitary napkins, through his upcoming film Padman. "I think it's wonderful that he is letting his star status to subjects that are mostly taboos. Periods and sanitary napkins are only talked about in hushed tones and it's high time we started making films about these kind of subjects," quips Nimrat before signing off.
Entertainment
Gandi Baat makes the early years of Ekta Kapoor look like realist fairytales instead of the atrocity of memory they have become over the years.
Entertainment
Ekta Kapoor's Balaji Telefilms has announced the stepping down of Sameer Nair as its group CEO. Nair will now act in an advisory position.
Entertainment
Ekta Kapoor says there are people in power like producers who use their power to take advantage of people, but at the same time there are people on the other side, like an actor or others who need the job, would also use their sexuality to get things done.