Nick Jonas sort of confirms engagement to Priyanka; Sobhita Dhulipala gets trolled — Today in non-news
Celebrity watching can be an arduous way of making one's living. Don't believe us? Take a look at the essential items filed under the wide and welcoming umbrella of 'entertainment news' and you'll develop a more compassionate outlook for those of us who must scrounge the very depths of celebritydom to come up with said items.
And on this glorious 10th day of August 2018, we have an especially scintillating collection of reports for you. Missed updates from the million websites that help you keep up with the latest? Twitter notifications didn't apprise you of the veritable gems du jour? Fear not, for we have them all collected here for your edification, in a new column called Non-News.
First up: 
Akshay Kumar's fans mourn not getting through to actor during his AMA session
On Friday morning, and with only (as his liberal use of the hashtag helpfully reminded us) five days to go for Gold, Akshay Kumar hosted an 'ask me anything' session on Twitter. As the actor fielded questions from his fans on everything from whether chocolate paratha or aloo paratha was his favourite type of paratha, to if he ever ate street food 'like paani puri or bhel puri', and if he agreed with an 'emojified representational chart of his most striking expressions from his major movies', #AskAkshay trended for several hours on Twitter. However, while some fans got replies to their tweets, the Law of Sufficient Time and What's Possible In It decreed that several others didn't.
And it was these spurned fans who banded together to express their sorrow through a series of innovative tweets. Finding that words were not enough to express their grief, they used imagery and memes. If Akshay's resolve to host future AMAs had been shaken by the paratha question, then this display of fan-ly creativity was bound to make him change his stance.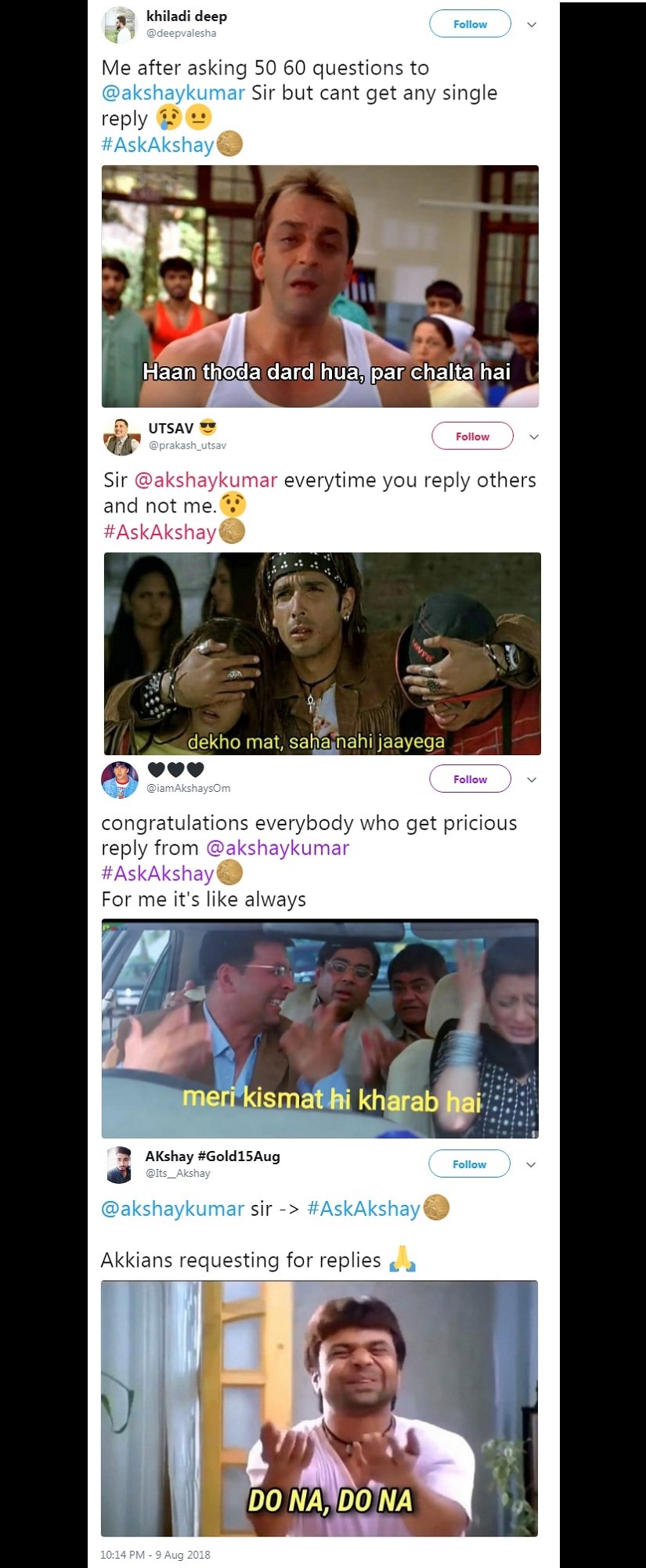 One lucky fan's woebegone plea even reached the actor (or whoever was handling his Twitter account for the duration of the #AMA) and elicited this reply:

Our favourite, however, was this tweet by a fan basking in the glory of having courted his idol's attention successfully during the #AskAkshay session: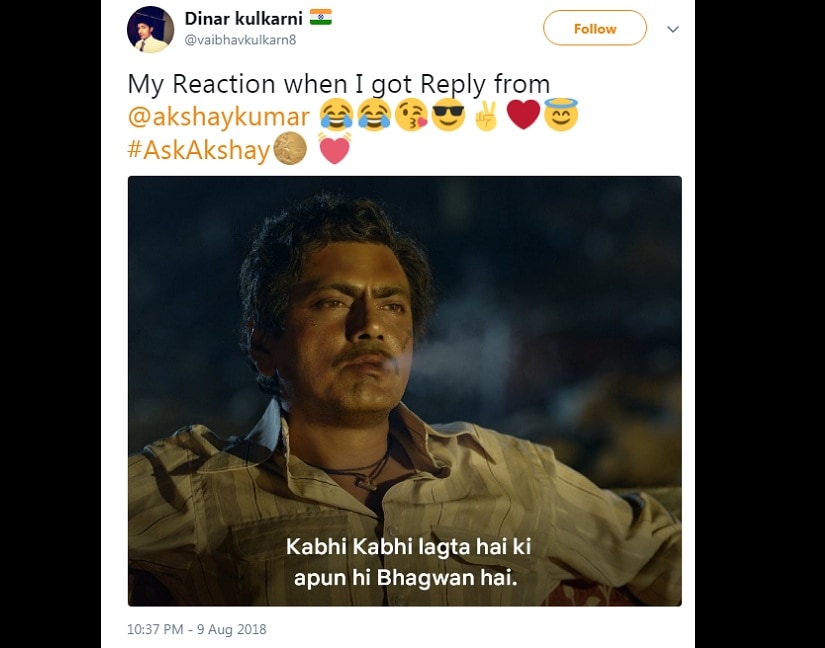 Onwards to item number 2 —
Sobhita Dhulipala gets lessons in etiquette from Twitter trolls
There is a school of thought that believes you must 'be the change you wish to see'. Gandhi or Mandela or someone equally saintly may have said it. We're not sure. What we do know, is that there is most definitely a school of thought that believes roundly castigating someone for what you perceive as a bad action on their part — while indulging in the worst excesses of that bad action yourself — teaches the 'culprit' a truly unforgettable lesson. And to think Gandhi, Mandela and the other saintly folks thought that other time-consuming technique was better!
This latter school of thought most recently made its presence felt when the actress Sobhita Dhulipala responded to a compliment from Telugu superstar Mahesh Babu regarding her recent film.
"Goodachari is a very impressive attempt at making a slick spy-thriller in Telugu. It's crisp, fast and gripping. Loved the performances of all the actors," Mahesh Babu tweeted, displaying his graciousness.
Dhulipala, a member of the Goodachari cast, promptly replied with what she believed was a polite and well-mannered response: "Thank you!"
But members of the We're Always Supremely Well-Behaved On Twitter group noticed a dreadful and unforgivable lapse: Dhulipala had used no honorific when expressing her gratitude. No "sir", "garu" or any other supremely respectable title for Babu that indicated the supreme respect Dhulipala had for him.
"When all others are giving respect, why can't she?" one member of the etiquette committee thundered, adding "If someone does the same thing to your mom and dad, is that okay?" The point about respecting your parents (hey, wasn't that the tag line of Baghban? Or was it K3G?) may have been slightly diluted by the fact that Babu is only 43-years-old to Dhulipala's 26.
Another — who no doubt is well known even outside the environs of Twitter (follower count: 3) although we had trouble digging up an achievement sheet — reminded Dhulipala (Twitter follower count: 17.5k) that she should be more respectful because she is only "a small artist".
These pointed lessons, however, were wasted on Dhulipala, who blithely told Pinkvilla: "I was confused that a 'Thank you!' was seen as disrespectful purely because I hadn't attached salutations like Sir/Superstar/The Great etc. Of course I have immense respect for him (Mahesh Babu)." What cheek!
And onto item 3 —
Nick Jonas (sort of) confirms he might be engaged to Priyanka Chopra
While our close reading of that most-useful manual titled 70 Signs They're Engaged (Even If No One's Talking About The Engagement) has convinced us that it's only a matter of time before Priyanka Chopra and beau Nick Jonas schedule a walk down the aisle (you know, of a church, or other spiritual/civic institution that serves to solemnise nuptials), there may finally be confirmation from one of the main parties themselves!
A recent report says that when this particular third of the Jonas Brothers showed up at a fragrance launch event, a fan congratulated him on the engagement with Priyanka — the fan had also clearly read 70 Signs They're Engaged (Even If No One's Talking About The Engagement) — and Nick's response was "Thanks man."
"Thanks man". We're going to take a minute to let that sink in because our celebrity-loving souls will simply not be able to process the high degree of hysteria engendered by that wonderful it-could-only-be a confirmation.
Hold on now, we know what you cynical, jaded readers out there are thinking: Does "Thanks man" really mean what we're making it out to mean?
By itself, perhaps not. But when taken in context with what Nick Jonas has been saying about starting a family — "It's definitely something that I hope will happen. I am not sure of the exact timeline. But I need to give my nieces cousins at some point." — we think that "Thanks man" says it all.
Thanks man! (Wait, do we mean "Thanks sir?")
Honourable mention —
Kriti Sanon poses with stuffed giraffe; gets called out for animal cruelty on Twitter
Clearly someone wasn't listennnnning when Ranveer Singh got flak from PETA for punching a toy shark!
Updated Date: Aug 10, 2018 15:38 PM