New Goosebumps 2: Haunted Halloween trailer teases pumpkin-head witches and killer Gummy bears
Goosebumps 2: Haunted Halloween's TV spot also teases the return of Jack Black as RL Stine.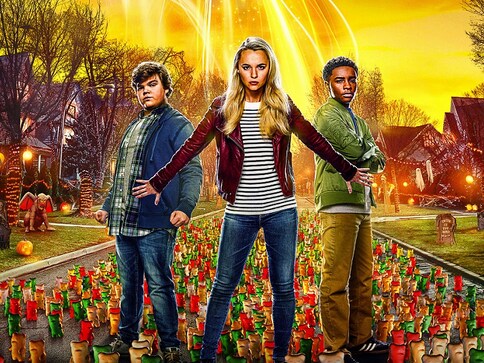 Sony Pictures Entertainment has dropped a fresh new trailer and TV spot for Goosebumps 2: Haunted Halloween and rest assured, you will not look at Gummy bears the same way again.
The trailer opens with two young boys who shouldn't be walking into a creepy, decrepit house but obviously they do for purposes of the story. Once they enter, they discover and open "the one book that no one was meant to find" — "Haunted Halloween." And hell breaks loose as all of RL Stine's most treasured but terrifying monsters from glowing pumpkin-head witches to violent Gummy bears take over the suburban town. And the sequel promises an equal amount of horror, comedy and CGI.
The only person who can save the town is Stine himself as Jack Black returns as the famed writer in a cameo in the TV spot.
The Goosebumps films are based on Scholastic's worldwide best-selling book series of the same name.
Directed by Ari Sandel from a screenplay by Rob Lieber, Goosebumps 2 stars Wendi McLendon-Covey, Madison Iseman, Jeremy Ray Taylor, Caleel Harris, Chris Parnell, and Ken Jeong among others.
The film opens in theaters on 12 October a few weeks ahead of Halloween 2018.
Entertainment
Going into the untold atrocities of Argentina's last civil-military dictatorship from 1976 to 1983, Argentina, 1985 cuts into the mordant moral dilemma without any hint of self-righteousness.
Entertainment
In Honk For Jesus…the way the couple Lee-Curtis and Trinitie bond is excruciatingly funny. You can see they are acting, even when alone. Writer-director Adamma Ebo is unsparing in her indictment of organized religion.
Entertainment
Aftersun's final act shows Calum and Sophie dancing to Queen and David Bowie's Under Pressure. Feelings are felt. Emotions are stirred. A tear or two rolls down. Perhaps, in the afterlife, Calum is happy that Sophie is trying to process her trauma instead of passing it on to her child.