New Goosebumps 2: Haunted Halloween trailer teases pumpkin-head witches and killer Gummy bears
Goosebumps 2: Haunted Halloween's TV spot also teases the return of Jack Black as RL Stine.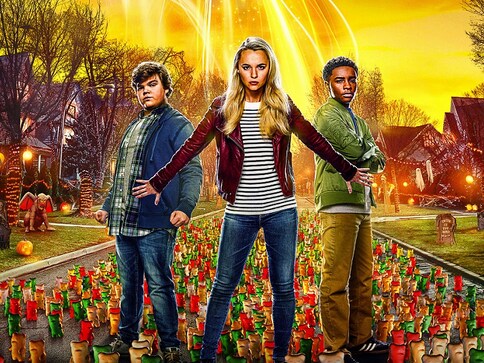 Sony Pictures Entertainment has dropped a fresh new trailer and TV spot for Goosebumps 2: Haunted Halloween and rest assured, you will not look at Gummy bears the same way again.
The trailer opens with two young boys who shouldn't be walking into a creepy, decrepit house but obviously they do for purposes of the story. Once they enter, they discover and open "the one book that no one was meant to find" — "Haunted Halloween." And hell breaks loose as all of RL Stine's most treasured but terrifying monsters from glowing pumpkin-head witches to violent Gummy bears take over the suburban town. And the sequel promises an equal amount of horror, comedy and CGI.
The only person who can save the town is Stine himself as Jack Black returns as the famed writer in a cameo in the TV spot.
The Goosebumps films are based on Scholastic's worldwide best-selling book series of the same name.
Directed by Ari Sandel from a screenplay by Rob Lieber, Goosebumps 2 stars Wendi McLendon-Covey, Madison Iseman, Jeremy Ray Taylor, Caleel Harris, Chris Parnell, and Ken Jeong among others.
The film opens in theaters on 12 October a few weeks ahead of Halloween 2018.
Entertainment
Inside Edge 3 dials up the '90s nostalgia and transports it into the India of today.
Entertainment
The Matrix Resurrections is set to release on 22 December. Directed by Lana Wachowski, the film also has Jada Pinkett Smith reprising her role of Niobe. Christina Ricci, Jessica Henwick, Jonathan Groff and Neil Patrick Harris will be new additions to the cast.
Entertainment
The trailer of Atrangi Re will release tomorrow, 24 November