Netflix, Warner Bros settle with Satanic Temple for $ 50 million in copyright suit over Chilling Adventures of Sabrina
The Satanic Temple has settled its 50 million copyright lawsuit against Netflix and Warner Bros Entertainment in a confidential deal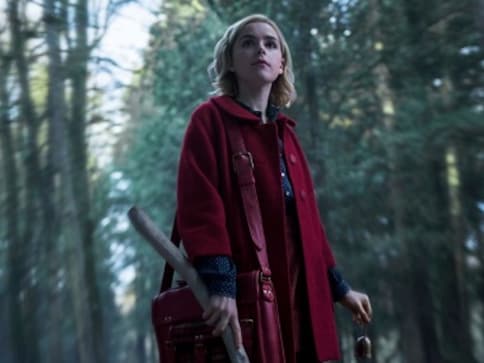 The Satanic Temple has settled its 50 million copyright lawsuit against Netflix and Warner Bros Entertainment in a deal, details of which remain confidential. The group had alleged that its statue of the goat deity Baphomet was copied in The Chilling Adventures of Sabrina, Netflix's newly-released supernatural show.
The Temple's founder Lucien Greaves confirmed the news on Twitter adding that the case had been "over publicised".
So ends one of the most overpublicized of copyright claims. Press can now stop pretending this was unique & momentous, or even interesting. So, too, hopefully ends the parade of stupidity from online amateur legal experts.https://t.co/eSg1fl3sdv

— Lucien Greaves (@LucienGreaves) November 21, 2018
He had earlier tweeted an image of the Satanic organisation's icon juxtaposed with the statue used in the show:
For purposes of comparison... pic.twitter.com/AZJvmq1Cks — Lucien Greaves (@LucienGreaves) October 30, 2018
In a statement, the Satanic Temple said: "The unique elements of the Satanic Temple's Baphomet statue have been acknowledged in the credits of episodes which have already been filmed. The remaining terms of the settlement are subject to a confidentiality agreement. It said it does not worship Satan but instead works to "encourage benevolence and empathy among all people."
Warner Bros and Netflix have not issued a comment on the controversy or the settlement yet.
Entertainment
The hitch with this follow-up season is that unlike the first time round, it seems they had to invent obstacles all over the place, just to keep the thrill going.
Entertainment
If Money Heist – which initially fizzled out on Spanish TV and then earned a revival with Netflix – ends on a satisfying note in the minds of the audiences, that may be the greatest heist of all.
Entertainment
The neighbourhood of Shtisel is just a 10-minute walk from my home in Jerusalem. But confined to a quarantined existence, I only caught its first glimpses on the hit Israeli show.