Netflix VP Erik Barmack on Narcos' success, the streaming giant's India content and Sacred Games
Netflix will be announcing four to five Indian original series over the next six months. Erik Barmack, the VP of the streaming giant's global content, said that he is a fan of Deepika Padukone and Alia Bhat
Erik Barmack, the vice president of Netflix's global content, joined Anupama Chopra in a discussion at the MAMI Film Destival about the streaming giant's plans for content in India, and within minutes of the Q and A session, audience members had begun pitching ideas for TV shows to him. Many even inquired about how they should submit their proposals and asked for his e-mail ID. "There's a burning desire to tell stories in India, especially in Mumbai, where people want to become part of a global storytelling platform," he said.
Netflix is raising $1.6 billion to finance new shows, and has planned to spend $8 billion on content in 2018. It has a total of 109 million subscribers, of whom 15.5 million have joined only this year. This is why the streaming service's plans for India sound all the more exciting. Barmack says that their catalogue of stories has doubled over the last two years, and that they will be announcing plans for four or five Indian series in the next six months. Viewers can also look forward to documentaries set and made in the country.
Barmack spoke about how Netflix is actively looking to tell local stories in the style of the massively popular Narcos, based on the life and hunt down of drug kingpin Pablo Escobar. He spoke at length about how stories "travel using a global platform". "Narcos and Stranger Things work everywhere, and it may seem surprising, but Baahubali is popular in Latin America. The stand-up comedy, however, is more driven by local tastes," he says. The story of Escobar has been told several times over on the big and small screen. He attributes the success of Narcos to the different approach that the creators adopted, as well as the nuance that lead actor Wagner Moura brought to the character.
When asked if it isn't more profitable to make series in English, even if they are set in countries outside of America, Barmack says that the language does not seem to impact viewership. He spoke about how English-speaking territories, where it is the official or first language of people, are only five percent of the world, but that it is a pity that most stories come from there — a flaw that continues to plague Hollywood. "Fifty years later the world will have global storytelling, it will become the norm," he added.
But just because a story is set in a particular country, the director and other crew members may not necessarily belong to the same region, as is the case with Ritesh Batra's Our Souls at Night. "Damien Chazelle's upcoming show will be written in French and shot in both Arabia and France," he informs.
He says that India has a great repository of good writers, such as Ritesh Batra who wrote and directed The Lunchbox, but that what is lacking is a "cottage industry" for premium content". He stressed that there is a need to create an environment where complex stories can be told. Netflix's approach when it comes to India will not be markedly different, and the shows will be produced in much the same way as they are abroad. To understand local tastes, Barmack, a self-confessed film junkie, watched several movies including Baahubali, which he considers "a different kind of story telling". Will mainstream Bollywood find a place in Netflix's India content? "It does, but mainstream actors will be cast only if they fit the bill and can be character actors," he says.
Sacred Games, based on the novel of the same name by Vikram Chandra, is Netflix's first offering when it comes to Indian original content. It will see Saif Ali Khan, Nawazuddin Siddiqui and Radhika Apte share screen space. While Khan looked convincing as a sardar, Siddiqui looked fittingly seedy as Gaitonde, one of the characters who belongs to Mumbai's underworld. "The richness of the shots, the complexity of the characters, and the cast are what make it interesting," he says. It is directed by two of Phantom Film's founders, Anurag Kashyap and Vikramaditya Motwane, who will be exploring two different storylines.
Netflix is famous for ditching the 'pilot' strategy when it comes to making TV series. "We are not process-driven; we think of our series as eight hour-long films. So when an idea is presented to us, it needs to be complete as a package. It needs to be a unique story that has not been told before. The script should serve as a well-thought-out Bible which should have sustenance beyond one episode — that's what makes a pitch work," he says. In fact, there doesn't seem to be a strict hierarchy at their offices either; people under Ted Sarandos, the chief content officer, can also green-light projects. Any creative executive can give the go ahead for a story that has been pitched, as long as they can sell it. But where does the buck finally stop? "There is no buck — only storytelling," says Barmack jubilantly.
Despite the apparent success and multiple-figure statistics that Netflix has achieved, it is not entirely invincible in the digital space. "We're constantly competing for attention. There are three factors we use to gauge the success of a project — the number of people who are watching, how much of the series they have watched (number of episodes), and how many of these people are recommending the show," he explains. There's also the question of syndicated content; over the years, Netflix has acquired shows like Breaking Bad and Black Mirror, but it also recently lost Disney, which will be creating its own streaming service. "Losing syndication does not put that much pressure on us. Maintaining a 50-50 split between syndicated and original content is important," he says.
The streaming service seems to give more importance to consumer choice than film festivals and award shows. Notably, it has resolved that its films and series will not be released in theatres before they can be released on the service, citing that they raise revenue to create content from membership fees. "Awards are not determinative. We do, of course, want to send our content to film festivals and we would like them to be shown in theatres, but we focus on consumer choice first," he says. Will the rise of streaming services cause losses to movie theatres? Barmack says that he thinks people will continue to go to the movies, adding that the difference between movies and TV series is converging.
Entertainment
The neighbourhood of Shtisel is just a 10-minute walk from my home in Jerusalem. But confined to a quarantined existence, I only caught its first glimpses on the hit Israeli show.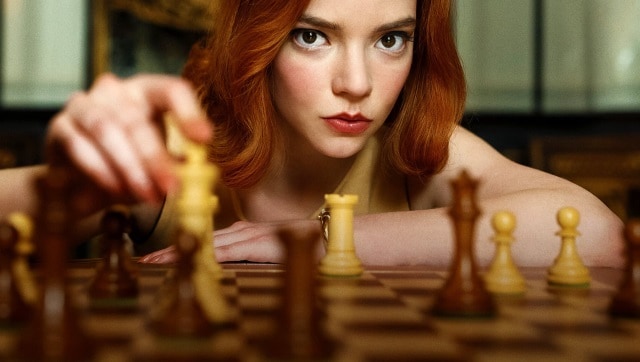 Sports
Gaprindashvili's lawsuit says the show falsely suggested that the ex-female world champion never played competitive chess with men, and states that she competed against dozens of top male players, beating 28 of them.
Entertainment
Crime Stories: India Detectives follows Bengaluru police as they set about trying to solve four major crimes in the city