Netflix has long way to go in India, but streaming giant's already given us something valuable
There is no doubt about the fact that Netflix has been a game-changer in entertainment throughout the world, including in India.
According to Chris Jaffe, vice-president of product innovation at Netflix, the online streaming website now has 109 million subscribed members in over 190 countries.
Fun fact: The United Nations itself has 193 member states.
This should give you a good idea about how massive Netflix — the entertainment company headquartered in the US streaming TV shows, movies, stand-up comedy performances and other such media — has become in the world.
So what does Netflix have planned for the future, especially now that it aims to make its presence felt in countries like India (where it still has a long way to go)?
This is part of what was discussed at 'The Netflix Home Experience' event which took place in Singapore on Wednesday, 25 October 2017.
In India, even though Netflix is fast gaining popularity in urban centres in the country, it faces tough competition from other players in the industry. For example, Star India's Hotstar has at least 63 million subscribers in the country, according to Quartz. Compare that to 4.2 million subscribers for Netflix India and you get the picture for Netflix's tough path ahead in India. This may also explain why Netflix spokespersons at the Singapore event avoided talking about the number of subscribers the company has in India.
Of course, it is also true that Hotstar was launched in India in February 2015 whereas Netflix was launched in the country almost a year later, in January 2016. But there are several steps Netflix needs to take if it wants to see itself grow in India, starting with inclusion of more regional content.
"We don't have as much regional content as we would like to have. The ambition for us is to keep doubling (the amount) of our content. Since 2016, we have doubled our content library. And if you compare now to 12 months ago, there is a lot more Indian content," said Jessica Lee, vice-president of communications at Netflix.
"Right now, we have some top-quality Bollywood movies like Raees, Dangal and Baahubali. We even have an exclusive deal with Red Chillies Entertainments, which is Shah Rukh Khan's company. We find that our Indian viewers have loved the Indian content on Netflix so far. So, that gives us confidence to dive deeper into regional content," she further said.
But it's not just about the lack of regional content. Netflix's subscription price is way higher than those of other streaming services. The minimum cost for a Netflix India subscription is Rs 500 per month, whereas the same for an Amazon Prime subscription is Rs 499 per year (likely to rise up to Rs 999 per year) and a Hotstar subscription is Rs 190 per month.
Also read on Firstpost — Netflix VP Erik Barmack on Narcos' success, the streaming giant's India content and Sacred Games
However, Lee made a crucial point when asked about this issue. "These are the initial days when we are learning so much about the service (in India). Our top priority is to really build a strong library of great content which people love and want to pay for. And when people find something they love to watch, they don't mind paying for it and subscribing for it," she said.
"That said, these are still early days for us. So, we are still tapping into a market which is willing to pay the price for our content. And as we grow bigger and the content library grows even deeper, we'll need to look at what that means for us. But our first priority is getting the content right, to a point so great that people don't mind paying for it," she added.
While some people may disagree with the fact that they're willing to pay more for great content, almost everyone will agree on this: Netflix has phenomenal content.
House of Cards, Orange is the New Black, Master of None, Black Mirror (Season 3), Stranger Things, Narcos, Daredevil, Jessica Jones, Luke Cage, BoJack Horseman, Big Mouth, Ozark, Mindhunter, Sense8, The Crown, The OA, A Series of Unfortunate Events, Dear White People, Unbreakable Kimmy Schmidt, Bloodline, Making a Murderer, Grace and Frankie, Marseille, Hasan Minhaj: Homecoming King.
These, by the way, are just some of the best original or exclusive content on Netflix. This does not even begin to cover the other excellent content streaming on Netflix like Breaking Bad, Better Call Saul, Rick and Morty, Brooklyn Nine-Nine, Sherlock, Death Note, etc.
There is no doubt about the fact that Netflix has been a game-changer in entertainment throughout the world, including in India.
And it has big plans for the future. Jaffe said that Netflix will spend more than $6 billion on original content in the coming year. He also said that over the next year, Netflix will come up with more than 400 original series and shows, including 1,000 hours of original content.
Given its great track record with originals and the hype around upcoming TV shows and movies like Stranger Things Season 2, The Punisher and Bright, this sounds like very exciting news.
"We have renewed Daredevil for Season 3. We have renewed Jessica Jones as well as Iron Fist," Lee also said.
Netflix is also trying new things to increase the number of ways people consume entertainment. For example, Puss in Book: Trapped in an Epic Tale is the company's first interactive story for children, in which the viewer can decide the outcomes in the story. The viewer is given 19 different choice points in the story.
Even though Netflix urgently needs to work on its accessibility in India, it has so far succeeded in providing high quality, intelligent entertainment in a country in which so many others treat entertainment as a mere money-making exercise without caring about quality.
"When you provide good content, regional differences fall away," Jaffe said. And that is true. Many of the non-regional shows and movies which Netflix has streamed in India have been appreciated by a substantial number of people in the country.
Perhaps Steve Lightfoot, executive producer for the upcoming Marvel's The Punisher, put it best when he said: "If a story is well-told, anyone should be able to cue into it."
Entertainment
Netflix on Saturday unveiled exclusive footage from its upcoming projects, including Vishal Bhardwaj's film Khufiya, Madhuri Dixit Nene's Finding Anamika, Kartik Aaryan-starrer Dhamaka during its global fan event "TUDUM".
Entertainment
Kunal Kapoor on his short in Netflix India anthology Ankahi Kahaniya: "We have films that celebrate success, maybe of people, of relationships, but very rarely do we have films that explore failure."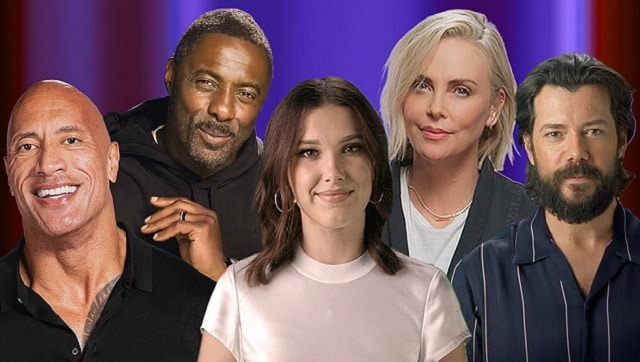 Entertainment
TUDUM: A Netflix Global Fan Event will be held on 25 September in a virtual format.