Nene Raju Nene Mantri movie review: Rana Daggubati, Kajal shine in this riveting political drama
Nene Raju Nene Mantri is what it is because of three people - Rana Daggubati, Kajal Aggarwal and Teja himself.
Jogendra…Jogendra — you can't forget the name that turns into a chant, long after watching Rana Daggubati, Kajal starrer Nene Raju Nene Mantri.
While filmmaker Teja doesn't exactly stun you with his latest offering, the film does have a lot to offer and leaves you more than satisfied with what the team has achieved. It is an intricately woven drama about greed, politics and power, and it constantly throws up a question — can love survive in such a scenario? At its heart, it is about one man's rise to power and the price he pays for it.
Nene Raju Nene Mantri narrates the story of Radha Jogendra (Rana), a small time money-lender, whose attachment to his wife Radha (Kajal) triggers a series of events in his life. One day, an unfortunate incident leaves a deep scar in their lives and to avenge the injustice done to them, Radha Jogendra begins to play a power game which leads him towards a path of vengeance and dirty politics.
In the midst of all this, as Jogendra turns politician, he meets Devika Rani (Catherine), who complicates the lives of both Radha and Jogendra. The rest of the story is about what Jogendra does to redeem all the wrongs he has done in the process of climbing up the political ladder.
The film is so dense and layered that it leaves you with a heavy hangover in the end. At its core, it's a biopic of a man whose rise to power turns him into an enemy for a number of people and soon, Jogendra's journey feels like playing a serious game of chess, where every move he makes turns into a power tussle. It's the cinematic equivalent of Newton's Third Law of Physics where every action is met with an equal and opposite reaction. It's the rise and fall and rise of a man, who's blinded by the goal he wants to achieve. 
Beyond all the politics, writer and director Teja also explores the concept of morality and he puts Radha (Kajal) in the centre of all the action. In the constant battle for one-upmanship between Jogendra and his political enemies, all rules are broken much to the dismay of Radha, who is arguably the only character in the film with a steady moral compass. When Jogendra tells Radha that whatever he's doing is because of his love towards her, she tells him that he had lost his way long ago. She even accepts the truth that Jogendra has committed way too many crimes and that he's guilty of doing a lot of things in a fit of anger; however, she continues to believe that he'll reform himself.
The love story between Radha and Jogendra is what turns Nene Raju Nene Mantri into an emotional drama, and you root for both the characters, despite the grey shades in Jogendra's persona. 
The film also offers a ringside view of how easy it is to manipulate the political system, if you have enough money and tricks up your sleeve to earn people's sympathy. In one particular scene, Ashutosh Rana explains how people like him will continue to be in power no matter which party reigns supreme. And that's when you realise that the whole idea behind the film is to serve as a wake up call to the audience to understand the political system. By turning the lives of Radha and Jogendra into a vivid drama about how absolute power corrupts and ruins families, Teja manages to drive his point home quite well. 
On the other hand, the film struggles to find its rhythm in the first act. The beginning portions of Nene Raju Nene Mantri feels like watching a showreel about how easily a simple man gets into politics at a town-level. Teja treats this segment like various set-pieces of an ordinary man jumping from one level to another. It's only when Jogendra meets people, who are worthy enough of being his enemies, that the film also becomes an interesting watch. The film drags a bit towards the end and we are bombarded with one set-piece after another about how Jogendra gets cornered by his opponents. Catherine Tresa's characterisation, in particular, feels like a caricature of the nexus between the media and politics, but that debate over whether this particular character is relevant or not is for another day. 
Nene Raju Nene Mantri is what it is because of three people — Rana Daggubati, Kajal Aggarwal and Teja himself.
Rana does a terrific job throughout the film and the intensity in his performance makes you sit upright and root for him, even when he turns into a monster. It truly is a performance that we won't forget anytime soon and the actor knocks it out of the park whenever he's required to be extremely emotional or angry. The biggest revelation of this drama is Kajal Aggarwal.
There comes a moment in every actor's life where they realise what their true potential is. It might have taken Kajal a long time to really explore a different side of her acting chops, but, oh, boy! She's so good in the film. You can feel her pain, her warmth, and even her anger in those moments when she's heartbroken. This is a film which she'll be proud of and it also comes as a reminder that she has a lot more to offer than what we've seen. 
After a long time, Teja is back with a bang and he gives us a well-crafted story that delves into several themes like love, redemption and revenge. It's been a while since a story, which spans for a period of more than five years, has been narrated with so much conviction. And for that alone, Nene Raju Nene Mantri deserves our attention. They don't make films like these anymore.
Thumbs up for this drama — It's time to put a big garland on Rana and Kajal's cut-out.
Find latest and upcoming tech gadgets online on Tech2 Gadgets. Get technology news, gadgets reviews & ratings. Popular gadgets including laptop, tablet and mobile specifications, features, prices, comparison.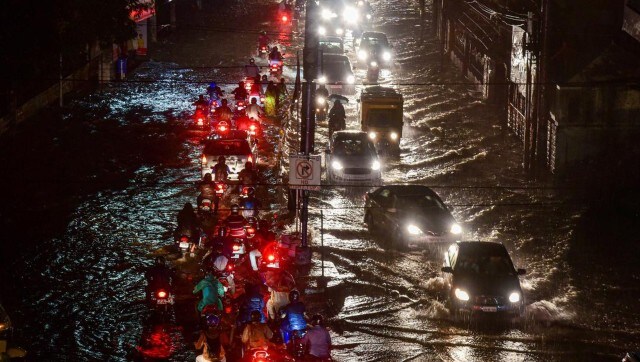 Entertainment
The heavy rains have left 70 people dead Telangana in the last week and caused damage to properties with the state government pegging losses at over Rs 5,000 crore as per preliminary estimates.
Entertainment
Haathi Mere Saathi also stars Zoya Hussain, Pulkit Samrat and Shriya Pilgaonkar.
Entertainment
Disney+ Hotstar's new slate of films and shows includes LIVE Telecast, featuring Kajal Aggarwal and Tamannaah Bhatia's November Story, among others.