Manoj Bajpayee's short film Ouch! has a humourous take on extra-marital affairs
After working in several acclaimed films like Aligarh and Traffic, Manoj Bajpayee now features in a Neeraj Pandey directed short film Ouch! along with former Miss India Pooja Chopra.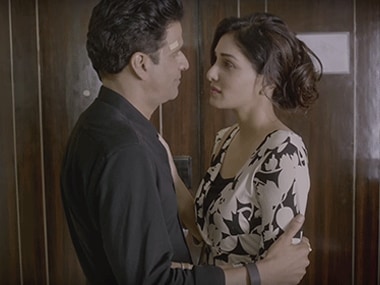 A project by Royal Stag's Large Short Films, Ouch! was first released at the Jio MAMI Mumbai Film Festival 2016 and then shared on YouTube.
The 14-minutes film gives a funny yet brutally honest take on extra-marital affairs. The film reveals a conversation between colleagues Vinay and Priya who have been in an extra-marital relationship for three years and now have to part ways.
Through the film Neeraj Pandey has portrayed these relationships in a new light, a take that we rarely see in mainstream Bollywood films. The performance by the lead actors only adds to the heightened drama.
Speaking about the film to Deccan Chronicle Pandey said, "The story of Ouch is an amalgamation of human emotions and feelings. As the story unfolds, it is interesting to see what a man and woman who are having an affair outside of their marriages do or not do to be with each other. I approached the story with a contemporary Indian outlook and the way Manoj and Pooja have brought the sentiments alive through their characters, it is commendable."
Watch the film here:
Updated Date: Oct 26, 2016 11:21 AM