Neeraj Pandey is one of the finest directors we have; Aiyaary was great learning experience, says Rakul Preet Singh
In a chat with Firstpost, Rakul Preet Singh talks about working with Neeraj Pandey and Sidharth Malhotra in Aiyaary, and the difference in the workings of Bollywood and south film industries, among other things.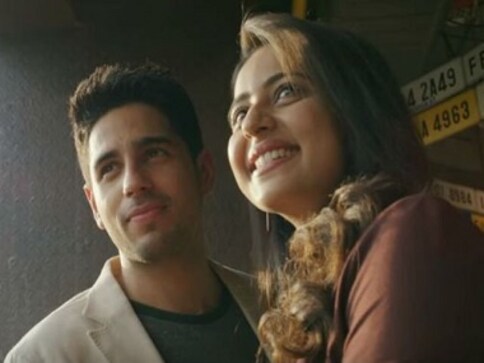 Rakul Preet Singh debuted in Bollywood with Yaariyan and after a series of films in the south, she is all set to make her comeback in Hindi films with Neeraj Pandey's upcoming spy thriller Aiyaary that stars Manoj Bajpayee and Sidharth Malhotra, and hits the screens on 16 February.
In an exclusive chat with Firstpost, the spunky actress talks about her comeback to Bollywood, difference in the working styles between South and Hindi films, and finally working with Neeraj Pandey.
Is it true that you had given your first ever audition to Neeraj Pandey, even before Yaariyan happened?
Yes, very much. After I shifted base to Mumbai, I got a call from a casting director asking me to audition for Neeraj Pandey's film. This happened after he had directed A Wednesday! I faced the camera for the first time for a film audition. While that film did not happen, a few years later, I was offered MS Dhoni's biopic, where I was to play Disha Patani's role. Unfortunately, I missed out on the opportunity due to the unavailability of dates. Much later when I got a call from the casting director for Aiyaary I was thrilled because Neeraj sir is one of the finest directors we have. It has been a great learning experience and when you work with talented people obviously it rubs on to you.
What role do you play in Aiyaary?
I am a software engineer and a hacker in the film. When you see the film you will understand how between these 'Aiyaars' (tricksters) a hacker comes into play. Besides the romantic plot (with Sidharth), my character Sonia Gupta is a core part of the film. I'm not just around for romance. I have always believed that in Neeraj sir's films everybody has an important part to play. Each character in the film has a reason to be there.
Since I missed out on the opportunity to work with Neeraj sir in M S Dhoni, I wanted to do this one. I was doing a lot of films in the South and decided that I'd only do a Bollywood film if it was worth it. Aiyaary was a great project to come back to because it has solid content.
What made you shift to the South?
It wasn't intentional. I started shooting for my Telugu film in the gap that we had between finishing shoot for Yaariyan and its release which was exactly a year. My Telugu film became a huge hit and by the time Yaariyan came out I was already doing two to three films in Telugu. Also, there was a lot of positive buzz in the South. In four years, I have done 16 to 17 films in the South. I have been shooting every day of my life. I have reached a point where I won't do just anything. It has to be worth the time and effort.
Today, Bollywood and the south industries have almost merged and are on equal platform. Akshay (Kumar) is doing a negative lead with Rajini sir. That is really huge. With Baahubali, even Hindi audiences have started watching south films.
What is the difference in the working styles between Hindi film industry and the South film industry?
There's not much of a difference except that in the South we don't shoot beyond 6pm, as there we have unions and they follow the call sheet. The shoot schedule is usually between 7 am and 6pm unless we have to shoot a night sequence. With this kind of timetable we can shoot everyday because you have the evening to yourself — to work on your craft, go to the gym, watch movies. We get four to five hours for ourselves. That is the only difference. Otherwise I have always believed that there are only good makers or bad makers, good teams or bad teams.
Culturally it must have been quite different for you. You are from Delhi, you shuttle between South India and Mumbai.
Look, I am a fauji girl. My dad is from the Army so I have travelled everywhere. I don't know who I am. I am very adaptable. People in the South have been very welcoming and now I speak Telugu as fluently as Punjabi. At times I feel I am forgetting Punjabi. Besides movies, the reason I learnt the language is so that I could communicate with people, and they, too, gave me lot of love and respect.
How was it working with Sidharth in Aiyaary?
Sidharth is a very chilled out, grounded and extremely hardworking. We connected well as we both went to Delhi University and our grand parents' house is just one lane apart. We went to the same gym; there were lot of common stories to share.
There were uncertainties regarding the release date of Aiyaary...
As Aiyaary is an army film, it was initially supposed to be released on 25 January. Then, Padmaavat happened. Post that, our film and Padman shifted dates to 9 February. Unfortunately, there were some delay in the censor board clearance of Aiyaary post that. But we are all now geared up for the release of our film, which is on 16 February. Yes, it was very unfortunate that we were juggling with dates but everything happens for a reason. If your product is good, it will do well. We believe that we have made a good film.
Is this the first time that you are acting in a thriller?
No. Earlier, I had done a thriller called Dhruva with Ram Charan. The film did really well at the box-office. I think people want this film to be remade in Hindi.
After Aiyaary, what next?
I have already started shooting for my next Hindi film, which is with Ajay Devgn and Tabu. We have just finished our first schedule in Mumbai. The film is being directed by Akib Ali who is one of the finest editors; he edited Padmaavat. The film is a typical rom-com. Besides that, I am also doing a film with Suriya and Karthi each.
Entertainment
To keep the thrill and the mystery element high, the makers of Dobaaraa release another intriguing poster.
Entertainment
"He's the biggest star that we have today in the industry, so him opening the season is great", says Masaba Gupta about Kartik Aaryan.
Entertainment
SIYA is the first directorial venture by Manish Mundra, the corporate leader turned film producer responsible for acclaimed films like Masaan, Ankhon Dekhi and Newton.