Nawazuddin Siddiqui on cameo appearances: I am done with my quota of small roles
Nawazuddin Siddiqui, who will be seen playing Saadat Hasan Manto and Shiv Sena supremo Bal Thackeray in separate films, says he's done with cameos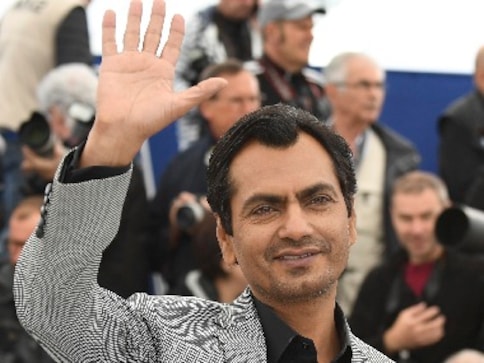 Having risen from an actor who began his career with small bits in various films, Nawazuddin Siddiqui has clearly reached a point where he has shown not only his versatility, but also the ability to hold films on his own. The actor, who will be seen playing writer Saadat Hasan Manto and late Shiv Sena supremo Bal Thackeray in separate films, says he's done with cameos.
Here for his film Manto, which features in the Cannes Film Festival's Un Certain Regard section, Nawazuddin was all praise for the film's director Nandita Das' "impeccable research".
He shies away from naming a favourite director or even sharing his wish list.
"If I take names, the others will feel bad about it. As an actor, I only look at stories, script and most importantly my character in the film. There is also a selfishness that works and I think it's quite normal that I look for characters that will challenge me and push me to the limits," Nawazuddin told this correspondent.
He is clear that there is no room for any more cameo appearances for him.
"No, I will not do it anymore (laughs). It's as simple as that, why will I do them? I am done with my quota of small roles," he said.
Nawazuddin is also venturing into production, taking on projects such as Manto as a co-producer.
"There are some upcoming films that I am co-producing as well. My brother is very much into this doing the scouting for me. I definitely want to produce films as well," he said.
He rules out exploring foreign shores for roles, saying he is content with India and the diversity of roles he is getting to do.
"For the time being, I am satisfied that all my directors in India are giving me characters that are pretty challenging and I am happy doing those.
"Just for the sake of a branding that I am an international star, I would not do that. How many films in the world are like Manto? Very few. So, I have no such predetermined affiliation for international projects. I am proud of Nandita and a film like this is no way less than any international film."
On him getting typecast, Nawazuddin said: "I think it's completely a wrong conception. If I am doing (playing) Bal Thackeray and Manto at the same time, how can one say that I am typecast? The Bollywood heroes are typecast, they do the same thing all their life and they are never asked these questions.
"Now the films made in India are allowing actors like us to step in the shoes of lead characters and that makes us versatile. So, those who are still doing this (stretches his hand) are typecast, not me," he said.
The heavy downpour that accompanied the interview perhaps reflected the emotional response of the viewers to Manto at the screening here in Cannes.
The actor says the period film clearly touched a chord with the audience at Cannes.
"I have seen people crying in the audience, there were people who came out with a very satisfied face. And the best part was I think the film has tried to hit the conscience of people very hard. There were many who came up to me and said that the film was very well timed," Nawazuddin said.
That should not be surprise as the film's director, Nandita, has always found a warm reception at Cannes, where she has had her films screened and also been a part of the jury.
Nawazuddin said a lot of hard work and impeccable research has gone into the making of Manto, which was not the typical rapid production in Bollywood style. He compliments his director's attitude towards the script and the film.
"See when Nandita told me that the film is just not the stories of Manto but his life as well, I was hooked to it.
"Manto's life in itself is very interesting. This was perhaps four years back and we tried all these years to make the concept that she was building come true. I just understood that this character will let me achieve a lot and will take away a lot of things that I always wanted to give as an actor.
"Nandita's research was impeccable and what I got in my hands was almost half baked. It was a pleasure working with her," he said.
On his own preparation for the role, he said he had already read Manto's stories and had also enacted one of them, which made it easier for him to cast himself in the role.
"I am not a writer, so I can only behave like a writer...It's not possible to be a writer. What I could do was create an impression of a writer on-screen. I have tried to that. I have always tried to portray the ground reality of a character whenever I acted.
"Manto's writing in itself is depiction of truth in every form and Nandita has always told us to exercise that in our performances. Not only had I, but each one of us tried not to be a cliche when portraying their parts in the film. I can't specifically say one I like all the stories of Manto.
"I read them and I love them. I had done Toba Tek Singh maybe twenty years back, so I relate to it. Otherwise, stories like Khol Do, Kali Salwar or Thanda Gosht are all my favourites."
also read
Photos
The week gone by has been marked by protests. In India, ace wrestlers are demonstrating against the alleged sexual abuse of women athletes. Far away at the Cannes film festival, an influencer covered herself in fake blood over the Ukraine war and in Rome, climate activists were seen bathing in mud
Entertainment
Iranian model, Mahlagha Jaberi sends a strong message in support of Ukraine on the red carpet by wearing dress with noose around neck
Entertainment
In a nearly tell-all interview recently, Siddiqui spoke about his early struggles in the industry and why he gives credit to production houses like Yash Raj Films