Naveen Richard and Sumukhi Suresh on Go Straight, Take Left — their new Amazon Prime Video special
Go Straight, Take Left is currently streaming on Amazon Prime Video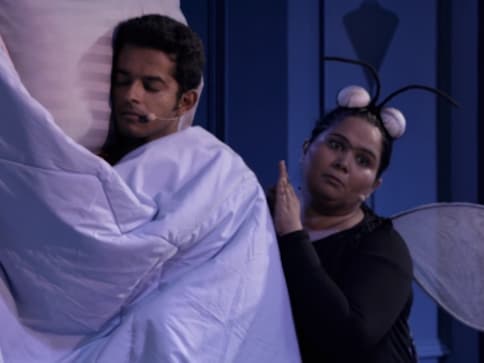 In the recent past, Amazon Prime Video has significantly bolstered the Indian comic scene by providing a platform for stand-up comedians. With a plethora of its reality shows, stand-up specials and fictional comic narratives, the streaming platform has attracted India's top comedians. Amazon pushed out its latest production in this genre, with Naveen Richard and Sumukhi Suresh's Go Straight, Take Left, an hour-long sketch comedy show.
Sumukhi explains the bizarre title of the show. "It's a very common thing in Bengaluru to say 'go straight, take left' to anyone asking for directions. When I started off in Benagluru, I used to often hear it but never understood why people kept on saying it when there is nothing to take a left to. So the moment I say 'go straight, take left', you would invariably think 'and then what'. It evokes an intrigue. So I ran the idea by Naveen and he loved it."
Consisting of four sketches, the show is quite a surprise. This mostly owes to the fact that Richard and Suresh have taken digs at very grave subjects but have chosen interesting ways to do so. For example, their first sketch titled Stan, begins with a casual conversation among two office colleagues by a coffee machine. Vijay (Richard) asks Suresh why she looks upset. Vijay's nonchalant question is taken too seriously by Suresh who then launches into a detailed account of an unfortunate encounter with her 'crush' in office. Vijay is least interested but feigns involvement, courtesy 'manners'. His incessant phone-fiddling amidst her rant, is not unnoticed by Sumukhi who chooses to go on.
While audiences laugh out loud at Vijay's desperate but failed attempts to move on with his life, Sumukhi articulates some very serious issues. Her funny dialogue consists of matters like the insecurities and self-doubt that many women who try to 'fit-in' with the concept of 'modern' attachment or as some term it, 'friends-with-benefits' grapple with. The account moves on to a more critical issue of sexual harassment at workplaces. Her confession of having felt uncomfortable goes completely unnoticed by Vijay, who busily chats with his boss' son while Suresh talks. The sketch is a subtle commentary on the lack of stringent action regarding harassment in workplaces and the hypocrisy while addressing it.
This sudden turn from funny to dark has become Richard and Suresh's signature style of sorts. Confessing to an inadvertent dark layer beneath most of their characters, Sumukhi says it's not intentional. "Yes, all our escalations in most sketches generally end up in the satire genre and we realised this while creating content for this special. But now that we are aware of it, we decided to play different shades of it rather than use the same sarcastic tonality."
Most of Sumukhi and Naveen's sketches have varied characters. Commoners with deadly quirks is where they excel, but most are the average middle-class men and women. Suresh says that their premises are drawn from whatever they observe. But, they have consciously tried to rework the everyday person trope in this special which has a mosquito, ventriloquist-puppet duo, tennis players and a jail inmate. "Our primary goal is to always play different characters. We start with basic thoughts but by the time Naveen and I complete the story, it's gone somewhere else," laughs Sumukhi.
This seems true especially of their sketch titled Jail that deals with a hilariously helpless inmate Vivek and his akka (elder sister). The piece opens with Vivek meeting his sister who recently gave birth to a baby daughter. He begs his sister to consult lawyers for his early bail while Suresh tries her best to avert Vivek's pleas; sometimes with scoldings to the jailer to keep in mind her brother's blood pressure before passing urine in his food while at others she compliments Vivek on losing weight, which makes him look like the actor Surya. The sketch climaxes when akka confesses that she does not wish for his early release as she wants some time to herself after almost 30 years of rearing her siblings and taking care of them. The narrative alludes to the sorry state of conditions in Indian correctional homes and the pathetic conditions of lower middle-class families. who struggle to make ends meet.
Go Straight, Take Left, Better Life Foundation, Pushpavalli all have Suresh and Richard together. The excellent professional rapport that both share is mainly because they hail from small towns, feels Suresh. Naveen is from Coimbatore while Suresh is from Nagpur. "When we hang out it's like we are a couple of gareeb, bechara people talking to each other. Between Naveen and me, there is nothing that's a 'bad idea'. He tells me when something makes sense and we elaborate on it further." says Suresh.
Coming from two very different backgrounds of sketch and improv, Naveen and Sumukhi should have been polar opposites. While Sumukhi organically picks up the 'natural tone' of improvising performances on-stage, Naveen prefers a more written approach. "Naveen has a great discipline of writing," says Suresh. "He is so particular about the ending of a sketch that if you don't get it, it can become annoying working with him," she laughs. "Naveen will not leave the sketch till it has a good conclusion."
"Sumukhi and I are like 'home'. That's how comfortable we feel with each other," adds Naveen.
Most sketches in Go Straight, Take Left have been part of Sumukhi and Naveen's repertoire for almost two years. They have toured with the material and over time, developed the sets. For the Amazon special, the duo took almost three months to develop the matter followed by a month of daily rehearsals with Suresh's improv mentor Siddhant Sundar. "We got Siddhant and rehearsed every single day. We had seven trial shows before the final taping." says Suresh. The sketch has been directed by Debbie Rao, who collaborated with the duo on Pushpavalli and Better Life Foundation before this. Both comedians agree on the fact that Rao takes out the best in them. "We perform to make Debbie laugh. And once we have achieved that, we know our content is funny. This is mostly because we respect her sensibilities of 'funny'." says Naveen.
However, with so many streaming channels providing content avenues, do their personal YouTube channels take a hit? "Yes. With shows, tours and tapings, most of us do not get the time to create new material for YouTube. But I guess that's a sacrifice we have got to make. Personally, I have always wanted to do long-form content and the kind of time, effort and money that it requires is easier to find with streaming networks." ends Naveen.
With another season of Pushpavalli and a plethora of shows in the future, both comedians seem to be creating their niche online. Go Straight, Take Left is currently streaming on Amazon Prime Video.
Entertainment
He captioned the reel as "@deepikapadukone Engraved your name on my hand so that you're with me forever. I wanted to do this since a very long time so here it is- my first tattoo and obviously it had to be something related to you.:
Entertainment
Britain's queen consort, who worked with O'Grady to support animal charities, led tributes to a performer who emerged from the alternative gay comedy scene and became a national treasure.
Entertainment
The actor in a recent interview spoke about the conversation he had with his wife Shabana Raza had about his career, how he was still surviving, and much more.