National Film Awards 2018: Boney, Jhanvi, Khushi Kapoor on Sridevi's Best Actress win — 'wish she were here today'
The National Film Award win came as a bitter-sweet moment for the family members of Sridevi.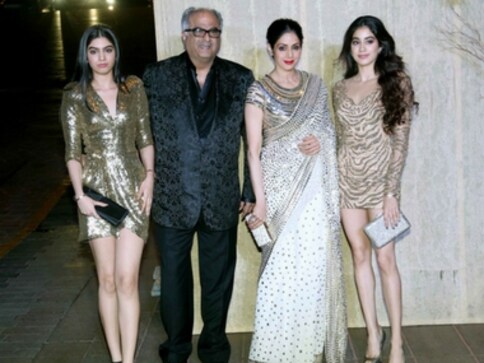 The National Film Award winners reacted with surprise and elation as their name was announced today but it came as a bitter-sweet moment for the family members of Sridevi, who was named the best actress posthumously for her role in Mom. Sridevi's producer-husband Boney Kapoor became emotional to know about her win at the 65th National Film Awards. "Thank you. I just wish she was here today to see this," Boney told PTI when reached out for a reaction.
Her daughters, Janhvi and Khushi, thanked the government of India, jury members and fans for celebrating her achievements. "We are overjoyed to know that the jury has conferred the best actor award to Sridevi for her performance in Mom. It's a very special moment for all of us. She was always a perfectionist and it showed in all the 300 plus films she did. She was not just a super actor but a super wife and a super mom. It's time to celebrate her life and her achievements. She is not with us today but her legacy will always live on."
The actor died in February this year at the age of 54. Mom was her 300th film. "It was not because of the relationship we shared but because she was the most deserving candidate for her portrayal in Mom," said Shekhar Kapur, this year's feature film jury head. He had worked with Sridevi in 1987 film Mr India.
Her Mom co-star, Pakistani actor Adnan Siddiqui, told PTI, "I am not surprised, she deserved more. She deserves each and every award of the world. From a child actor till her last film. I am happy that she got a send off at the state level. But I am saddened that she got the award when she is not here today."
Entertainment
Not just the Indian film industry or Bollywood, gender pay gap is real and harsh across the global entertainment industry. Samantha Ruth Prabhu and Sharone Stone opens up on it.
Entertainment
Kunal Nayyar who played the role of Raj Koothrapalli in the second episode of The Big Bang Theory called Madhuri Dixit a "leprous prostitute."
Entertainment
The video of the actor's gesture is going viral on social media.