Narcos: Mexico review — Netflix's global hit delivers another high with solid fourth instalment
As catchphrases go, 'In crisis, there's opportunity' doesn't quite have the same ring as 'plata o plomo'. But it serves just fine as the core of Narcos: Mexico, instalment four of Netflix's hit original.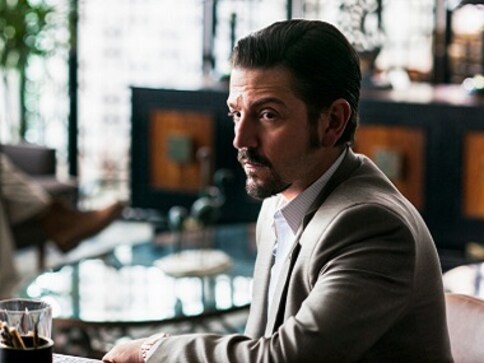 As catchphrases go, 'In crisis, there's opportunity' doesn't quite have the same ring as 'plata o plomo'. But it serves just fine as the core of Narcos: Mexico, instalment four of Netflix's hit original.
It's the idea that propels Miguel Ángel Félix Gallardo from being a small-time marijuana farmer in Sinaloa, Mexico, to the leader of one of the first organised drug cartels in the world.
Juxtaposed with Gallardo's rise is the story of DEA agent Enrique (Kiki) Camarena, recently posted to Guadalajara, Mexico; Kiki too is seeking opportunity in crisis, hoping to crack a big case and get a transfer to one of the department's more important offices, such as Miami.
This isn't quite the DEA that goes up against Pablo Escobar and the Rodríguez Brothers. Narcos: Mexico is set in the time when the Medellín and Cali cartels were still in their nascent stages, when cocaine had not yet become public enemy number one, and the 'war against drugs' was more a skirmish. In pop culture parlance, this is a prequel to the developments we saw unfold over seasons 1-3.
Its setting is Sinaloa in Mexico — a mostly rural, impoverished region, known for the quality of its marijuana. When the military cracks down one too many times on the weed farmers, destroying their crop, one of the Sinaloans, Miguel Ángel Félix Gallardo, has an ambitious solution — move. Move to one of the power centres, like Guadalajara, strike up a partnership with the influential drug lords there, who would promise protection from the government and police in exchange for a 50:50 cut of the profits, leaving the Sinaloans to carry on their weed trafficking in peace. There's even a serendipitous piece of land near Guadalajara — miles from civilisation (and prying eyes), a seemingly barren desert that has an untapped groundwater reserve — where their marijuana can be cultivated. As for the marijuana, thanks to the efforts of Gallardo's partner, Rafael (Rafa) Caro Quintero, it's a variety far superior to anything in the market.
Over several twists and turns, Miguel Ángel plans his way into organising Mexico's disparate and competing drug 'plazas' (gangs) — from Juarez to Tijuana — into one unified consortium, with himself as the boss, and Mexico's intelligence agency DFS (Dirección Federal de Seguridad) as his partners. Business booms, the money pours in, and the Guadalajara cartel comes into existence.
But with great power comes great visibility, and the DEA is soon tracking the cartel's every move, with Kiki Camarena taking a special interest in Miguel Ángel Félix Gallardo.
By design or otherwise, the bad guys in Narcos make for far more intriguing protagonists than the good guys. Narcos: Mexico is no different from the previous seasons in that sense. Just a little way into the story, and we already have a striking view of Miguel Ángel's persona. He's incredibly sharp, ambitious, and even though he seems like a decent man (you know, for a cartel boss) he is ruthless when it comes to protecting his business interests. Kiki Camarena, on the other hand, is interesting more because one is aware of the exceedingly horrendous fate that befell him. He's dogged and persistent, and these qualities lead him to one of the biggest drug busts of American law enforcement (at the time) — but he pales in comparison to the man he's hunting.
Even as actors, Diego Luna is much more compelling to watch than Michael Peña. Wagner Moura perhaps set an unmatchable benchmark in Narcosverse with his portrayal of Escobar, but Luna invests Miguel Ángel with all the shrewdness that made Gallardo the Mexican drug business' 'El Padrino' (The Godfather). If violence was Escobar's calling card, and discretion the Rodríguez Brothers', then for the Guadalajara cartel, it is Miguel Ángel's brains. There's nothing he can't reason his way out of, no situation he can't turn to his advantage. In crisis, there's opportunity.
It is a combination of circumstances (a crisis triggered by Rafa) and his own presence of mind that presents Miguel Ángel the opportunity to get involved in a far more high stakes business than marijuana — cocaine. With the Caribbean routes on lockdown, Mexico is one of the few gateways still open for Colombian cocaine to enter the United States, and Gallardo strikes a deal with the Rodríguez Brothers — and under duress, with Pablo Escobar — to move their product through the Guadalajara cartel's network.
Miguel Ángel's meeting with Escobar is among the several self-aware moments scattered through Narcos: Mexico, a nod to its global fan base (at one point, the narrator's voice-over wryly notes that we're now all experts on cocaine). Actors from the previous seasons return for this short segment: Francisco Denis (back as Miguel Rodríguez Orejuela), Pêpê Rapazote (as Chepe Santacruz Londoño), Alberto Ammann (as Pacho Herrera), and of course Wagner Moura, as Escobar. The "face-off" between Miguel Ángel and Pablo is nicely done, allowing Diego Luna and Moura to exchange pithy retorts and match wits. The flipside is that it might disrupt the immersiveness of the narrative for some viewers, or feel gimmicky to others.
There's another meta moment in the story when the camera focuses on one of Rafa's many henchmen — a man called Joaquín Guzmán, who the gang nicknames "Chapo, because there are too many Joaquíns." "El Chapo" — among the most notorious of modern-day drug bosses, whose life has spawned several screen adaptations and one strange Sean Penn interview — is now on trial in the US for his crimes.
Apart from bringing up these moments, the shift to cocaine signals a change in the Guadalajara cartel's fortunes. The once tightly managed consortium begins to splinter — not everyone can (or wants to) keep pace with Miguel Ángel Felix Gallardo's ambitions. And then of course there are those who cannot countenance them — the powers-that-be in Mexico City, who want their cut from his business, but none of the fallout. Gallardo's ruthless streak comes to the fore oftener. Kiki Camarena and the other DEA agents catch up with the cartel. And then the powers-that-be catch up with Kiki.
With every season of Narcos after the original, explosive one, the question has always been — will they match up? Season two, despite the return of Moura, and Pedro Pascal and Boyd Holbrook (as DEA agents Javier Pena and Steve Murphy, respectively) seemed to lag just a little bit. It had a rinse-lather-repeat quality: Escobar does something violent and outrageous-law almost catches up with him-last minute reprieve as Escobar slips away-Escobar does something even more violent and outrageous. Season three had shed Moura, Holbrook, and the environs of Medellín, to focus on Cali. Apprehensions of a drop in viewing pleasure proved unfounded: the gentlemen of Cali delivered the requisite thrills in a satisfactory manner. And now, Narcos: Mexico does the same.
As the first episode played out, I wasn't sure if I would like this fourth season or not. Sure, there was a frisson of dread as a black bag was lifted off a captive's head, and the door closed on the room that would be his (Kiki Camarena's) torture chamber. But one wondered if the characters were riveting enough to sustain 10 hours' worth of storytelling.
By the end of season four, the answer is yes. The season is not perfect — there are plot points that are clearly space-fillers, like Rafa's Scarface-inspired romance, which seems like a deliberate attempt to insert a "softer" angle into the proceedings, and an adventure in Juarez that is perhaps meant to set up the next Narcos installment but feels unnecessary in the build-up to the climax. Apart from Rafa's girlfriend (who gets to be naked a lot, to show her rebellious side), the other women have little enough to do in Narcos: Mexico, apart from looking gorgeous, or anxious, or angry, or upset. Maybe that's an accurate reflection of the world the story is set in, or just a missed opportunity.
It must also be said that while Narcos: Mexico has several of the elements that made season one tick (a rise-of-the-underdog story, brotherly love, the creation of surreal amounts of wealth), it lacks the taut quality of the original. The cat-and-mouse chase between the DEA and Escobar felt urgent; by contrast — and of course this is a function of the powerlessness of the cops in Mexico — Camarena's investigation of the Guadalajara cartel doesn't have that same tension. Like it probably was in real life, it's more often than not, a frustrating and disappointing slog.
But there are other characters who do compensate for the season's shortcomings, like the avuncular Ernesto Fonseca Carrillo aka Don Neto (played by Joaquín Cosío). He's a steadfast ally to the Gallardos, and Cosío lends the character an odd sort of dignity and poignancy. One expects viewers to become as familiar with the members of the Guadalajara cartel after Narcos: Mexico, as they are with the Medellín and Cali crews.
For all Miguel Ángel Félix Gallardo's ruthlessness, Narcos: Mexico makes clear that he isn't the worst guy in the bunch. There are the politicians, who're willing to bend any and all rules for ill-gotten profits. There are the cops, who'd rather crack down on civilians than the narcos they're supposed to be apprehending. The sheer pervasiveness of the corruption is defeating. The violence is casual — until you come to the episodes depicting the torture of Kiki Camarena. The sustained physical brutality against the DEA agent is stomach-turning; it proves to be a step too far, and one that finally marks a turning point in how the war on drugs would be conducted henceforth.
In crisis, there's opportunity. Kiki's kidnapping gives the DEA reason to launch Operacion Leyenda, which ultimately netted Miguel Ángel, five years later. One presumes this will form the thrust of season five, should it be commissioned by Netflix.
And then of course, the show could turn its gaze on El Chapo, and how he built up his $ 14 billion empire. The possibilities are endless, just like the war on drugs.
Narcos: Mexico is now streaming on Netflix.
Entertainment
Kevin Spacey was fired or removed from projects, most notably "House of Cards," the Netflix political thriller where for five seasons he played lead character Frank Underwood, a power-hungry congressman who becomes president.
Entertainment
Tracing the journey of the show from season one to season two, Neena Gupta and Masaba Gupta's show has tackled professional and personal highs, lows (and maybe blows). Here are five reasons why you should watch it.
Entertainment
In a statement, Patel's representative said, "We can confirm that last night, in Adelaide, Dev Patel and his friends witnessed a violent altercation that was already in progress outside of a convenience store."