Nani talks about MCA (Middle Class Abbayi) and why he doesn't want to carry the baggage of his past successes
Nani has a lot to cherish about 2017, thanks to the success of Nenu Local and Ninnu Kori. Now, with his third film of the year, MCA, slated for release, it makes us wonder if he's going to score yet another hit.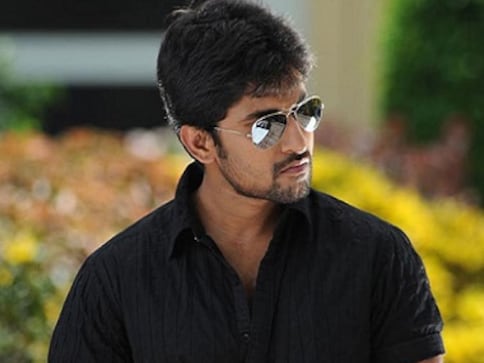 In March, 2015 when Nani starrer Yevade Subramanyam released, no one would have anticipated that the actor will have some sort of a dream run at the box-office. Not only has he emerged as one of the most bankable actors in Telugu cinema today, but also Nani has
continued to surprise the audiences with his wide range of choices.
From Bhale Bhale Magadivoy in 2015 to his recent hit Ninnu Kori this year, Nani has cemented his place in the industry as a force to reckon with. No wonder, his boy-next-door image, coupled with his ability to delivering back-to-back crowd-pleasing entertainers, has earned him the moniker of being a 'Natural Star', a tag that justifies his screen presence and the ease with which he pulls off his roles.
In 2017 alone, his stardom soared higher, thanks to hits like Nenu Local and Ninnu Kori, and now, the stardust of his popularity is keeping everyone guessing if his latest film MCA - Middle Class Abbayi, too will strike gold at the box-office yet again.
However, Nani confesses that he isn't even remotely thinking about the expectations riding on his film. "I'm just taking it one at a time," Nani says, adding, "People have been asking if it's going to be my 7th or 8th hit in a row or if MCA will be a perfect end for what's been a great year, so far, for me. If I start thinking about all this, it'll put too pressure on me. Every film is important. Having said that, I should also acknowledge that Nenu Local and Ninnu Kori are already a thing of the past. Now, I'm just looking forward to MCA and hope it works."
In MCA, like the title suggests, Nani plays the role of a middle-class guy who can't stand his sister-in-law. When the film's trailer was unveiled earlier this month, several people drew comparisons between MCA and his own film Nenu Local suggesting that MCA
felt like an extension of his erstwhile film right from his look to the tone of the film. But, Nani has a completely different take on the whole debate.
"There are absolutely no shades of Nenu Local in MCA at all, except for the fact that I've once again collaborated with Dil Raju and DSP. Be it my character, story, backdrop, set-up, there are no similarities between the two films. Nenu Local was about an arrogant guy, who has his own philosophy in life and he wants to live the way he wants to. But MCA is something that every middle-class guy will relate to. He has his insecurities and he's stupid at times, but when a problem arises in his family, he rises up to the occasion to fight back. Whatever you have seen in the trailer is exactly what you're going to see in the film. There are no surprises. But, it'll entertain you when you watch the film," he says.
Directed by Venu Sriram, MCA also stars Sai Pallavi, Bhumika Chawla, and Rajeev Kanakala in lead roles, and it explores the milieu of Warangal after Bhumika Chawla, who plays Nani's sister-in-law, gets transferred there. The trailer of the film left enough hints about
the love-hate relationship which Nani and Bhumika share, and that was one of the factors which impressed Nani when he heard the story for the first time.
"In most commercial films, heroes are heroes from the first frame onwards. They empathise with everyone and everything, and they're problem-solvers among several other things. They're perfect and they do everything all by themselves. What I liked about MCA are
the little details that aren't explored as much in mainstream cinema. For instance, his understanding of life is not right all the time; he's very insecure; he misunderstands a lot of things especially when it comes to the relationship that his brother and sister-in-law share; he has a problem with his sister-in-law because he thinks that she has distanced his brother from him. Before she comes into their life, the siblings would spend a lot of time hanging out together, but once his brother gets married, he ends up spending all his time with his sister-in-law. All this makes him feel that she's the villain in his life. That in itself is such a cute emotion. We don't see such insecurities in lead characters, and I think it's going to be a major highlight in the film too," Nani explains.
Incidentally, he's pretty clear that MCA isn't the kind of film which sets out to tell a new story or share a new idea. The USP of the film, so to speak, lies in how convincingly it tells its story. "More importantly, it all boils down to whether it's entertaining or not.
It has an emotion and a story which might familiar, but the characters feel very real. In the past, whenever two films with similar storylines released, the film which told the story most convincingly would strike a chord with the audiences, and the other one would fizzle out. It's something like that, if you know what I mean," Nani avers, adding, "There'll be thrillers and concept-based films with a lot of twists and turns, and that's the kind of set-up where you can present your ideas in a new manner. And there are films like MCA, which will go through a familiar territory, but what really matters is - are you able to forget everything else and have fun or not? This is a different genre altogether. I haven't done an MCA before and I might not do it again in future."
At the film's pre-release event, held recently in Warangal, Nani addressed a huge gathering and said, "When I first heard the story, I saw me. I saw all of you. It's something which every middle-class guy and girl will be proud of." Looking back at his initial set of films like Ashta Chemma and Ala Modalaindi, Nani has come a long way indeed. And each film has catered to a different set of audiences. In a way, the decision to do a film like Nenu Local and a MCA seems deliberate. "As an actor, I need to do all sorts of films. Each film has a different language. There might be few people who would have loved Yeto Vellipoyindhi Manasu, but others might disagree. For another section of audience, Nenu Local or Yevade Subramanyam might have worked well compared to other films in my career. Now, you can't argue with people's likes and dislikes. It's just what it is. There are different sets of audiences, just like how there are different kinds of films. I have a strong hunch that a lot of people are going to love MCA because it's quite earnest about what it wants to say. There's nothing over the top about my characterisation, although I'm playing a hero. The whole idea is that everyone watching the film should also feel that it's their life and lifestyle that I've portrayed in the film."
The actor is all praise for his co-star Sai Pallavi, who has paired up with him for his first time. After making a sparkling debut with Fidaa, Sai Pallavi has become an instant heartthrob, and her onscreen chemistry with Nani is palpable to say the least.
"Her approach to cinema and life in general is very different. She doesn't subscribe to notions of how a heroine should behave or approach something…she is herself. What I really like about her are the finer details that she brings into her performance. More than her dialogues, performance, costumes etc, there are little expressions which pay off really well when she is in front of the camera. For a lot of actors, unless a director underlines some expressions, it doesn't become evident what the director has in mind. But with her, it's very different. She doesn't need a director to tell her everything," Nani says.
On the personal front, Nani has had a remarkable year. His son, Arjun, was born on March 30 and Nani's life has changed a lot ever since. "Unfortunately, I haven't been able to spend as much time with my son because I've been shooting continuously. I'm actually missing out on a lot of things, but thanks to technology, I do get constant updates about all that he's doing at home. Before he was born, once I used to step out of the house, I wouldn't even think about going back until I finished all my work. But now, his face keeps flashing in my mind every five minutes. I hope this motivates me to go back home soon, at least now (laughs). I don't want to miss seeing what he does as he grows up," the actor confesses.
Given the kind of roles he has done over the years, it wouldn't be an exaggeration to call him a poster boy for middle-class youth. Ask him if he picks up such characters, consciously, Nani laughs it off saying, "I think the problem is that you've been watching too many films of mine. If I have to talk about the roles I've played in my films so far - in Pilla Zamindar, I'm the heir to a property worth Rs 5000 crores and the guy is quite arrogant, he doesn't care about the poor; in Ala Modalaindi, I'm from an upper middle class family; In Krishnagaadi Veera Prema Gaadha, I was someone who's into the business of drilling bore wells in Anantapur, you can't call him middle-class; in Bhale Bhale Magadivoy, I played a rich guy; in Yevade Subramanyam, I was a cut-throat businessman who only cares about money and climbing up the ladder, in Ninnu Kori, I was someone who was struggling to pay his hostel feels. Except Nenu Local and MCA, I don't think I've done too many films where I was a middle-class youth to stereotype me in that category."
"Perhaps, this notion has stuck on to people's minds because I do too many films in a year, which is why there is so much comparison and debate over what I've done so far. Most other actors escape this question because they do one film a year (laughs). It's really tough to play such varied roles in a single year in three different films. Or maybe people really like me as a middle-class boy, no matter how many roles I do," he says. Amen.
Entertainment
Noted voiceover artiste Harish Bhimani also contributed Rs 5 lakh to help the artistes in need, Sanskar Bharati said.
Entertainment
"It was a really good thing for my brain that I wasn't playing a character going through troubled transitions or experiencing self-loathing or other complicated things I've tried to put out on screen," says Juno Temple on playing Keeley Jones in Ted Lasso season 2.
Entertainment
"At present, no one accepts the depiction of historical personalities in poor light or narrative that incites religious or caste feelings or portrayal, affecting public peace and tranquillity," the Tamil Nadu unit of BJP said.