Nach Baliye contestants Divyanka, Vivek Dahiya, Monalisa and Vikrant on dancing with their partners
It is yet another season of celebrity dance reality show Star Plus' Nach Baliye, with some of the top television jodis to burn the dance floor with their sizzling chemistry and moves this season.
As curtains go up today (Sunday, 2 April), one of Indian television's hottest couple, Divyanka Tripathi and Vivek Dahiya, and actors from the Bhojpuri film industry, Mona Lisa and Vikrant Singh Rajput, who got famous with their appearance on the controversial reality show, Bigg Boss, chat exclusively with Firstpost.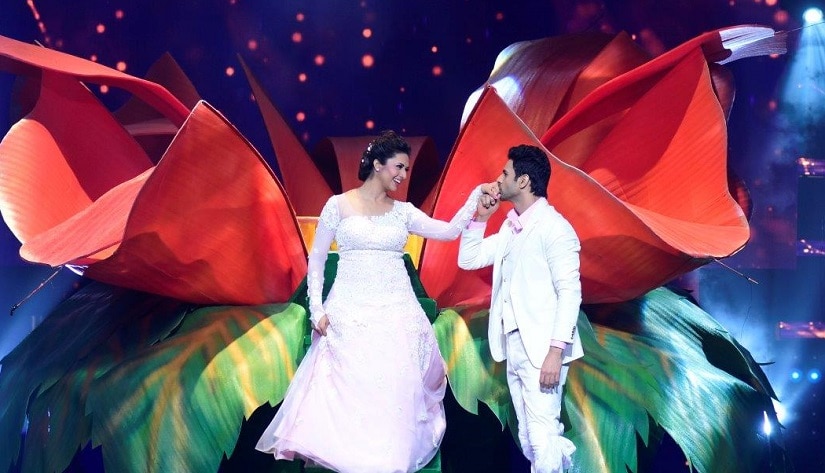 It looks like it is going to be extremely challenging for the recently married, power couple, Divyanka and Vivek.
Says Divyanka, "Technically speaking, both of us are non-dancers but we are learning. It is our chemistry and timing that is working out and we are enjoying the process."
She continues, " If I stop because I am not physically fit then I will stagnate. I will never stop, it is not in my mechanism, I will use other parts of my body and continue performing. Last time when I suffered injury, I would make appearances on a wheel chair and crutches to complete my job. I have done everything possible in any condition, so why stop now, that is not me? There has never been a holiday for me," says Divyanka.
Says Vivek, "The advantage for Divyanka is that she has done may stage shows, whereas I have been athletic and sports person when I was younger, so I can push myself whenever there is any physical challenge."
Divyanka says that Vivek fills in for her as and when required. "Vivek is extremely supportive. I can be careless. At times, he learns additional step for me if I am running late as I am also shooting a daily soap along side. I am always late and Vivek later shows me the steps."
For Vivek, memorizing steps was difficult in the beginning. "Certain steps are easy for us because we have been performing during award shows, and contemporary Bollywood is manageable. These are the same small steps we have been doing for 10 years, but Nach Baliye requires another level of performance. For the first episode we had time to be perfect in our dance, but for the next episode onwards it is getting difficult."
Showcasing their romantic side, Divyanka and Vivek will be opening the first episode today with the Gerua song.
Divyanka and Vivek are two of the most popular faces of television industry, so is there a pressure on them of doing well particularly because of huge fan following? "Absolutely. It is not just our image but we also have a responsibility towards our fans and we want to feel good by doing well. They are so concerned for us. In fact, some of the fans are telling our choreographer through social media that we should be given simple steps so that we don't break our leg and undergo any pain," laughs Divyanka.
Meanwhile, Bhojpuri actress Mona Lisa made a big splash on the controversial reality show, Bigg Boss, recently, and it was her grooving to the beats everyday that caught everyone's attention so much so that it was felt she survived because of her dance and oomph. "After Bigg Boss got over, I was approached for Nach Baliye and I was really excited. I always wanted to participate in shows like these but never got the opportunity. It is like dream come true for me," she adds.
Mona says that she and her husband, Vikrant, who have been rehearsing for seven to eight hours every day, will not follow any particular theme.
"It will be different each time with our real life chemistry coming to fore. Our second act will have humour in it. We can't afford to remain fixed each time. But our choreographer, Pervez Rehmani, has understood us and has been giving us whatever suits our body and style," says Mona, who excitedly recalls dancing with Ranveer Singh on a song from Befikre when he had appeared on Bigg Boss.
While Mona is confident about her dance skills, Vikrant comes to her rescue whenever she is low on energy. "At times my stamina and energy level falls and at such times Vikrant takes over," says Mona.
Adds Vikrant, "Competition is going to be healthy and only after three to four episodes it can be said which jodi is good. Mona is a great dancer but the level of Nach Baliye is something else, it is of very high standard. We can't afford to make mistakes. I will have to give my energy and probably I will save myself because of Mona." Vikrant further adds, "No we are recognised and our audience has increased and we are getting lot of support from our industry as well as people."
Nach Baliye will be judged by Sonakshi Sinha, Terence Lewis and Mohit Suri and will be  hosted by Karan Tacker and Upasana Singh.
Updated Date: Apr 02, 2017 13:45 PM
also see