My Name is Shah Rukh: Yasin Bhatkal and the SRK problem
Poor Shah Rukh Khan. It turns out the Indian Mujahideen's Riyaz Bhatkal is his Number One fan. And Yasin Bhatkal also used Shah Rukh an alias.
Shah Rukh Khan made one mistake with his film My Name is Khan.
It should have been called My Name is Shah Rukh instead.
That would have been truer to life.
That's just one of the nuggets of information we have gleaned now that the Indian authorities have nabbed one of India's most wanted terrorists – Yasin Bhatkal.
Bhatkal, it turns out used Shahrukh as one of his aliases. The Times of India says "it is said this created problems for SRK in his overseas travels."
Should our Badshah of Bollywood who has been recently tweeting about his "awful cold" and cloggy "Spinoza state of mind" at least rest easier on this front now?
Alas, there's no rest for the innocent.
International Business Times reports that Riyaz Bhatkal, founder of Indian Mujahideen got a passport done under the name of Shah Rukh Khan from Ranchi on January 21, 2010. Riyaz , an engineer who ran his father's tannery business before getting involved with the SIMI group, is a close friend of Yasin's and they both lived together for awhile.
And Riyaz is still on the run.
But wait, there's more.
In a plot twist that would put Amar Akbar Anthony to shame, Riyaz's elder brother Iqbal Bhatkal who is the Indian Mujahiddeen ideologue also uses the same alias.
"Everybody is Shah Rukh Khan," a senior police officer told Vicky Nanjappa of Rediff.
That way lower-level operatives never knew if they were meeting Riyaz, Yaseen, or Iqbal. They only knew they were meeting "Shah Rukh Khan."
Iqbal, like Riyaz, is still unapprehended.
Nanjappa says Riyaz is the original Shah Rukh fan and often dressed like him. While celebrities often have trouble with over eager fans, the Bhatkal trio have clearly upped the Misery ante when it comes to the fan from hell. And the police have been caught up in their own Shah Rukh spotting game across the country while the hapless real SRK can only rue "Who will rid me of this troublesome fan er fans?"
The police cottoned onto the many Shah Rukhs in the cat-and-mouse game when they caught an IM operative who talked about getting explosives from a Shah Rukh Khan in Udupi while another operative met a Shah Rukh Khan at a railway station in Kerala and the two Shah Rukhs did not match.
The links between Bollywood and the underworld have never been secret and came to the fore after the 1993 Mumbai blast. Fox News reported how a leaked US cable from the Mumbai consulate said the film industry "welcomed funds from gangsters and politicians, looking for ways to launder their ill-gotten gains" before the industry became more corporatized.
Tehelka reported in 2005 on how Mumbai police always kept an ear open on conversations between Bolly stars and the real-life dons. They had stories of stars paying protection money to the likes of Abu Salem or a filmmaker asking Chhota Shakeel how the attack against Chhota Rajan went down so he could make a film about it. Bollywood has always had a fascination with the underworld. Just this year we saw a string of releases reflecting that – D-Day, Once upon ay time in Mumbai Dobara, Shootout at Wadala. Bollywood has always been fascinated by Dawood Ibrahim with several characters clearly modeled on him in recent films even if they go by different names.
Now we know that the fascination is a two-way street, a deadly duet. Like the small town gangsters in Gangs of Wasseypur, the terrorists also see themselves reflected in Bollywood's golden eye. As Shiv Visvanathan wrote about that film, "If Wasseypur is violence, Bollywood is desire, each likes to be laced with the other."The stars want to be seen as tough guys. The tough guys want to be seen as stars not just with them.
Salman Khan, however should be feeling miffed by this entire episode. He is our Dabangg he-man, far more macho than Shah Rukh Khan ever was. SRK in Chennai Express uses his brains rather than brawn in a fight, something Salman would never be caught doing. Not only that, who can forget those stories about Mumbai police tapes of an apparently drunken Salman Khan telling Aishwarya Rai that Dawood Ibrahim was like "an elder brother" to him.
How humiliating that the leading lights of our terror network would rather pretend to be the boy next door.
All things considered, perhaps Shah Rukh should just consider changing his name. Stars like Yusuf Khan and Mumtaz Dehlavi once became Dilip Kumar and Madhubala to be more acceptable in the Indian box office. Shah Rukh could consider adopting his favourite on-screen name Rahul to be more acceptable to airport officials the world over.
Of course, saying "Rahul, naam toh suna hoga" is not without its pitfalls. Rahul is a name with a lot of baggage in India these days, belonging as it does to the Congress' reluctant crown prince, a man known more for dynastic dithering than dynamic derring do. But at least confusion with that Rahul would result in VVIP treatment at airports instead of hours of interrogation.
Entertainment
Salman Khan will unite with Zoya Akhtar and Farhan Akhtar for a documentary on Salim Javed, titled Angry Young Men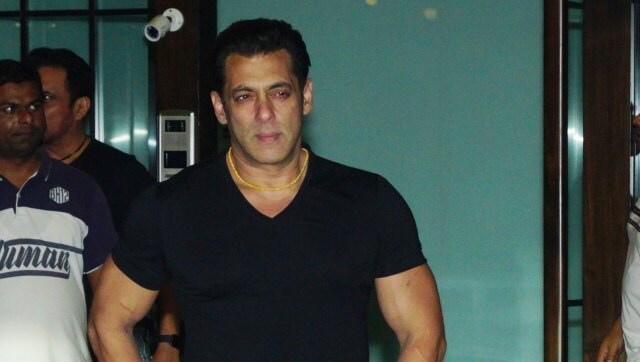 Entertainment
Salman filed a defamation complaint against Kamaal R Khan over the latter's review of the just-released Hindi film Radhe.
Entertainment
Vijay Deverakonda, who makes his debut appearance on Dabboo Ratnani's calendar, says he was 'initially hesitant' to do the photoshoot.