My greatest 'Hichki moment' is the death of my parents: Shah Rukh Khan to Rani Mukerji
Shah Rukh Khan talking about his life's biggest Hichki moment with Rani Mukerji: 'The loneliness, pain and sadness of the loss of both my parents, could have been overwhelming enough to take over my life wholly.'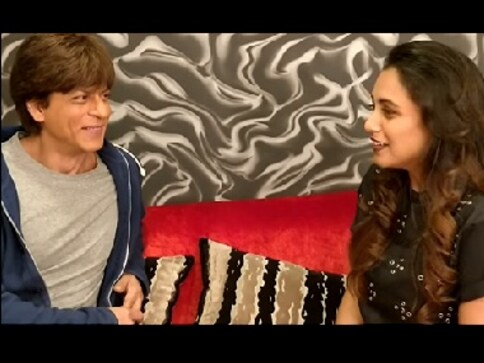 Shah Rukh Khan is a living legend today.He is undeniably one of the biggest superstars of the Indian film industry. Yet, early on in his life, Khan faced the biggest obstacle of his life — the sudden loss of his parents.
The makers of Rani Mukerji-starrer Hichki are promoting the film uniquely by asking prominent personalities to share their untold weaknesses and how they eventually converted them into massive strengths.
Khan, speaking to Mukerji, reveals, "My greatest Hichki moment is the death of my parents. I was 15 when my father passed away and 26 when my mother passed away. We were not financially well off, and I was studying for my Masters degree then. It was very sad for us. The empty house without my parents used to come to bite us (my sister and me). The loneliness, pain and sadness of the loss of both my parents, could have been overwhelming enough to take over my life wholly. I decided to overcome this Hichki moment by letting acting fill up my entire life."
He adds, "I never quite let go of the pain, but I also used it to make me completely focus on my profession. People close to me will tell you that acting is my vent, my window of manifesting these overwhelming emotions. I always say this that one morning, when I wake up, I will realise that I have spent all these emotions and now have nothing more to give (as an actor)."
Talking about the inevitability of death, he continues, "Otherwise, death is a hiccup from which there is no coming back. I realised that and therefore, overcame it by giving my work, my all. God might bring a hiccup to you in this life but he will also give you multiple ways to deal with it in this lifetime. I could find my family (the love and sense of belonging) amongst my friends and colleagues in the film industry again."
Directed by Siddharth P Malhotra and produced by Maneesh Sharma, Hichki is slated to release on 23 March.
Watch the video here:

Entertainment
The estimated collections are: India Gross: Rs 67 crore, overseas : Rs 35 cr ($4.2 mi), and the total stands at a jaw-dropping Rs 102 crore.
Entertainment
The makers have planned a unique approach for the unit launch which is "theatres first", the motion units will be first launched on big screens in the theatres followed by digital
Entertainment
Director Siddharth Anand, in a video released by Yash Raj Films, talks about why Pathaan has become the most hyped film globally