To The Bone review: With his latest album, Steven Wilson makes pop his own
With To The Bone, his fifth studio album as a solo artist, Steven Wilson is exploring Pop music from the '80s and the results are expectedly multilayered.
There is something incredible about the fact that Steven Wilson has been making music for three decades and yet it all feels like a process. It has grown, changed and evolved over the years, as if it's searching for a purpose, a meaning. Just like we all are.
Wilson's most prominent and probably most important work was with the British band Porcupine Tree. He always disliked the band being labelled as a progressive rock act. His numerous collaborations and extensive solo work since Porcupine Tree have been diverse and even Porcupine Tree kept reinventing itself over the years. It started out as a second coming of Pink Floyd, then changed into a more mainstream alternative rock outfit and then evolved into its progressive metal leanings towards the end.
Wilson, with his solo work, has continued that search and his every album is an exploration of different themes. With To The Bone, his fifth studio album as a solo artist, Wilson is exploring Pop music from the '80s and the results are expectedly multilayered.
The eponymous first song doesn't waste time in letting you know that this is uncharted territory for both Wilson and fans of his music. It starts with a spoken message, which, in a sense, captures the album's undercurrent:
"Once we've made sense of our world, we wanna go fuck up everybody else's because his or her truth doesn't match mine. But this is the problem. Truth is individual calculation. Which means because we all have different perspectives, there isn't one singular truth, is there?"
And then, instead of the familiar melancholy and a sense of lingering sadness, you're hit by joy: "To The Bone" starts with an opening like Pink Floyd's "Time", only way shorter, and instantly dives into a funky beat. The Pop pops out, but it is always self-aware. Regular listeners of Wilson's music will find themselves in a familiar territory few minutes in when the guitar solo kicks in and the Steven Wilson soundscape takes over. The song winds towards a Wilsonesque crescendo and that's where the album takes you for a hostage. There is no turning back.
In comparison, "Nowhere Now" seems to be a plain alternative rock song on the surface but Wilson's lyrics lend it depth. He sings about the human condition, but he sings it casually. It's only alarming when you pay attention. "Six feet underground/We move backwards now/At the speed of sound/We are nowhere now," Wilson sings. "Too much time to kill/Too much wasted air/Too much everything/There's no need to think."
Also read: Steven Wilson explores truth and perception on ambitious forthcoming album To The Bone
"Pariah", the lead single from the album, is easily the most powerful song on the record. Wilson has collaborated with Israeli musician Ninet Tayeb on the song and her vocals on the chorus are stunning. The song is how an Adele ballad would sound like with raspier vocals and Wilson's trademark music. It is followed by the second single "The Same Asylum as Before", which reminds you of some of Porcupine Tree's earlier work. The song could totally belong to the 1999 album Stupid Dream."Refuge", another single from the album, starts quietly but soon the excellent drumming takes over and the song transforms into a later-era porcupine tree grandeur. The lyrics are again addressing the futility of it all and how life is its own refuge. "There's nowhere else I can go/So I stay," Wilson sings.
Wilson then goes full Pop with "Permanating", which kind of forms the spine of the album and clearly shows where Wilson wanted to go with it. The song is about holding on to each passing moment and live it even as all of it is hurtling past at break neck speed. Wilson also used Bollywood dancers in the video for the song, which he felt would be the perfect way to express the song's joy.
"Blank Tapes" peels away the layers, strips it down and hits the break to provide a quiet interlude to the album, and then "People Who Eat Darkness" hits fifth gear again. "Song of I" becomes the disturbing dark corner of the album, moodily shifting and changing and never really settling. "Detonation", the penultimate song on the album, is also one of its finest. Wilson berates God and asks, "Whiny God, who the f**k are you/Detonation for the greater good," and reminds him that "When the world breaks/You will feel the blast." The song is probably the closest To The Bone comes to being a Steven Wilson album and its hardly any surprise that at 9 minutes and 19 seconds, it is also the longest song on the record. The album culminates with a preaching/truth-telling on "Song of Unborn", where Wilson sings about what's it all about and what's it not. It ends on a sombre note with mentions of dead country lanes and dreams that are public domain.
To The Bone doesn't last long, but it stays long enough. It does seem less fleeting than Wilson's previous works, but is certainly more physical.  The album is coming from a decidedly firm place and it is not half as abstract or ambiguous as its predecessors, and that might put off dedicated fans of Wilson's music at first, but it maintains the depth we have come to expect from every Steven Wilson record. You will find songs breaking into lush guitar solos and escaping into familiar places. The record will challenge you to explore as it does itself and will start sticking after a couple of listens. It is not Wilson's finest work and it really isn't going for the heights that The Raven That Refused to Sing and Hand. Cannot. Erase went for and touched, but it is grounded in simpler motivations and is another step in the process. Wilson goes for Pop, mixes it with Art Rock and makes it his own. And we hope that the process continues.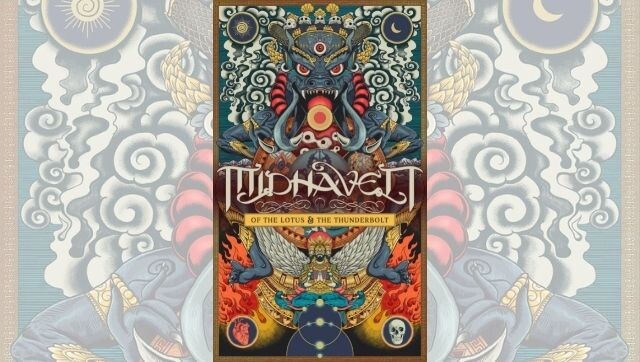 Arts & Culture
This notion of time being infinite and circular, of everything repeating itself, is the core concept around which the metallers have built their latest album Of The Lotus & The Thunderbolt, using music to explore their curiosity.
India
The country has fallen to the 140th position out of 156 countries by sliding down 28 places in the 2021 Gender Gap Index, which employs parameters such as economic participation, political empowerment, health, survival, and education to determine the positions of various countries on its list.
Entertainment
Colossal uses the sensory escapism of a creature movie as an expression – and a literal extension – of personal demons.